Concordia prof is a leader in sustainable investment education and practice
Amr Addas: 'It is in investors' interests to make decisions that have a potentially positive outcome for the planet'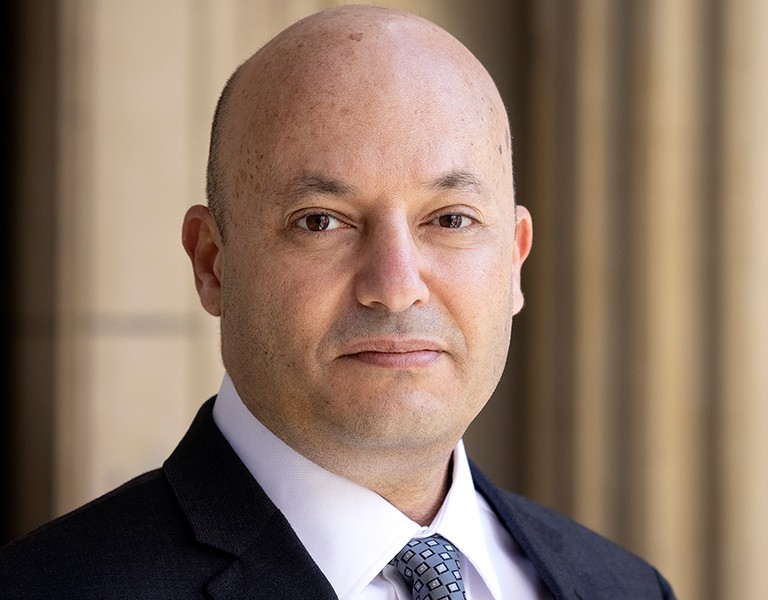 Amr Addas: "The climate really is the most salient, the most impactful subject."
Amr Addas has been immersed in sustainable investment education and practice at Concordia's John Molson School of Business for more than a decade.
"I helped develop the Sustainable Investment Professional Certification program in 2010 and, a couple of years later, the sustainable investing course. It's been a long-standing interest," he says.
"Concordia was by far the earliest university in Canada and one of the earliest globally to offer a certification on sustainable investing."
As adjunct professor of finance, Addas also directs the John Molson School's Van Berkom Investment Management Program and Van Berkom-JMSB Case Competition and leads the Sustainable Investing Practicum in collaboration with Manulife Investment Management.
Addas's latest role is as academic director for the Sustainability Ecosystem based in the John Molson Executive Centre.
Sustainability Ecosystem
The Sustainability Ecosystem launched with the financial support of the Trottier Family Foundation, Caisse de dépôt et placement du Québec and McConnell Foundation in early 2020. The initiative organizes conferences, hosts discussion forums, creates learning labs and more on topics related to sustainable investing and sustainability through environmental, social and governance (ESG) considerations.
The COVID-19 pandemic forced the Sustainability Ecosystem's activities online, of course. "So we started to diversify, to do something a bit different. For example, in the fall we held a series of three debates, where we brought together two people with opposing views on a sustainable-investing related topic," Addas explains.
One of its recent webinars focused on diversity and inclusion, a theme broadly related to sustainability and sustainable investing.
"Inevitably, climate tends to dominate," he notes. "It really is the most salient, the most impactful subject within this world of ESG. It is the existential threat to our civilization, no less than that."
The Sustainability Ecosystem has also been involved in high-level activities such as working with Canadian Senator Rosa Galves to help develop the Climate-Aligned Finance Act. It also partnered with HEC Montréal and industry experts to present recommendations to the International Sustainability Standards Board on sustainability-related disclosure standards for financial accounting.
Upcoming Sustainability Ecosystem events and activities include conferences on carbon markets and sustainable pension-plan investments and a collaboration with Queen's University's Institute for Sustainable Finance on credible climate action plans. It is also working with Thomas Walker, John Molson School professor of finance and director of L. Jacques Ménard–BMO Centre for Capital Markets, on the intersection of financial technology and sustainability.
Plus, the Sustainability Ecosystem is now organizing the World's Challenge Challenge student competition. In its second year at Concordia, the event will see the winning student team head to the finals at Western University and engage in thinking about and finding tangible solutions to the United Nations' Sustainable Development Goals.
Period of alignment
"Sustainable investing is making investment decisions that take into consideration broader societal and planetary factors while seeking to maximize risk-adjusted financial returns," Addas says. "That second component is really important because the reality is that investors are there to seek to maximize their performance."
Addas, who began at Concordia in 2010, sees a change in business attitudes in recent years. "I've been involved with this for a long time, but I never expected that we would be where we are today: sustainability and sustainable investing have become not only mainstream but core to investment strategies," he observes.
"It's not that investors are out to save the world — let's not be naïve. They are out to make money and they always will be. It just happens that we are in this alignment period where it is in investors' interests to make investment decisions that end up having a potentially positive outcome for the planet and for society."
He acknowledges that challenges remain. "We are at a moment where not only investors but regulators, central banks and most governments have recognized that climate change poses a systemic risk to the global economy and that it needs to be tackled from an all-government, all-economy-type effort," Addas says.
"We are not out of the woods yet, and that's why the rest of this decade is going to be absolutely critical for whether we succeed as an economy — as a society — or not."

Learn more about Concordia's Sustainable Ecosystem.
---