Concordia professor unleashes the learning power of makerspaces
UNESCO recognizes Ann-Louise Davidson for her support of the Sustainable Development Goals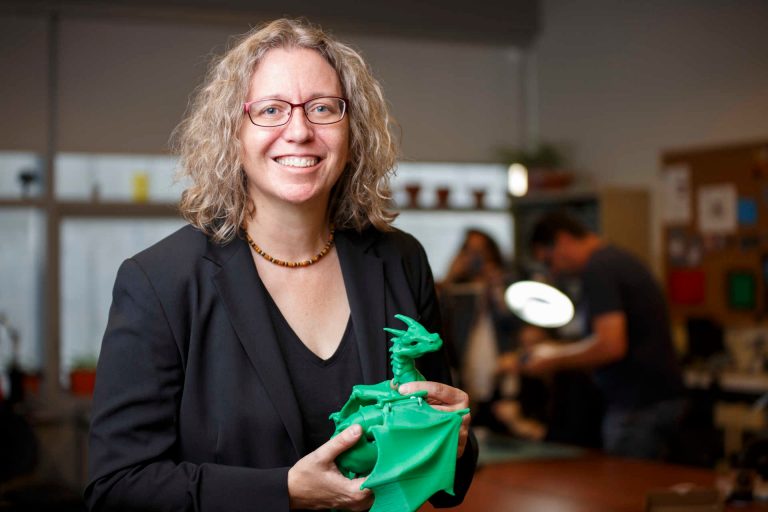 Working as a clown may not seem like an obvious steppingstone towards a career in academia.
But Ann-Louise Davidson says her early career as a children's performer informed her later work as professor in Concordia's Department of Education.
"I was always sad that the kids who were the most privileged had access to clowns for their birthdays, but the underprivileged kids did not because their parents could not pay for it," she recalls.
"So I would be a clown in public places, to offer this to a broader audience. That's the background thinking from which I operate."
Davidson wears many hats at the university, including as Concordia University Research Chair of Maker Culture (Tier 2), associate director of the Milieux Institute for Arts, Culture and Technology and director of the Innovation Lab.
"Progressive education is my theme," she says.
'Education can empower'
One of Davidson's ongoing projects is the children's storybook Amber the Maker, co-authored by Elizabeth Lakoff (MA 19) and illustrated by Alina Gutierrez (BFA 09, MA 16).
The story portrays Amber, an eight-year-old born with one arm not fully developed who is bullied on her swim team because she is too slow. With the help of an imaginary dragon, Amber turns to maker culture to learn to create her own 3D-printed prosthetic to help her swim faster.
"Bullying is the core of the story, and we built it around the potential of makerspaces," Davidson says. "Through the story we can see that education can empower, reduce inequalities and improve female representation."
The Canadian Commission for UNESCO (CCUNESCO) has lent its support to Amber the Maker, in part because it links to several United Nations' Sustainable Development Goals (SDGs): SDG 4 – Quality and Inclusive Education for All, SDG 5 – Gender Equality, and SDG 10 – Reduced Inequalities.
David Schimpky, CCUNESCO's director of secretariat, wrote to Davidson in 2021 that the book also connects to UNESCO's current Futures of Education initiative: "Makerspaces can propel one's creativity, critical thinking, strategic thinking, communication and collaboration skills."
CCUNESCO's support includes promoting the book to its networks, members and partners.
While Amber is now available online in English, Davidson is moving toward a wider and more ambitious distribution. "The idea is to offer it for free to as many children as possible and in as many languages as possible," she says.
"The story has been translated into 10 languages and will be disseminated in the 12,000 UNESCO schools across the world." She's also planning a digital flipbook and PDF version.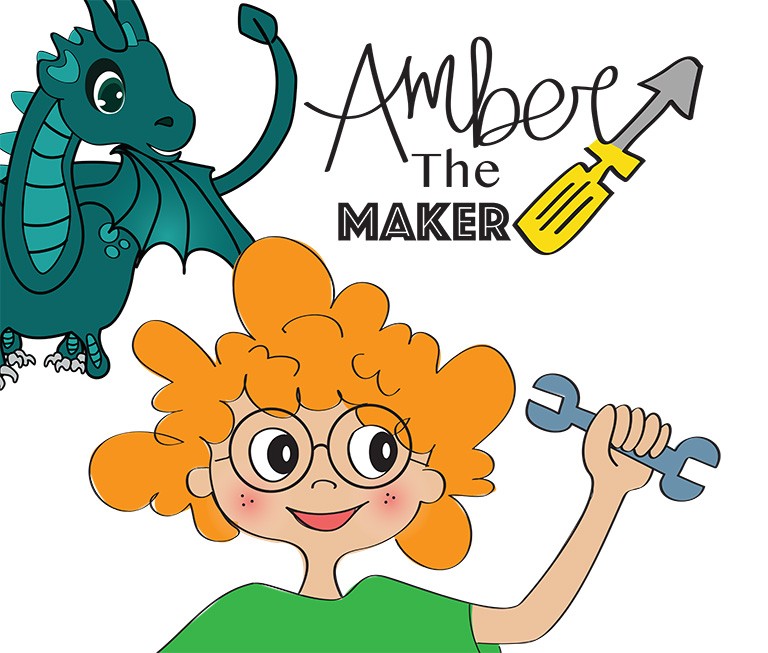 Building communities of expertise
Davidson's contributions are a major reason Concordia was the only Quebec school named among the top 200 universities in the world in maker education.
"Education Makers is a group that I created based on my research chair in maker culture. The idea of Education Makers is to create communities of expertise around makerspaces, so that we can find new ways of educating," she says.
"We can empower kids through fixing things, inventing, making things up."
In addition to introducing a makerspace at the Milieux Institute, Davidson helped open one at Kent Park in Montreal's Côte-des-Neiges district. "I built the makerspace to serve the youth from that disadvantaged neighbourhood and to give the possibility to dream of a better life," she says.
"It's just unbelievable what you can make there, like an arcade table out of an Ikea table. You can engage people in all sorts of activities, give them opportunities to build real skills, but also inspire them to persevere, speak to new people, expand their network or open up opportunities. It's all there," Davidson notes.
"We can give more opportunities to girls or address other aspects related to the SDGs like food security and reducing pollution."
Similarly, at the Innovation Lab, Davidson explains that students work on challenges with community and industry partners and mentors, and propose creative solutions to various problems that often relate to SDGs.
"At the core, we're aiming to be progressive," she says. "We're preparing students to take action towards the SDGs and address the big problems we face as a society."

Learn more about Education Makers and Concordia's Department of Education.
Learn more about Concordia's Sustainability Development Goals efforts.
---