Concordia named among the Best Maker Schools in the world by Make: and Newsweek
The university is the only Quebec institution and one of only six in Canada to be selected for the top 200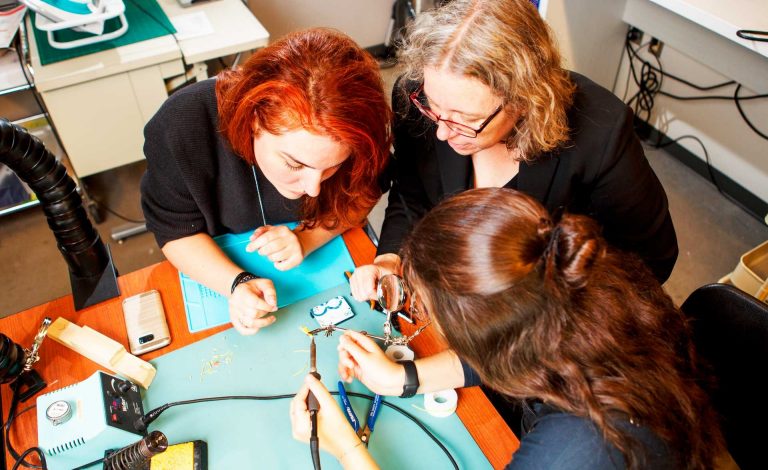 Concordia is the only Quebec university and one of only six Canadian institutions to make the first-ever list of 200 universities worldwide as leaders in maker education.
The 2021 list of Best Maker Schools in Higher Education from Make: and Newsweek includes schools of various sizes "that have invested in innovative maker-focused programs and on-campus makerspaces, the schools that makers themselves want to attend to deepen their skills and broaden their scope," according to Make: and Newsweek, the two media outlets that teamed up to create the list.
"We have worked relentlessly to create mentoring and guidance frameworks to allow students from all backgrounds and disciplines to engage in material practice to develop skills that prepare for the future of work and to become responsible and careful citizens," says Ann-Louise Davidson, associate professor of education.
Davidson holds the Concordia University Research Chair in Maker Culture (Tier 2) and is associate director of Concordia's Milieux Institute for Arts Culture and Technology, where she directs #MilieuxMake, the institute's makerspace initiative.
"Through maker activities, students become confident innovators and they build connections with many community groups, public institutions and corporate organizations in Montreal and beyond," she says.
Maker culture is about interdisciplinary, experiential education that embodies do-it-yourself tinkering using disruptive technologies, biomaterials and recycled items. It aims to further sustainability, equity, social innovation, democratization of innovation and community building.
Davidson says maker skills are in increasingly high demand across engineering and sciences, arts and humanities and even business because it is about taking control and responsibility for production rather than consumption.
"Concordia is poised to make a profound contribution to this changing landscape. Imagine a maker degree program. Imagine a maker college!"
Davidson, who also directs the Innovation Lab at Concordia, says that making is integrated in many large projects at Concordia. For example, Milieux expands the idea of maker culture through critical making, speculative design and research creation. This is done through #Milieux Make maker jams, GAMERella game jams at the Technoculture, Art and Games (TAG) research centre, biomaking and media archeology.
This latest recognition comes after several initiatives undertaken by the university maker ecosystem, including hosting the Montreal Mini Maker Faire in 2018. Davidson says she hopes to see components of maker culture, such as prototyping, building communities, the ethos of resourcefulness and open-source innovation, become adopted across Concordia and beyond.
"Our ultimate goal is to bring maker culture into university learning so it is no longer just an extra-curricular activity but the basis of a new mindset for engaging with the world's most pressing problems."
Davidson is planning eight "unconference" maker events for this fall and winter. The topics will include engaging maker activities in a pandemic, how to create a network across makerspaces, improving support for makerspace leaders, community engagement, equity, diversity and inclusion, and sustainable making, and how to get educators on board with maker education.

Find out more about Concordia's Innovation Lab.
---