Surgical masks more effective if worn with 3D-printed frame, Concordia PhD student finds
Nathalie Duponsel and 5 other researchers innovate to address PPE shortages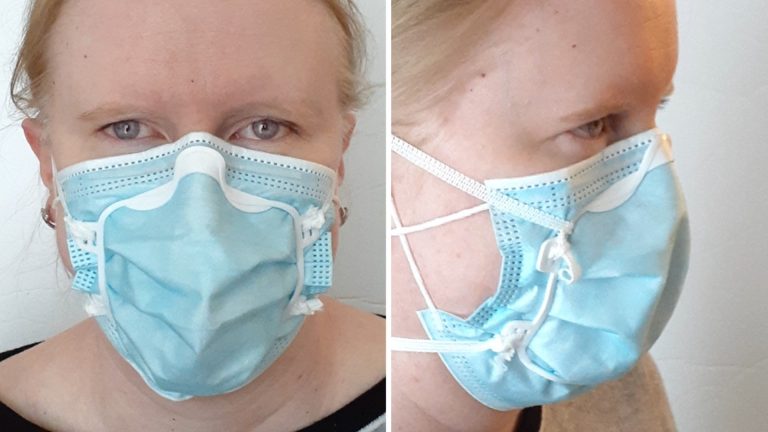 After several months of part-time research, Concordia PhD student Nathalie Duponsel has determined that surgical masks are even more effective if worn with a 3D-printed frame.
Duponsel is a doctoral candidate in educational technology whose research focuses on maker education and the benefits of DIY design and optimizing conditions in schools to facilitate student learning. She is also a certified elementary school teacher who has firsthand experience teaching students from kindergarten to university.
The mask research project, called Designing Efficient Face Masks, was initiated in response to the shortages of PPE (personal protective equipment) during the first wave of the COVID-19 pandemic, when many medical professionals and frontline workers were doing their jobs without adequate protection. Many people began working to meet this need by finding ways to provide temporary alternatives to PPE, particularly by using 3D-printed supplies like face shields or by sewing fabric masks.
"Unfortunately, most of these initiatives did not have ways to test the efficacy of what they created, which could put the medical professionals and frontline workers at risk of exposing themselves to the virus," Duponsel says.
"Our goal with this project was to do what most makers could not: test some of the most popular and promising ideas in material filtration and mask efficiency using state-of-the-art technology."
'A certified surgical mask should be able to act like an N95 respirator'
With the help of the research team's collaboration with the Institut de recherche Robert-Sauvé en santé et en sécurité du travail in Montreal and a Mitacs grant, Duponsel and her colleagues were able to test the efficacy of a variety of PPE designs.
"I began by investigating what was already out there," Duponsel explains. She initially looked into 3D-printed respirators that use filters as they were durable and required minimal amounts of filtering material. But she soon realized that they were inefficient to make, uncomfortable to wear for lengthy periods of time and insufficiently breathable.
Then Duponsel came across the idea of a mask frame on Thingiverse, a website where makers share their 3D design files.
"Certified surgical masks were much more available but lacked the good seal that an N95 respirator provides," Duponsel says. "I reasoned that if we can create that good seal by using something like a mask frame, then a certified surgical mask should be able to act like an N95 respirator against COVID-19."
After testing the frame she found on Thingiverse, Duponsel's results showed that was in fact the case.
"The only problem was that the frame was rigid and cut into my nose and jaw, so I modified it so that some of it is made with elastics and some of it is rigid. I found that it was just as effective and a lot more comfortable."
To share her findings with the public, Duponsel wrote an article for the Instructables website that explains how to print the mask frame and prepare it for use.
From PPE to 3D education materials
The multidisciplinary nature of the team, which includes six members, helped make the initiative possible. Ann-Louise Davidson, associate professor of education, director of the Innovation Lab and Concordia University Research Chair of Maker Culture, was lead on the project. The other members are Barbara Layne, professor of fibres and material practices; Ali Bahloul and Clothilde Brochot, engineering experts in filtration; and Duponsel's fellow intern Ryth Kesselring, a master's student in fine arts.
Before she started working with Davidson in 2017, Duponsel says she had never touched a 3D printer, but by participating in maker workshops and learning on her own, she became quite proficient.
The PPE project does not mark the end of Duponsel's interest in 3D-printed materials either. One of her upcoming projects is the development of 3D educational materials for visually impaired and blind children.
"I am an elementary school teacher — not an engineer, not a physicist — but given the resources online and access to a team like this, I was able to make a contribution that may save someone's life," Duponsel notes. "Everyone should have that kind of opportunity, which is why I push so hard for schools to develop design skills in students from day one."
Find out more about Concordia's Department of Education.
---