Meet some of Concordia's rising stars at this year's Undergraduate Research Showcase
NOVEMBER 11: Projects touch on issues ranging from dementia to housing insecurity and more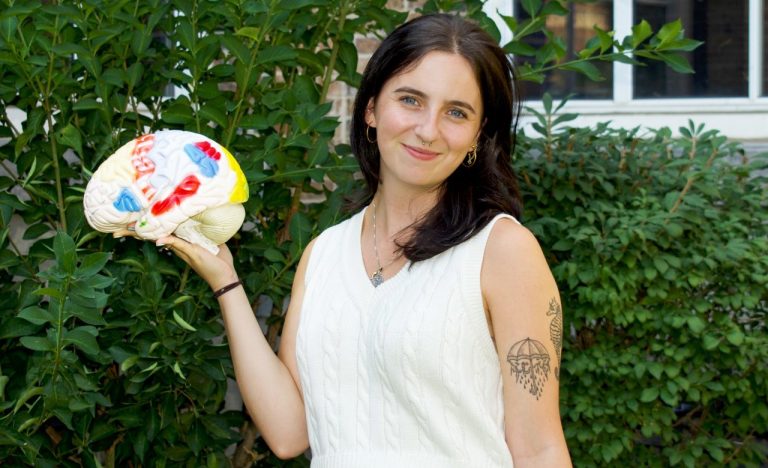 Undergraduates at Concordia are tackling pressing societal challenges, from disease prevention to space exploration to solving the housing crisis. These are just a few of the themes amidst about 150 summer projects supported by the Concordia Undergraduate Research Awards Program and NSERC Undergraduate Student Research Awards Program this year.
On November 11, the university community will have the opportunity to meet some of Concordia's rising research stars and learn about the impact of their work at the annual Undergraduate Research Showcase. It's taking place in the atrium of the Engineering, Visual Arts and Computer Science Integrated Complex (EV building) from 1 to 2:30 p.m.
Here is a taste of just some of the groundbreaking research that will be on display.
Developing technology to navigate the moon
Mechanical engineering student Alexander Demishkevich's passion for space exploration translated into an amazing opportunity to pursue research in a field related to Canada's first lunar mission.
As part of his capstone team and in collaboration with MDA Space, Alexander worked on ways of increasing the traction for the wheels of a lunar rover to help it navigate the moon's notoriously rough terrain.
This summer he tested how grousers (located on the exterior of the rover wheel) could maximize turning and slope climbing by performing tests with a rover platform. These tests approximated lunar conditions for soil and gravity in the research lab by using mathematics equations and scaling laws.
This is contributing to his growing research and study of space robotics, which will hold an important role in the growth of space exploration going forward.
A new test to detect dementia risk
By 2030 it is estimated that nearly one million Canadians will be living with dementia, according to the Alzheimer Society of Canada. Psychology student Katrina Sollazzo is researching how dementia risk states can be detected earlier to prevent them from worsening.
Specifically, she is exploring what is known as subjective cognitive decline, in which someone feels like their memory is worse than their peers, and it causes them to worry.
Working with the Phillips Lab: Cognition, Aging, and Psychophysiology, Sollazzo used data from a study from the Canadian Consortium on Neurodegeneration in Aging, looking at groups of individuals who were not affected with memory loss as well those who reported having subjective cognitive decline.
Participants were asked to repeat a list of 15 words to compare short- and long-term memory. The results generated a new objective means of evaluating the memory performance of those worried about their cognitive health, an important step in detecting early risk for further cognitive decline.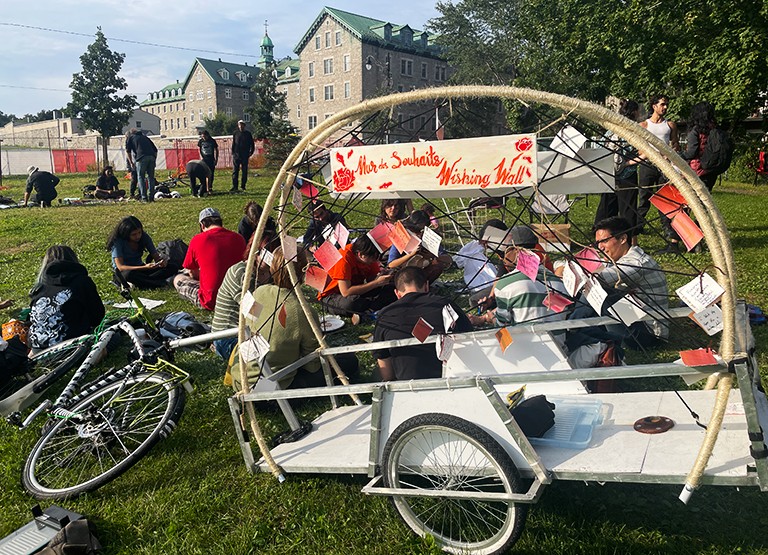 Christine White is bringing about community engagement through her mobile art project PedalBox Gallery.
A mobile gallery that gives voice to the housing crisis
Christine White (Studio Arts) is dedicated to bringing about community engagement through her innovative mobile art project PedalBox Gallery. White describes PedalBox as a form of mobile disruptive architecture that gives voice to those not being heard in important societal discussions.
Specifically, her recent research focuses on the housing crisis in which she installed the Wishing Wall to the trailer of her bicycle. She would set up in urban parks and invite people to write their definition of what home means on recycled paper and attach it to the Wishing Wall. A variety of people interacted with the work. White also collaborated on events with community organizations who support people living in a state of homelessness.
Answers reflected many emotional qualities that are not always taken into consideration when thinking of what home means. Her research also allowed her to make important community connections and develop relationships to further advance the mission of PedalBox.
In the end she is hoping that this form of grassroots activism will evoke alternative imaginaries for how we use the spaces we share by adding meaningful discussion surrounding the housing crisis.

Learn more about how you can apply for Concordia's Undergraduate Student Research Award program.
---