And the winner of RBC's $25,000 painting prize is... alum Brian Hunter!
PLUS: Concordians also landed both honourable mentions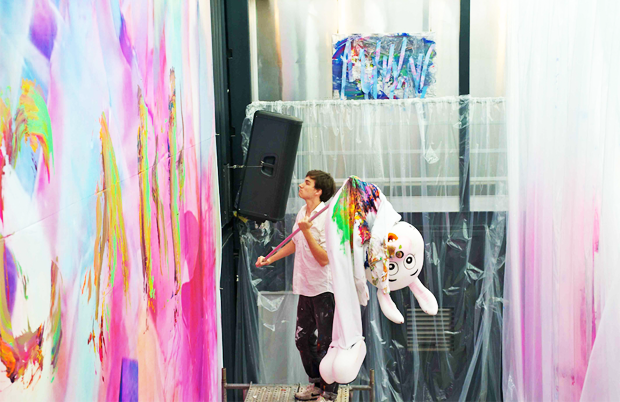 Brian Hunter uses video, interactive installations, and painting in his practice. | Image courtesy of the artist
Describing his work as "both immediate and deeply considered, straddling a bridge between abstraction and representation in a compelling and seemingly effortless way," a national jury selected Concordia graduate Brian Hunter (BFA 07) as the winner of this year's RBC Canadian Painting Competition.
There were 568 submissions to the competition's 18th edition. In July, the jury, made up of gallery directors, artists, curators and industry leaders, chose 15 finalists, including five current and former Concordia students.
After "passionate and heated deliberation," they selected Hunter's submission, Two empty trays mounted vertically (2015), for the $25,000 grand prize.
Established in 1999 with the support of the Canadian Art Foundation, the national competition aims to nurture visual artists early in their career by providing them with a forum to display their artistic talent to the country.
Concordians also picked up the two available honourable mentions, each worth $15,000: Nika Fontaine (former Concordia student) for her work, Schnell Schnell 17 (2015), and Cameron Forbes (current Concordia MFA student) for Maritime Plaza Hotel, Window Set 2 (2016). Each artist was selected based on their "strong material presence."
All three paintings will become part of the RBC corporate art collection. The remaining 12 finalists, three of whom are also Concordia graduates, will each receive $2,500.
"Brian's win is well deserved," said Robin Anthony, curator for RBC. "We look forward to following his career, as well as all the artists from this year's talented group of finalists."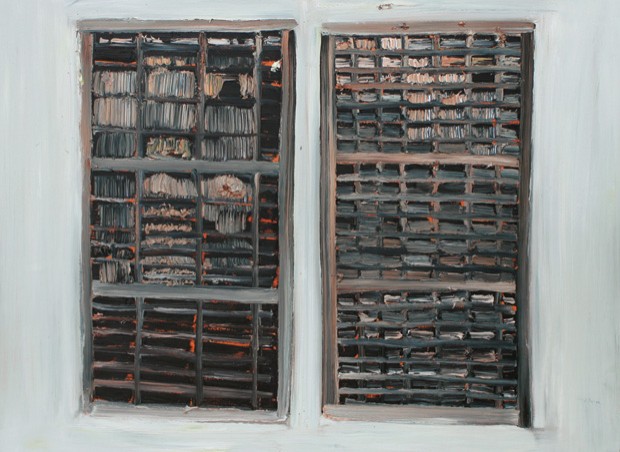 Two empty trays mounted vertically
, 2015, by Brian Hunter.

Brian Hunter
Born in Winnipeg in 1985, Brian Hunter works in sculpture, installation and video, in addition to painting. He trained at Concordia, where he earned a BFA in 2007.
Hunter gained attention first in 2010 with his outdoor series comprised of used mattresses propped up against trees and painted with naked bodies and flowers.
"I'm interested in wisdom, or searching for some type of approval," he told Ion Magazine.
"I'm pretty cliché, but a lot of my ideas can be summed up as coming of age."
Hunter's work has exhibited at Canadian sites such as Platform Centre in Winnipeg, Richard Rhodes Dupont Projects in Toronto and Art Souterrain in Montreal, as well as at locations in South Korea, where he did a residency in 2012 and 2013.

Nika Fontaine
Montreal native Nika Fontaine studied at Concordia before moving to Berlin, where she has lived and worked since 2008. Her multidisciplinary practice includes performances, web works, music as well as paintings. But as she said in one 2015 interview, "I started with painting and I think this will ever be my beloved medium."
In her work, Fontaine mainly explores themes of death and kitsch, employing such materials as glitter, rhinestones, crystals, lace, velvet and marble. "I want to sublimate kitsch in an implosion of fireworks," she says in a description of her work. "The different mortuary practices and spiritual beliefs fascinate me, and form the thematic core of my artistic research."

Cameron "Cam" Forbes
Saskatchewan native Cameron Forbes is currently completing an MFA at Concordia while exhibiting her work in galleries and alternative forums, including various domestic environments, public access television, the internet and community festivals.
She completed a BFA from the Nova Scotia College of Art and Design in 2005, and also studied at the Kootenay School of the Arts and the School of the Art Institute of Chicago.
"Primarily, I am interested in the landscape we occupy as individuals and as communities," Forbes says in her artist statement. "Canada has a long tradition of landscape painting. Most people are as familiar with viewing paintings of natural landscapes as they are seeing them with their own eyes. The relationship between these modes of being with the country — as passive and active observer — fascinates me."

Find out more about Studio Arts at Concordia.
---