Meet the Executive MBA grad helping to connect people with products online
As the founder of Locoshop, Dan Facciolo maintains a 'local first' approach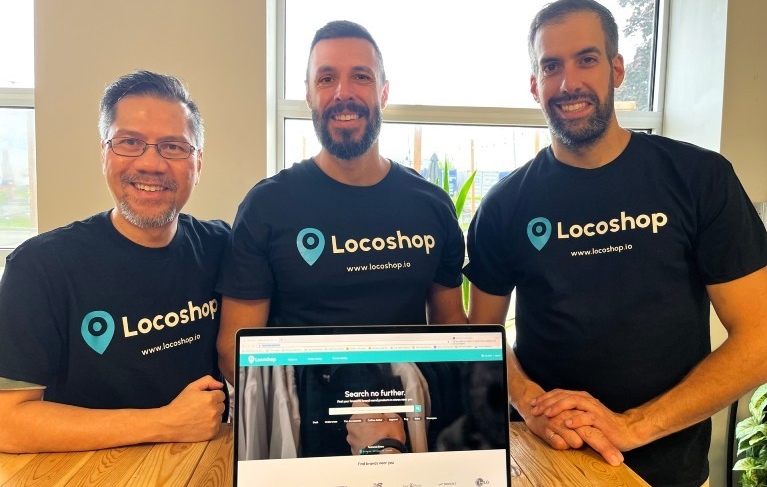 From left: Minh-Dien Le, Dan Facciolo, EMBA 20, and Alexandre Santos, BEng 05, EMBA 20
With computers and smart devices making it easier than ever to purchase a product, the demand for eCommerce is steadily increasing. And, to help bring mom-and-pop shops into the digital world, there's a Concordia graduate on a mission.
"What we want to do is help out the brick-and-mortar stores that have a harder time competing online," says Dan Facciolo, EMBA 20, founder of Locoshop, a global product search engine with a "local-first" approach. Unlike Google or Amazon's deliberately engineered search results, Locoshop is transparent, he says. When searching for brand name products on Locoshop, the results are listed in order of proximity to the shopper.
As a result, brick-and-mortar stores are more likely to get business with Facciolo's service as opposed to on Google or Amazon where large online-only retailers or big-name banner stores are often given precedence over smaller local businesses.
According to Facciolo, there are some 25 million eCommerce stores in the world, all of which are competing to appear on Google's first page through search engine optimization.
"The reality is that it's expensive to do. It can cost thousands of dollars a month and for the average small mom-and-pop shop, it is not realistic for their budget," says Facciolo. "We wanted to create a platform where any store could advertise their products and make them easily searchable at a pricepoint that makes sense."
'On a mission' to succeed
In 2017, Facciolo was sitting in a mall food court with work colleague and software developer, Minh-Dien Le. They were discussing the difficulities with easily finding nearby retail locations for products on the internet.
Through several iterations of the Locoshop app, the duo developed a prototype that allowed them to scan products, associate them to stores and build a marketplace with that information.
After facing a number of logistical issues, the project disbanded after a couple of years, yet the idea was never far from Facciolo's mind.
"I knew that I needed to address the issues from our first failure, but also knew I had to become a better leader and understand things from different perspectives — being able to identify different technologies available, evaluating various business models and finding ways to attract a lot of clients with a limited budget," says Facciolo.
After graduating from Concordia's Executive MBA (EMBA) program in 2020, he brought the idea to life again, this time with fellow classmate Alexandre Santos, BEng 05, EMBA 20.
"Coming into the program with a marketing background, I had the opportunity to sharpen my analytical skills as well as deepen my knowledge of complementary facets of business management such as HR, finance, accounting, IT and governance," he adds.
Facciolo and a small group of EMBA colleagues presented Locoshop in a case study competition, and, although they did not win, they received a standing ovation from the venture capitalists who were present in the room.
"From there, I knew that we had something solid to work on," he says. "After the EMBA, I embarked on a mission to build this platform."
Santos jumped on board as an investor and is now a shareholder partner of Locoshop. Soon after, he and Facciolo hired Minh-Dien Le as their lead developper.
The second go at Locoshop was more successful, says Facciolo, not only because he was in a better place financially, but because he had a stronger business plan after having tested it out in the EMBA program.
A global reach
Locoshop was beta launched in early July. The platform already features more than 4,000 stores in Canada and over 1 million products from some 10,000 brands.
The team has big plans to expand globally. Facciolo says that an international trip to Singapore, Malaysia and Vietnam during his EMBA studies opened his eyes to potential international competitors and expansion opportunities for the company.
"What we want to do is put the location front and centre and make it super transparent to users who care about who they're buying from, while supporting local businesses as much as possible," says Facciolo.
And, while he looks to extend Locoshop's international reach, Facciolo remains grateful for the skills he honed at Concordia for the renewed ambition going forward.
"Ultimately, the knowledge I gained from the program helped build my confidence in my leadership capabilities and perhaps, most importantly, helped me build a network of trusted allies I can call upon for advice whenever I need it," Facciolo says.
"In short, I got exactly what I needed — and more — from the EMBA program."
---