Notable Concordian
Amine Dabchy
BA 11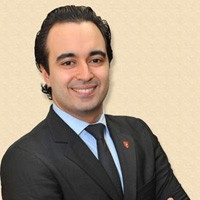 Awards & Distinctions
Outstanding Student Leader Award
Amine Dabchy, who grew up in Morocco, began his undergraduate degree at Paul Cézanne University in Aix-en-Provence, France. After two years, Amine transferred to Concordia and in the fall, will graduate with a double major in political science and economics.
At Concordia, Amine has served as President of the Economics Students Society and Vice President External for the Arts and Sciences Federation of Associations. In 2009, he was elected President of the Concordia Student Union (CSU) and successfully implemented changes to increase the CSU's financial transparency and accountability. He also worked to strengthen relationships between the CSU and university administration.
Amine has been active in other student associations and volunteers for several community organizations outside the university. He has worked diligently to find common ground for those who share opposing viewpoints and has been involved with promoting dialogue between religious groups. As a result, in 2008, he was one of 14 student leaders from across Canada who was chosen to participate in a cultural and political exchange program in Israel.
More recipients