Notable Concordian
Stephanie Dotto
BA 11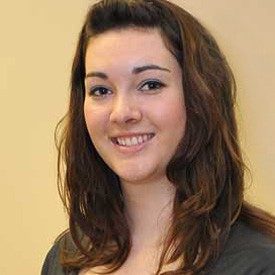 Awards & Distinctions
Outstanding Student Leader Award
Stephanie Dotto is working toward her BA in Human Relations.
When she was in her last year at Beaconsfield High School in her native Kirkland, Que., Stephanie heard a presentation about making a difference in the world and decided that every child should have, at the very least, one pair of shoes. So Stephanie and a friend proceeded to collect more than 1,200 pairs of gently used shoes from local elementary schools and shipped them to needy children in Malawi, Africa.
At 17, Stephanie founded a charitable organization called It All Started with the Shoes. In the past six years the organization has raised funds — with the help of Montreal businesses, churches, schools, Girl Guide units and individual benefactors — to help build two Malawian schools, fix the roofs on two others, add a nutrition centre to a rural hospital and ship three containers full of essential supplies.
In March 2003, Stephanie made her first visit to Malawi to deliver medicine, school supplies and toys. Since then, she has been back three times and is now working on several other aid projects. Stephanie frequently speaks at Montreal-area schools and to community groups to raise awareness of Malawian living conditions. Next week, she is Malawi bound for the fifth time.
In 2004, Stephanie was named West Islander of the Year by The Chronicle newspaper. The following year, she was recognized as a Young Woman of Distinction by the Montreal YWCA and as one of Canada's "Top 20 Under 20" by Youth in Motion.
More recipients