The late and beloved Concordia professor Nadia Chaudhri honoured by academic journal
The neuroscientist inspired thousands with Twitter chronicles of her journey with ovarian cancer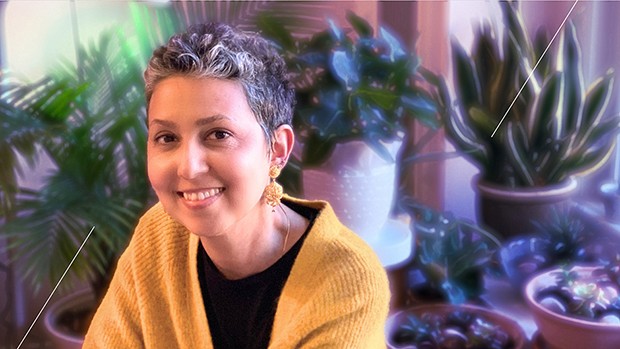 The late Nadia Chaudhri — neuroscientist, beloved professor, wife and mother — inspired more than 150,000 Twitter followers around the world, chronicling her journey with ovarian cancer. International and local media followed her, and tributes poured in after she passed away in 2021, aged 43.
The latest tribute to Chaudhri, who was a professor in Concordia's Department of Psychology and director of the Center for Studies in Behavioral Neurobiology, is a special issue of the journal Psychopharmacology, which pays homage to her influential research on drug and alcohol abuse and addiction.
The journal issue is a collection of original research articles and reviews from scientists associated with Chaudhri throughout her career — from graduate school to her postdoctoral years to her time as a faculty member at Concordia. It was conceived and edited by two of her former colleagues: her postdoctoral mentor Patricia Janak, now based at Johns Hopkins University, and Yavin Shaham, of the National Institute on Drug Abuse in the United States.
"Such a special issue is a rare honour," says contributor Uri Shalev, professor of psychology at Concordia. "I cannot think of a better way to honour Nadia's memory. She was a great colleague, but more than that, a friend to me and my family."
In addition to leading an active research lab, Chaudhri took great pride in student mentorship, paying forward the support she had received in overcoming barriers to participation in neuroscience research.
After her diagnosis, Chaudhri established the Nadia Chaudhri Wingspan Award to encourage the next generation of neuroscientists from diverse backgrounds at Concordia. She motivated 8,500 donors around the world to donate to the scholarship, raising more than $800,000.
"Nadia's passionate commitment to mentorship, especially encouraging promising students from historically underrepresented groups to pursue science has become well-known," says Andrew Ryder, professor and chair of the Department of Psychology.
"This collection reminds us that she was also a top-rank scientist herself, positively influencing her colleagues through all stages of her career. We were fortunate to have her — the contributors to this special issue clearly feel the same way," says Ryder.
"It comforts us to witness her continuing influence."
If you wish to contribute to the Nadia Chaudhri Wingspan Award, you can still make a gift online.
---