Concordia wins two international advancement and communications awards
The 2021 Black History Month social media campaign wins gold against competition from across the globe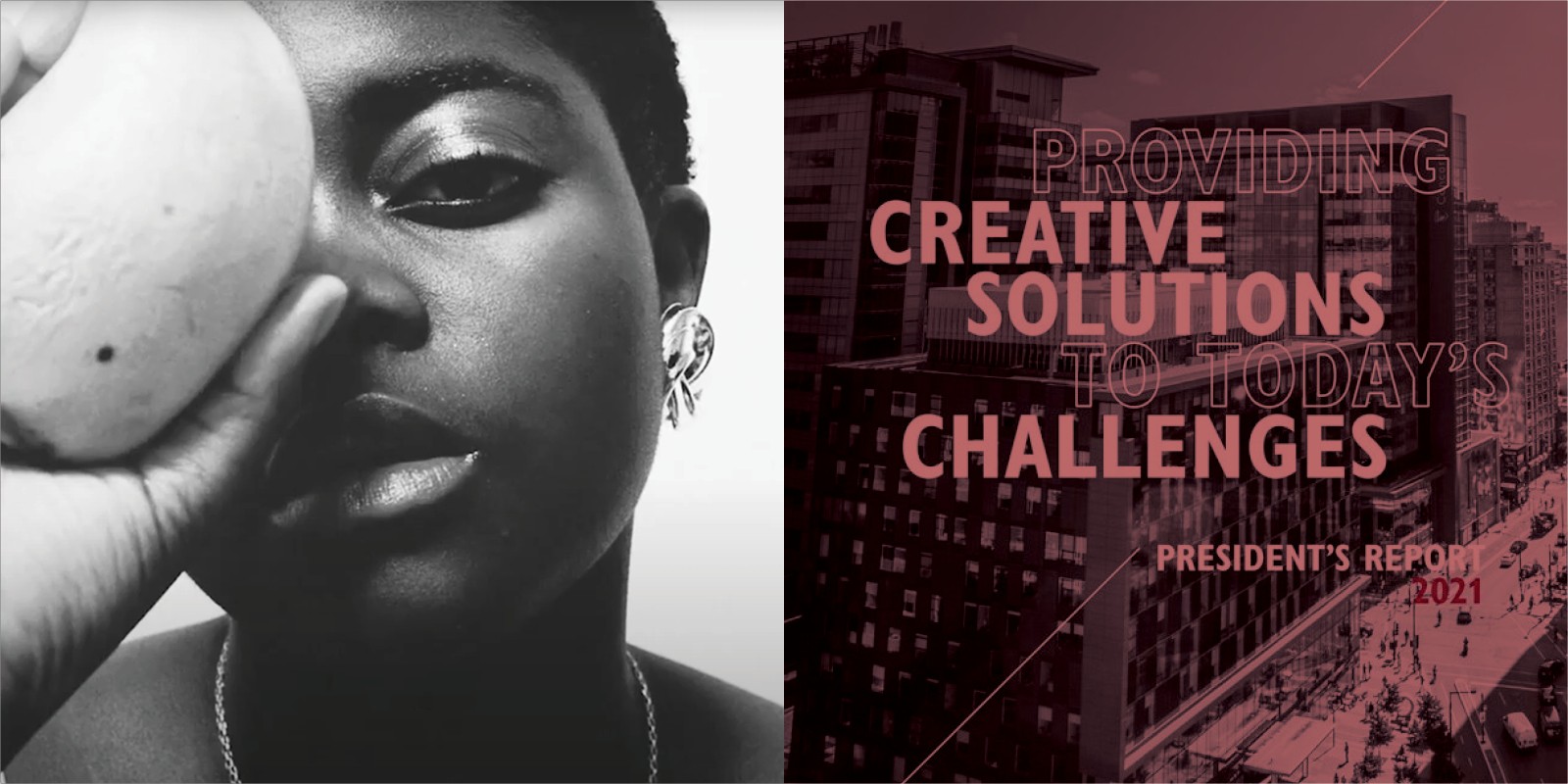 Concordia student Kathleen Charles (left) shared a poem as part of the university's Black History Month social media campaign, which received a gold Circle of Excellence Award from CASE. The university's 2021 President's Report (right) took home bronze.
The 2021 Black History Month social media campaign created by Concordia's University Advancement (UA) and University Communications Services (UCS) has won top prize from the Council for Advancement and Support of Education (CASE) Circle of Excellence Awards. The campaign earned gold in the Communications: Digital Campaigns (Alumni-oriented) category.
UA and UCS also scored a bronze award for their collaborative effort on the President's Report 2021: Providing Creative Solutions to Today's Challenges, in the Publications: President's Reports and Annual Reports category.
The awards are open to CASE's 3,150 institutions across 80 countries. They recognize outstanding achievement in advancement services, alumni relations, communications, fundraising and marketing at colleges, universities, independent schools and their affiliated non-profits around the world.
"This international recognition underscores how Concordia literally ranks among the world's best," says Philippe Beauregard, Concordia's chief communications officer.
"The 2021 Black History Month social media campaign gold marks the first time Concordia has won a gold from the Circle of Excellence Awards, which is especially meaningful," he adds.
"These awards are truly shared by all of our community because they are for projects that promote and highlight achievements by faculty, staff, students and alumni from across the university — all Concordians can really take pride."
The latest recognition comes on the heels of Concordia's five Prix D'Excellence awards — three silver and two bronze — from the Canadian Council for the Advancement of Education in early June.
2021 Black History Month social media campaign
Every February Concordia marks Black History Month by celebrating and recognizing the contributions of Black Concordians across the country.
The university's 2021 social media campaign focused on the achievements of Black Concordians through short videos that were promoted on Facebook and Instagram, with an aim to increase affinity among Black Concordians and to foster a sense of pride among the community at large.
Materials included video messages, a news story, a commissioned poem "This Poem is for Black Folk" by student Kathleen Charles, a photography collection exploring the murals of Little Burgundy and illustrated portraits by Alina Gutierrez, BFA 09, MA 16.
Comments from the judges included: "This is such a good mix of content deployed really well. The poem video is beautiful, powerful and inspirational. The social posts were true storytelling. Creative, well-thought out, well-executed, and great engagement!"
Individuals who contributed to the Black History Month social media campaign from UA include Melodie Le Siège, BA 10, multimedia and social media producer; Joanne Latimer, MFA 94, communications advisor; and Sylvain-Jacques Desjardins, BA 97, director of communications. Contributors from UCS include Michael Gannon, BA 15, multimedia producer, and Salvatore Barrera, BA 93, video and multimedia producer.
President's Report 2021
The annual President's Report covers noteworthy university events and news of the previous calendar year. It includes the "The Future of Giving" section, which promotes and informs on the university's ongoing fundraising efforts.
The report's print and online versions are produced in English and French and sent to opinion leaders, government officials, media, members of Concordia's Board of Governors and university donors.
President's Report 2021: Providing Creative Solutions to Today's Challenges highlighted successes from the 2020 year — a challenging time for all. It included updates on the Campaign for Concordia: Next-Gen Now.
The judges' comments on the President's Report 2021 stated: "The themed, solution-oriented format helped to convey a powerful message of results that make a difference in the world. The piece is well designed with an effective use of resources."
Many individuals contributed to the President's Report 2021, including from UCS: Howard Bokser, MBA 85, editor, Jonathan Noel, lead creative designer, Veronique Verthuy, BA 04, brand and studio manager, and Charmian Harvey, executive director; and from UA: Ian Harrison, BComm 01, contributing editor and lead writer on the Future of Giving.
---