Meet award-winning filmmaker Carol Nguyen
The Concordia cinema grad explores family secrets in No Crying at the Dinner Table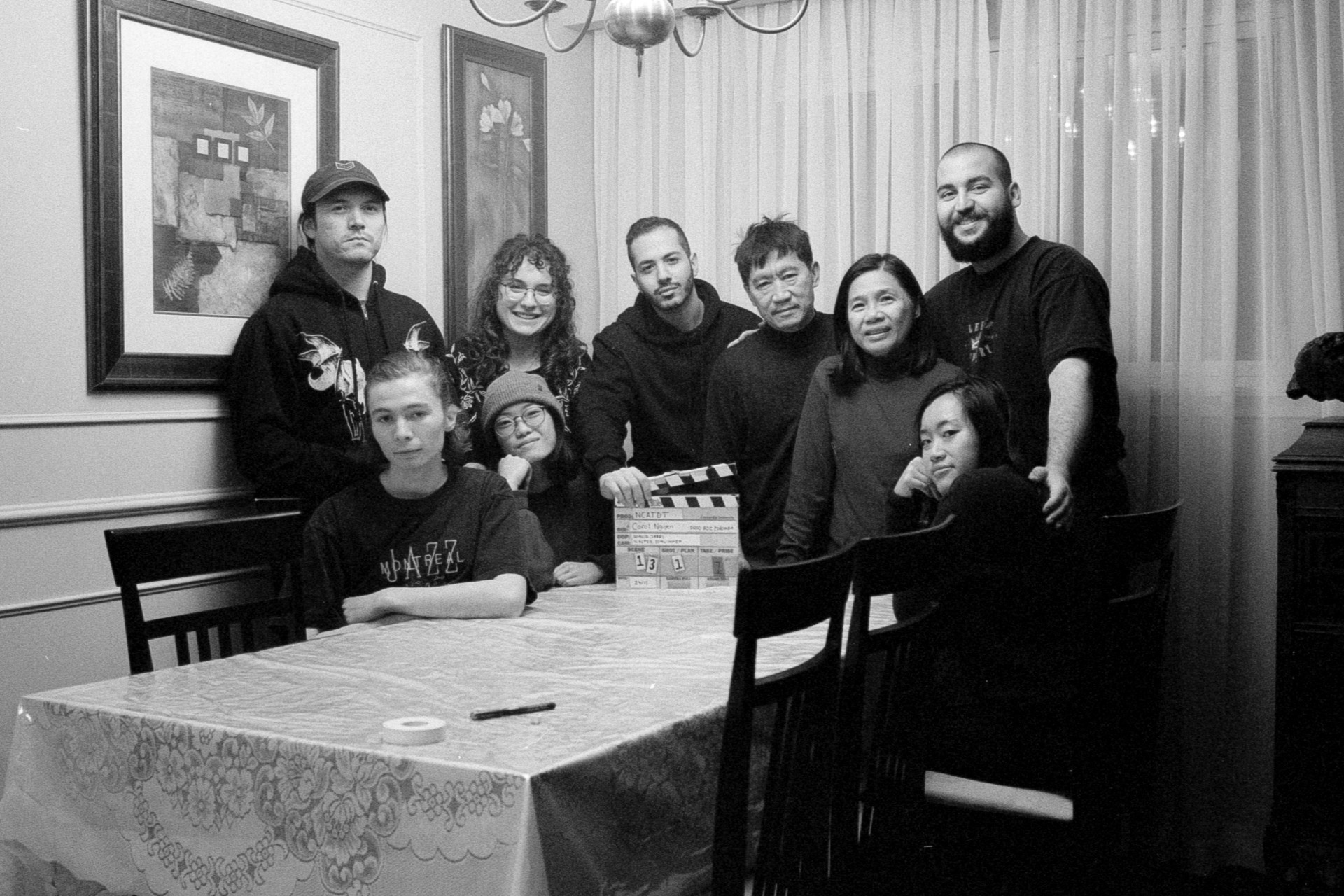 Carol Nguyen (seated, second from the left) and the crew wrap up production of
No Crying at the Dinner Table
. | Photo: Allen Bleich
By the time Vietnamese-Canadian filmmaker Carol Nguyen, BFA 20, arrived at Concordia's Mel Hoppenheim School of Cinema, she had already won numerous awards for her short films.
By graduation, her third-year thesis film No Crying at the Dinner Table had received over a dozen nominations and awards. Among them was the 2020 South by Southwest (SXSW) Film Festival's Grand Jury Award for documentary short.
No Crying at the Dinner Table shows what happens when silence that speaks volumes finally speaks out. Nguyen's parents — refugees from Vietnam — had never openly talked about their struggles. The family shied away from expressing their emotions. As a child, the filmmaker was told to never cry at the dinner table.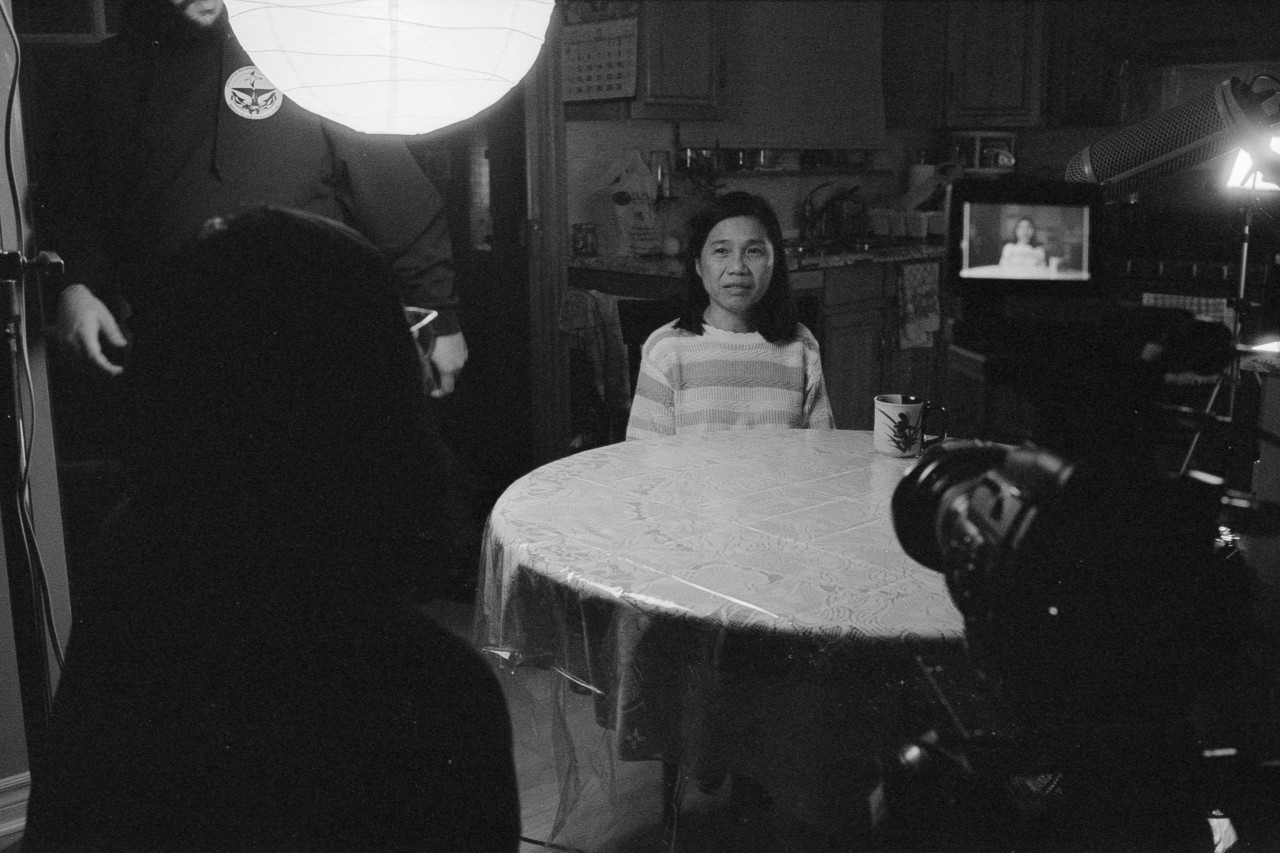 Nguyen and her mother prep before their interview for
No Crying at the Dinner Table
.
For the film, Nguyen interviewed her mother, father and sister separately, drawing out things left unsaid for so many years. She then gathered her family at the dinner table to hear excerpts of the interviews. Together they listen to their own stories of intergenerational trauma, caused by the Vietnam War, experiences as refugees and the death of beloved family members. Moments in the film — for example when her father expresses guilt over the suicide of his brother — may present as quietly meditative, yet contain leagues of emotional depth.
Nguyen's film garnered major media attention, including a feature interview with the filmmaker in The New Yorker — no small feat for a class project. Her work has been covered in dozens of publications over the years. Yet Nguyen remains modest.
Nguyen's Oscar journey
A SXSW win qualifies a film for the Oscars, so Nguyen submitted her film. While No Crying at the Dinner Table didn't make it to the red carpet, she went in without expectations and enjoyed the experience.
"I never imagined going on an Oscars journey because I'm so young," says the 23 year old. "I go into these things without a context for how something should be done or how I should act because I'm often the youngest in the room. It's humbling."
Nguyen was already shooting films as a teenager, winning a Toronto International Film Festival student award as a high schooler. "Through the years, I just fell in love with filmmaking. It gave me an outlet to speak — to express my inner feelings, grief and traumas I hadn't yet been able to articulate," Nguyen explains. "Being able to share those stories with audiences made it feel that much more worthwhile."
A sense of belonging and growth
With her studies in the rearview mirror, the Toronto native looks back fondly on her time at Concordia. "I sometimes miss it now that I've graduated," says Nguyen. For her, it's about the people she met along the way. She gives a shout-out to Daniel Cross, professor in the Department of Film Production.
"Building a community where you see the same faces every week, knowing the journey everyone is going through is the same as yours — that gave me a sense of belonging and of growth. It didn't feel like I was on my path alone," she says.
"You know when they say things just feel right when you see and feel a place? That's how I felt at Hoppenheim," she says.
Know a Concordia grad with an interesting story? We'd love to hear it. Email us at magazine@concordia.ca.
---