Life on campus — with Tammy Root and Shanika Taylor-Haughton
The Health Services and Campus Wellness and Support Services assistants talk about working at a clinic during a pandemic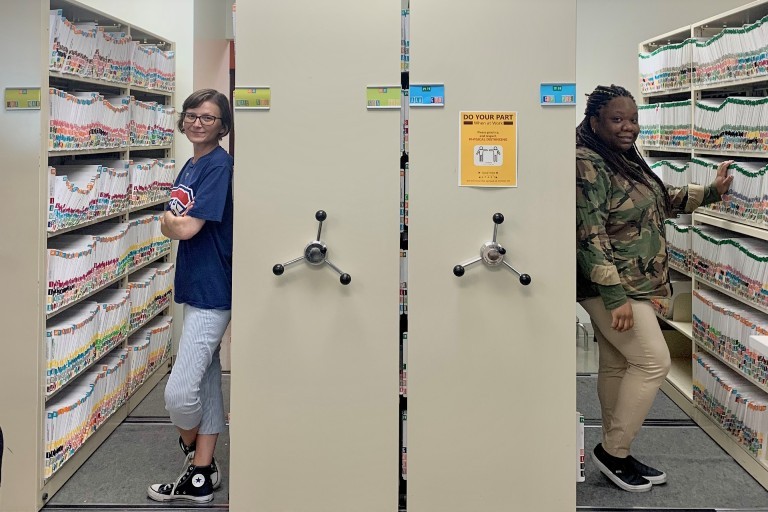 Life on campus is a series profiling inspiring faculty and staff who have been working on the Sir George Williams and Loyola campuses throughout the COVID-19 pandemic. To nominate someone you know, send an email to now@concordia.ca.
For Shanika Taylor-Haughton and Tammy Root, working on campus during the COVID-19 pandemic didn't come without a degree of stress and anxiety.
"Initially, I was very apprehensive because my husband is high-risk, and I have a three-year-old daughter. I was worried about putting them in harm's way, especially because I work on a team that operates a clinic," says Taylor-Haughton, who is a department assistant for Campus Wellness and Support Services.
"My apprehensions subsided when I learned about the policies put in place by Health Services, which included the standard Environmental Health and Safety protocols."
Since March 2020, Taylor-Haughton has been working on campus in some capacity, starting with once per week and gradually increasing to three days in January 2021.
Root, who is a service assistant in Health Services, returned to campus in March 2021.
"Even though I knew my office was practicing a very high standard of safety precautions, I was still apprehensive about my commute and passing people in my building," Root says. "After about a week or two, the fears went away."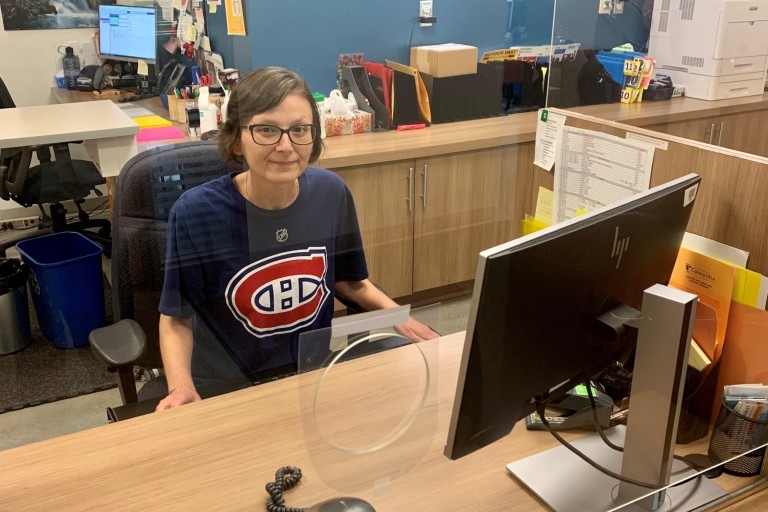 Tammy Root: "The bulk of our patients' medical needs are now being addressed by phone and online."
New ways of working
There are no typical workdays at Health Services. Root notes that their work is constantly changing based on what is happening in the community, especially throughout the COVID-19 pandemic.
"We do not receive 250-plus patients on a daily basis anymore. The bulk of our patients' medical needs are now being addressed by phone and online using telemedicine," she explains.
"This shift has changed our roles quite dramatically and will continue to do so as the number of patients physically coming into the office increases."
On a personal level, Root leaves her house earlier than she did prior to the pandemic to avoid large crowds on the metro. She also gets off earlier so she can walk the rest of the way and take in some fresh air before having to wear a mask all day.
Taylor-Haughton's daily routine has also changed. For instance, carpooling to campus is no longer an option because her colleagues are still working remotely. She's also noticed a change in the way people communicate at the university.
"Because we see and interact with significantly less patients, there is much less socializing, both interdepartmentally and within our own unit," says Taylor-Haughton. She adds that most exchanges now occur using Microsoft Teams, Zoom or Outlook.
Shanika Taylor-Haughton: "My apprehensions subsided when I learned about the policies put in place by Health Services."
Staying safe and lessons learned
Although the past 15-plus months have been difficult for everyone, Root's experience was particularly challenging after she received a cancer diagnosis last year.
"My one and only battle of 2020 was fighting breast cancer. During the peak of the pandemic, I was undergoing chemo treatments, followed by radiation," she relates. "It was extremely difficult to handle that while trying to stay safe from COVID, but I managed to get through it."
Before the pandemic, Root was always on the go and felt she had to get everything done as quickly as possible. Now, she makes a point to take her time, knowing tomorrow brings another day.
"Everything still needs to get done in a timely fashion, but I don't have to stress or burn myself out," she says.
Taylor-Haughton agrees and credits the pandemic for teaching her how to slow down and unplug from work once the day is over. She's also thankful to be working for a university that looks out for its staff, faculty and students — and has some sage advice for those who will be returning to campus in August.
"Continue to follow the guidelines put in place by the university and the government, clean your hands often, do not touch your face, get vaccinated, acknowledge your own feelings and seek guidance from your manager," Taylor-Haughton says.
"Do not be shy to express your fears or concerns to them so that they can comfort you by explaining what processes and procedures they're implementing to keep everyone safe."

Visit Concordia's COVID-19 information page to keep informed of latest developments.
---