Life on campus — with Wael Badawy
The EHS advisor talks staying positive and being grateful in uncertain times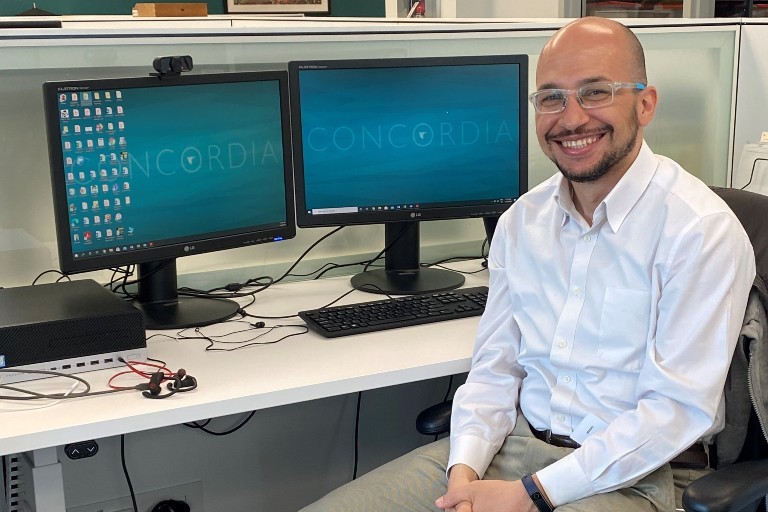 Wael Badawy: "People have been working around the clock to ensure your safe return."
Life on campus is a series profiling inspiring faculty and staff who have been working on the Sir George Williams and Loyola campuses throughout the COVID-19 pandemic. To nominate someone you know, send an email to now@concordia.ca.

When Wael Badawy returned to campus in May 2020, there was a lot of uncertainty surrounding the COVID-19 pandemic, including how transmissible and infectious the virus was among different populations.
As the advisor of occupational health and infection control in Environmental Health and Safety (EHS), Badawy received many questions from Concordia community members. The struggle was that he couldn't always provide them with definite answers.
"The main obstacle was the lack of certainty," Badawy recalls. "At the beginning of the pandemic, I didn't have certain answers. Actually, no one did. We had to work fluidly."
To help overcome early hurdles, he sought out the most recent research and recommendations from various public health agencies at the local, national and international levels. He also prioritized candor and clarity in his communications with faculty, staff and students.
"I had to be honest when I didn't actually know something, and provide Concordia members with the most recent recommendations," Badawy says.
Prioritizing safety
Since those first days on campus, Badawy has settled into a routine where he never leaves home without his mask, cleans his hands before sitting at his desk and keeps his distance from others.
He notes that while these safety measures have become second nature for many people, adhering to them remains paramount, especially in situations where individuals tend to let their guard down.
"The most difficult moments to maintain public health practices are when you're exhausted. After a long day of work, you start to forget or ignore some of them to get the job done as fast as possible," Badawy explains.
"The key point here is not to get overwhelmed. If you feel that you have to, or had to, sacrifice safety over productivity, adjust your task or ask for help."
For faculty and staff who haven't been to campus since March 2020, his advice is three-fold.
First, he suggests people get their information from reliable sources such as Concordia's COVID-19 information page. Next, Badawy recommends employees express their concerns with their supervisors so they can help address their apprehensions.
Finally, he encourages those who are coming back to campus to take the proper precautions and to think positively.
"Concordia has been one of the safest places to be during the pandemic and our numbers support this claim," Badawy says. "People have been working around the clock — not just in EHS but all departments — to ensure your safe return."
A new outlook on life
On a personal level, Badawy points out that the past 15 months have given him some perspective that he would have otherwise overlooked had it not been for the pandemic.
Now he hopes to continue appreciating the smaller things in life as the province embarks on its reopening plan.
"Before the pandemic, I never had the time to be grateful for being able to breathe normally, to smell, to visit my neighbours, to have lunch with my colleagues, to go to the gym or even to easily find toilet paper at the grocery store," Badawy says.
"The pandemic has made me think twice before taking anything for granted again."

Visit Concordia's COVID-19 information page to keep informed of latest developments.
---