Life on campus — with James Derick
The IITS supervisor talks overcoming early pandemic obstacles and meeting new people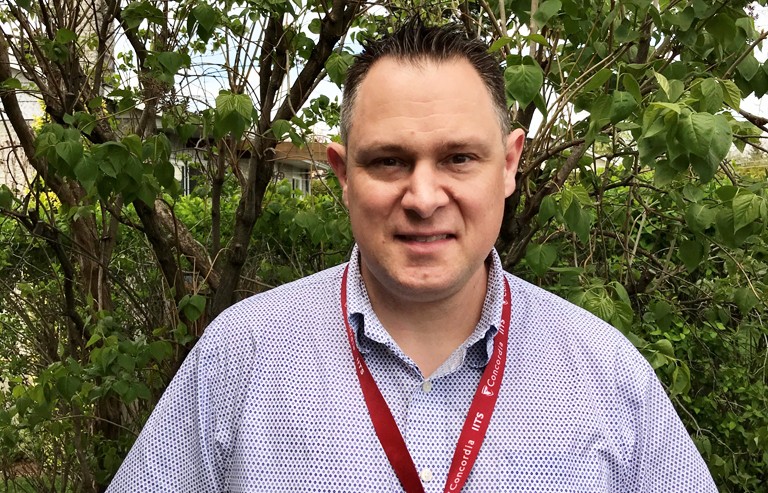 James Derick: "Follow the guidelines and you'll be fine. That's what I am doing."
Life on campus is a series profiling inspiring faculty and staff who have been working on the Sir George Williams and Loyola campuses throughout the COVID-19 pandemic. To nominate someone you know, send an email to now@concordia.ca.

On March 23, 2020, as the majority of faculty and staff settled in for their second week of remote work, James Derick was already heading back to campus.
The supervisor of the Molson Building (MB) and Faubourg Building (FB) Service Centres in Instructional and Information Technology Services (IITS) has been on a rotating schedule ever since, working one week on campus and the next from home.
He recalls having some apprehensions when he first returned to the university, and taking precautions to help with the transition.
"My main concern was whether it was safe to be going out or would I get COVID-19," Derick says. "I drove to work for the first five months of the pandemic instead of using the commuter train. I started taking it again in September."
Once on campus, so few of his colleagues were at the university that they had no problem spacing out their work areas beyond the two-metre suggested minimum. He also remembers having easy access to hand sanitizers on campus.
An evolving work environment
When Concordia started loaning laptops at the beginning of the pandemic, Derick quickly realized that some university community members did not have much experience using them.
"Many people were used to having technicians come to see them and solve their issues," he says. "Being extra patient with someone goes a long way when they are feeling stressed and having difficulties."
To help overcome these and other early obstacles, Derick held daily team meetings to get his whole group engaged to find solutions.
Since then, he and his colleagues have established their daily work rhythms, including checking in at the security desk every morning, loaning and receiving equipment at a temporary space in the J.W. McConnell (LB) Building and taking part in virtual and in-person meetings.
"For me, the really big change is Microsoft Teams," Derick notes. "I have been using it a whole lot more since the start of the pandemic. It's been a great tool."
'A positive experience'
Looking back on the past 14 months, Derick's biggest takeaway from his on-campus experience is the many conversations he's shared with other Concordians.
"I have had the chance to interact with so many new people that I would have never met if it were not for the pandemic," he says. "Concordia is a big operation — it takes many people to make it work smoothly."
Some of the helpful habits Derick picked up along the way include taking lunch breaks away from his computer, turning off Microsoft Teams and Outlook when he isn't working and wearing a lanyard to hold his mask when he's allowed to take it off.
He also has advice for employees who may be struggling with the idea of returning to work on campus.
"It's been a positive experience. The university administration and Environmental Health and Safety have been very good at developing and adjusting their best practices for a safe work environment," Derick says.
"Follow the guidelines and you'll be fine. That's what I am doing."

Visit Concordia's COVID-19 information page to keep informed of latest developments.
---