Superb study spots at Concordia
Get to know these great nooks for hitting the books. Sorted by faculty!
As anyone who's had to wade through pages of academic text can attest, a good, quiet spot for studying can make all the difference.
That's why we've drawn up a list of special spaces with Concordia's diverse student community in mind.
Whether you're studying for final exams or trying to finish up a term project, here are some great campus options that might be just right for when you need to hunker down and hit the books. And unless it's otherwise noted, many of these spaces are available to you regardless of your area of study.
Faculty of Arts and Science
CJ atrium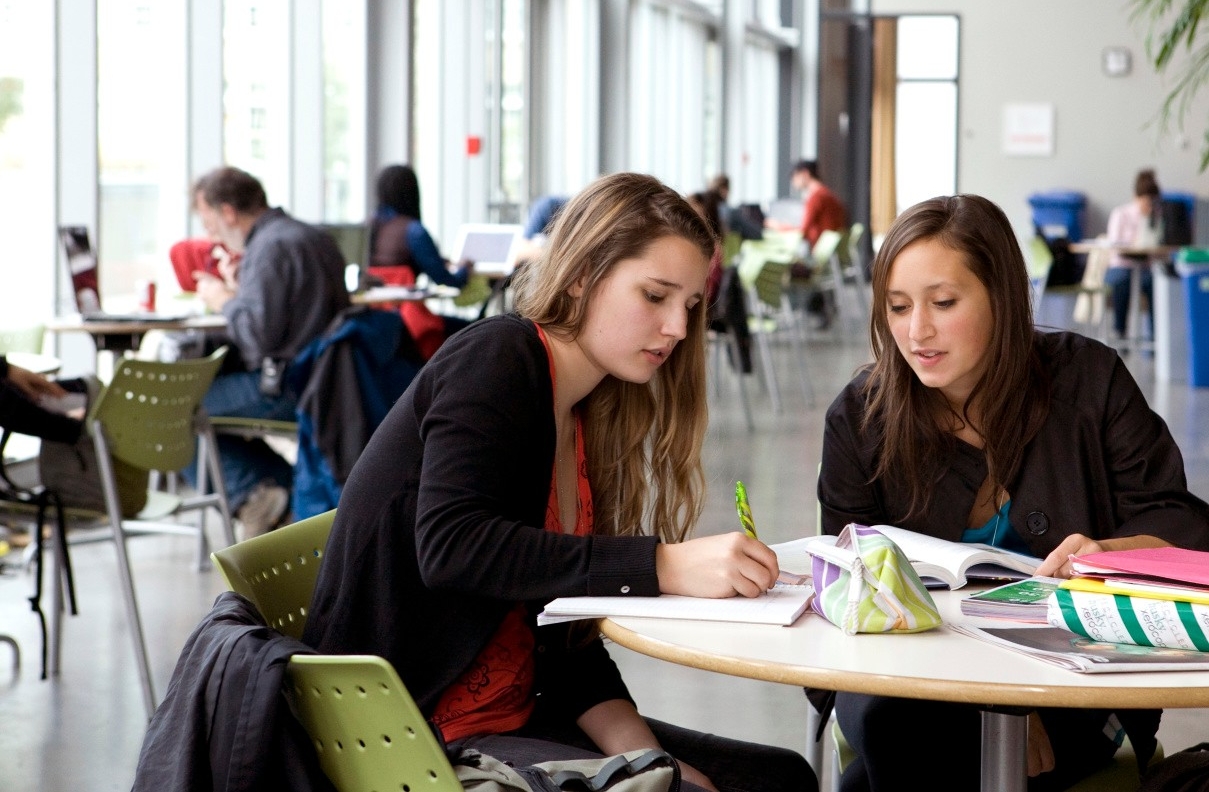 This bright space at Loyala campus boasts floor-to-ceiling windows, little round tables, a café kiosk, and it is a go-to for communications studies and journalism students. The space can be found on the main floor of the Communication Studies and Journalism (CJ) Building and, as a perk, it opens onto a large deck area with picnic tables, perfect for when the weather is warm.
SP basement lounge and atrium
The basement lounge (SP SI-S132) of the Richard J. Renaud Science Complex (SP Building) is relatively quiet and well set up for study sessions, offering a mix of larger and smaller tables with plenty of seating. As a perk, large windows that extend halfway down the area's wall let in a good amount of natural light. For additional seating and even more sunlight, just head up the stairs to the SP atrium, which has its own seating area.
Simone's Library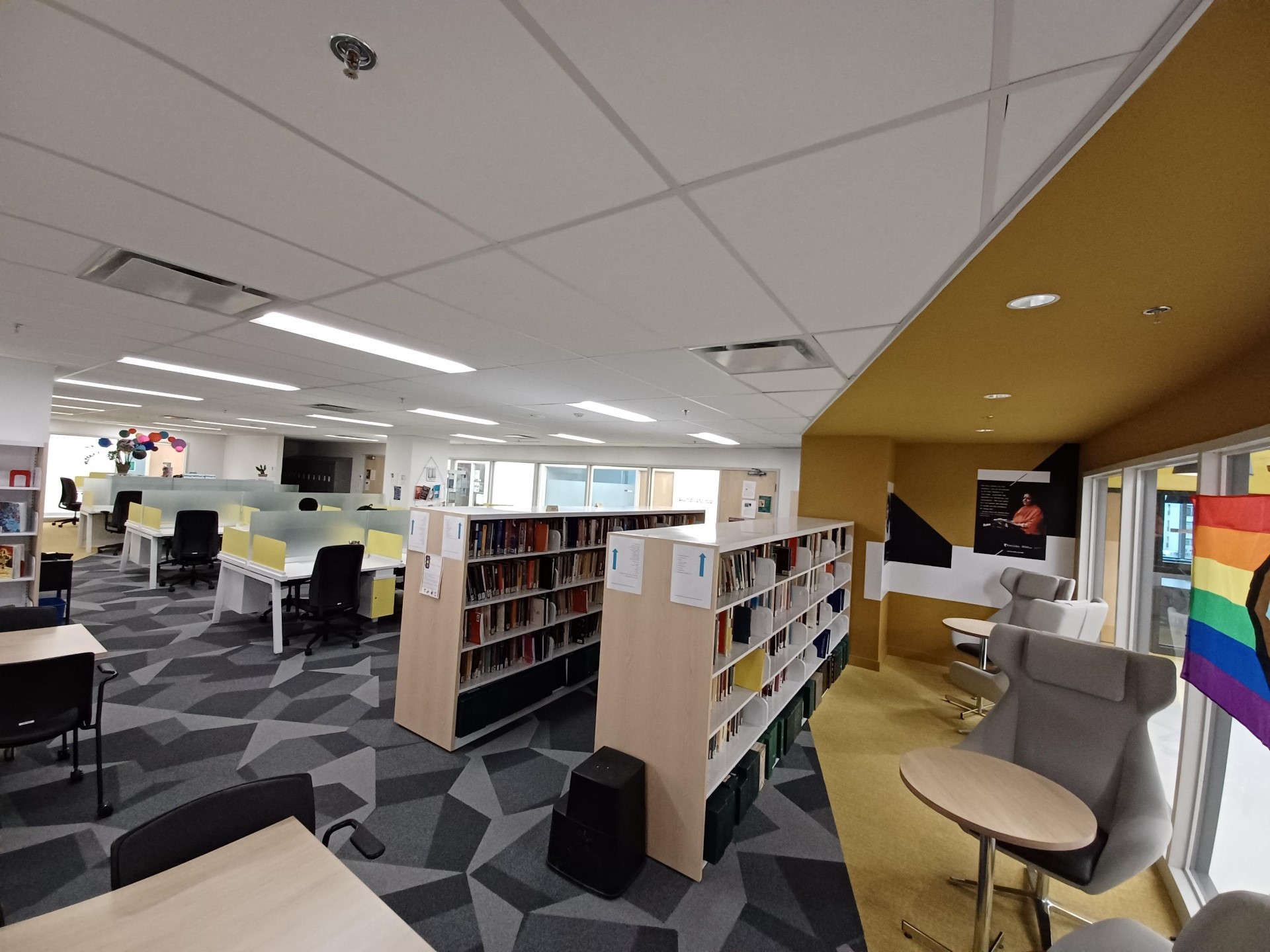 Located on the 4th floor of the Simone de Beauvoir Institute, Simone's Library offers a supportive atmosphere, with a staff librarian always on hand to help students with their work. It's a quiet study space that houses more than 2,200 books, primarily of the non-fiction, social science variety. It's also a great place to connect with others interested in feminism and social justice. Simone's Library open Monday to Thursday, 10 a.m. to 3 p.m.
The Chapel
With high vaulted ceilings, heavy beams of British Columbia fir and stained-glass, the chapel at Loyola campus is one of Concordia's oldest and most sacred spaces. It is also open to the student and wider Montreal community as an inclusive venue for a variety of events. The space can be booked for different purposes, such as wellness and community activities, art events and religious services, and is open to people of all faiths and interests.
Learn how to book the chapel for your next event.
John Molson School of Business
CASA lab
The R.O. Wills Computer Lab, more commonly referred to as the CASA lab, is available exclusively to undergraduate business students. It is located in the John Molson (MB) Building.
Its many computers are set up with Microsoft Office Suite and other software used for courses in the commerce program. Students also have access to high-quality laser colour printers on a fee-per-use basis.
To gain entry to the room, visit the lab (MB S1.465) and ask to create an account using your Concordia netname and password.
Monitors are always present during lab opening hours and can help you with any technical issues that may arise.
The MB trading lab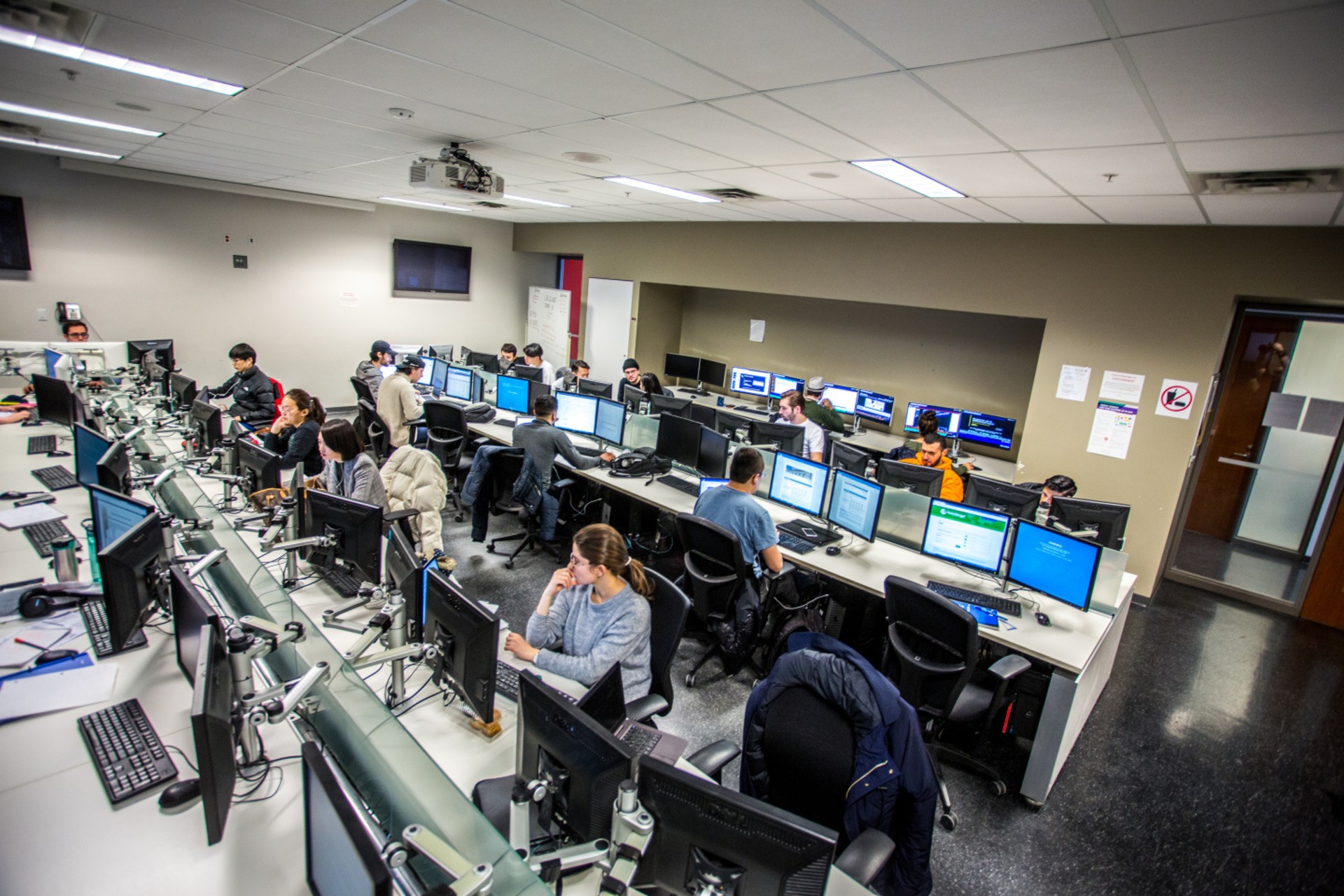 On the 12th floor of the MB Building you'll find the unique John Dobson — Formula Growth Investment Room (Room MB 12.254), or the MB Formula Growth Trading Lab. With 10 Bloomberg Terminals, 17 databases and 26 regular PCs, it's an ideal space for student researchers.
Registered finance students are welcome to visit the lab during opening hours to familiarize themselves with industry tools and live financial software.
With programs that allow you to create your own models and run your own portfolios, the trading lab is a resource intended to give finance students a competitive edge by equipping them with a practical knowledge of the markets.
A lab monitor is on duty at all times to assist with any questions you might have.
Faculty of Fine Arts
Visual Collections Repository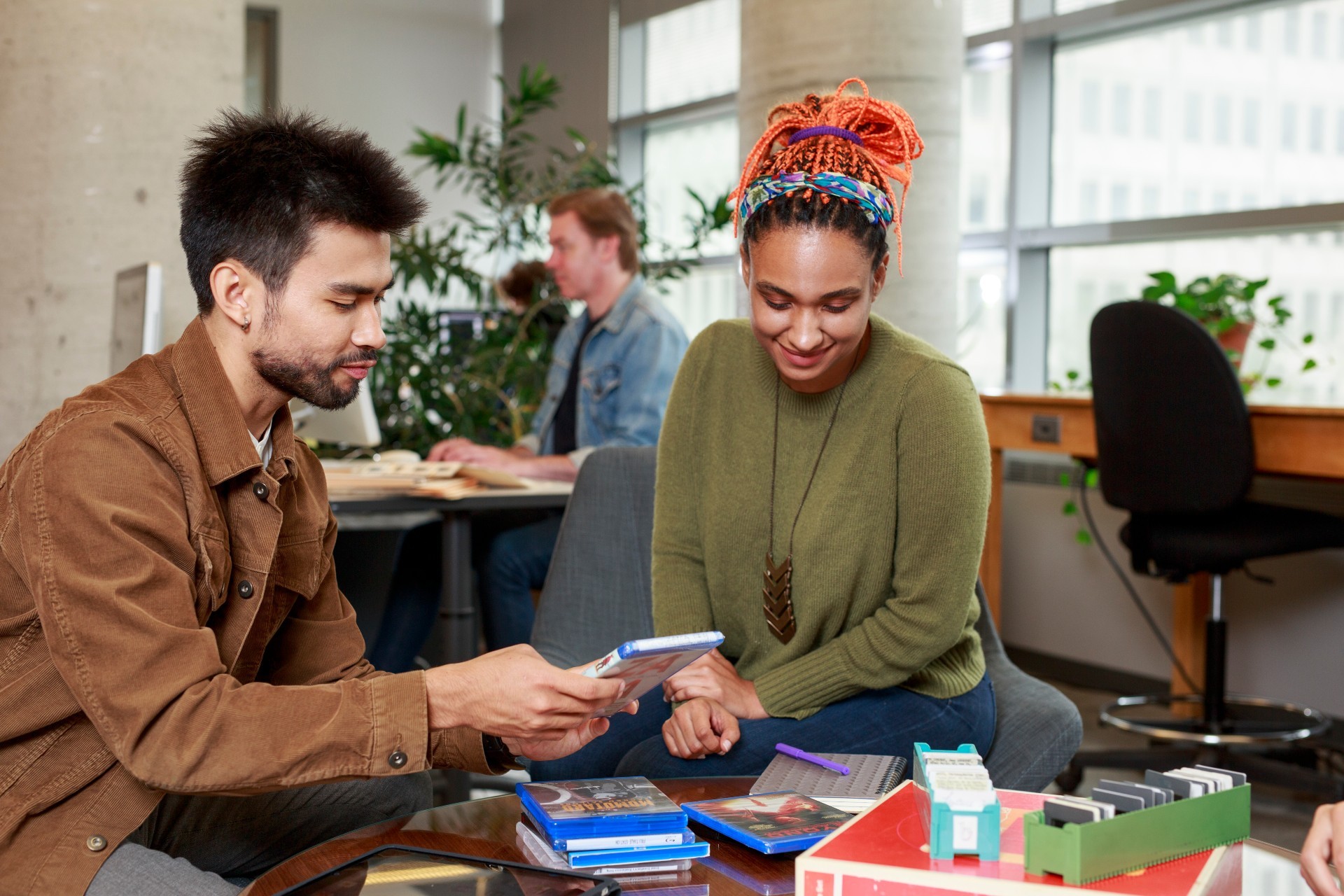 Need a place to do research on your video and sound projects? The Visual Collections Repository (VCR) supports fine arts faculty, staff and students by providing access to primary visual documents, media services and high-tech facilities. It's located in the Engineering, Computer Science and Visual Arts Integrated Complex (EV Building).
With its databank of digital images and slides, moving images and materials that specifically highlight women's contributions to Canadian culture, the VCR has tens of thousands of files to explore. Moreover, students can access individual viewing stations (EV 3.705) — which house 40" high-definition screens, Mac minis, stereo receivers and high-quality headphones — a high-tech seminar room (EV 3.754) and a mini-cinema room. (EV 3.730).
VA student lounge
Looking for a spot to relax between classes? The Visual Arts Building student lounge (Room VA-229) is the perfect spot to unwind for a bit. The newly opened space sports microwaves, tables, couches and sofa chairs. All students are welcome to enjoy the lounge area, which often acts as an informal gathering spot for students with visual arts interests.
EV screening room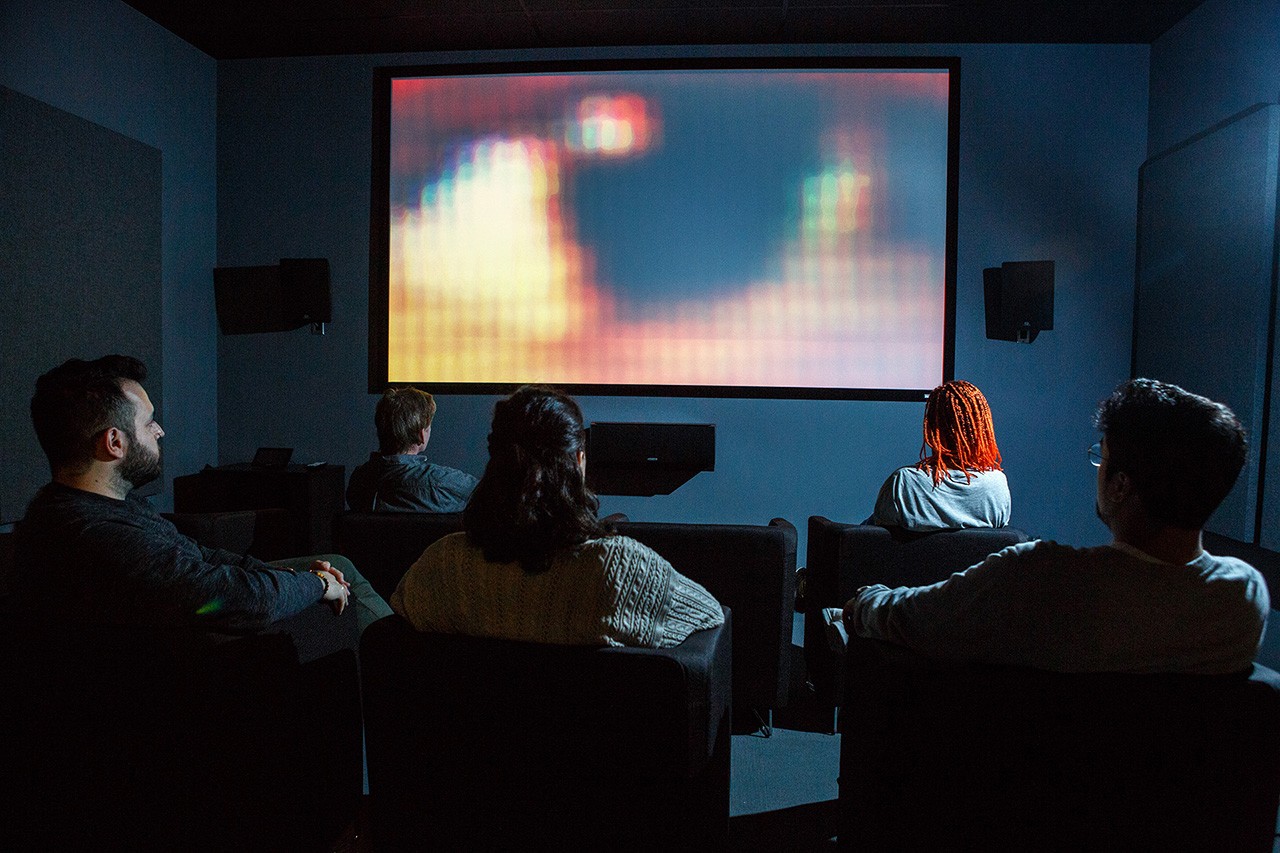 Comfy seats, surround sound, and a 72" plasma screen make this spot (EV 10-525) a hidden gem. It's ideal for students looking to screen work or play with the room's numerous toys, which include a Nintendo Wii, Xbox One with Kinect, and a PlayStation 4.
The space is exclusively for students in the Faculty of Fine Arts. It's important to book at least a day in advance (for up to four hours) using the fine arts reservation system.
Gina Cody School of Engineering and Computer Science
HB and EV Labs
Students enrolled in programs at the Gina Cody School of Engineering and Computer Science (ENCS) have access to a wide range of computing resources, electronic and media-related labs that are specific to the faculty.
Learn more about the options available to each program and level of study.
Graduate students
Dissertation writers' rooms
While thesis writing is a crucial period in a graduate student's academic journey, it can also be an isolating experience for many. Because Concordia knows it's important to support its grad students during this challenging time, the Webster Library offers three dissertation writers' rooms and a reading room for graduate students.
Located on the fifth floor, this area also has shelving and lockers for belongings and a lounge to help break that sense of isolation during marathon writing and research sessions.
Graduate students on Loyola Campus can also use the Vanier Library's graduate study room, located on the third floor.
These areas are reserved for graduate students. You can enter them by scanning your student ID at the front door or using a valid access code.
Learn more about resources and facilities set up just for graduate students.
More study spots!
Decked out group study rooms on both campuses
Want a study space that has the feel of a professional conference room? Look no further than the Webster and Vanier libraries.
The Webster Library boasts 15 group study rooms on the second, third, fourth and fifth floors that offer all the amenities needed for a great collaborative work experience — from a large table, six chairs and a 46" LCD screen (or two 42" LCD screens in the LB-2 study rooms) with wired and wireless connections, to a wide-angle USB camera and multiple power outlets.
The Vanier Library also has 10 study rooms located on the third floor, four of which offer digital collaboration technologies, including a 46" LCD screen with wired ports (HDMI, DisplayPort) and multiple power outlets.
Book a group study room today.
Faubourg S1
As Concordia's student population grew, so too did calls for more group and independent study spaces. This new FB space has both: there are midsized rooms that can be reserved and larger (first-come, first-serve) spaces where students can work together spontaneously.

Open from 7 a.m. to 11 p.m. daily, students will find lots of plugs for electronic devices and areas with moveable tables and chairs, as well a fixed group tables. The washrooms in the area are also gender inclusive and wheelchair accessible. Check out this short video to see all that's on offer.
Concordia Greenhouse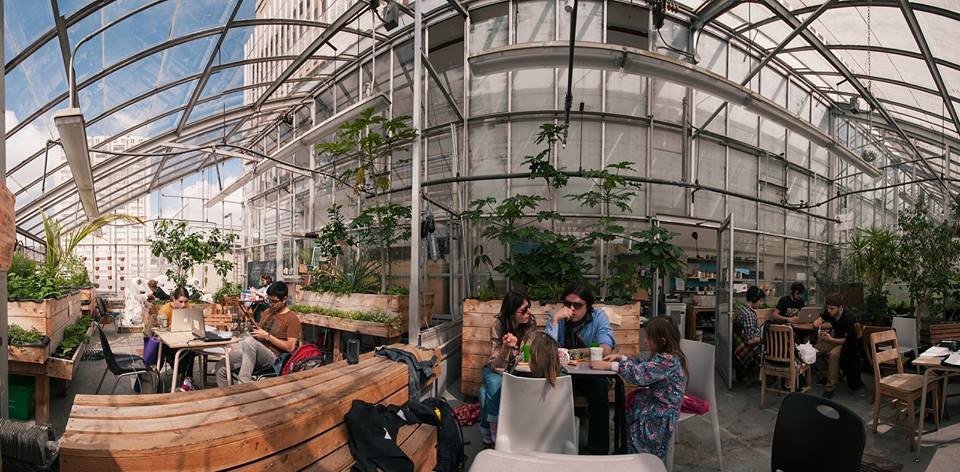 An oasis in Montreal's winter, the Concordia Greenhouse has several tables set up for studying.
Sit down, relax and pour yourself a cup of tea — there's a kettle available for boiling water — and put those finishing touches on a paper amid the greenery.
Located on the 13th floor of the H Building, the greenhouse is open from 11 a.m. to 5 p.m., Monday through Friday and they also sell coffee on Tuesdays and Thursdays until 4 p.m.
Grey Nuns Reading Room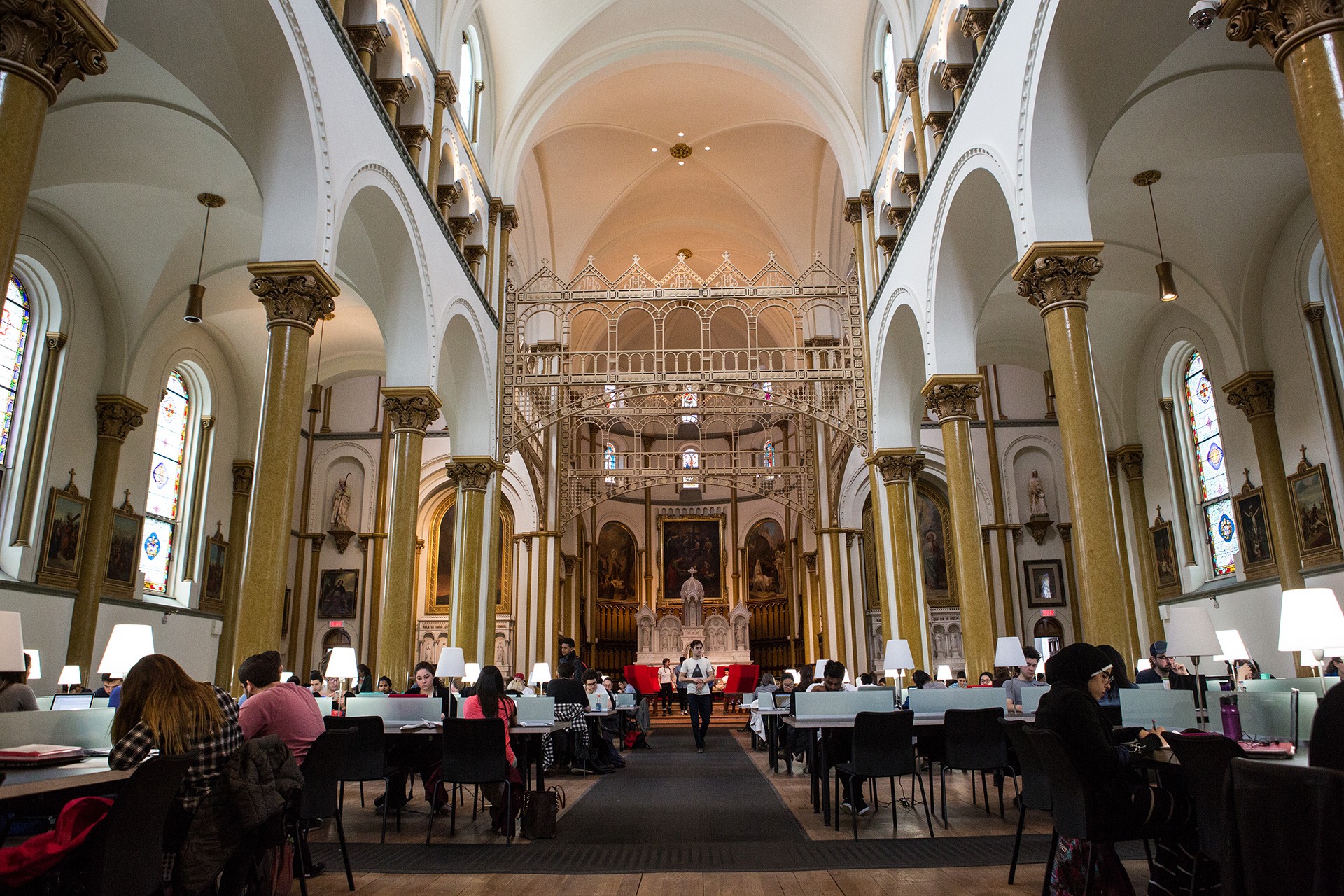 If you need silence to concentrate, the Grey Nuns Reading Room is for you.
Just a five-minute walk from the Webster Library, the beautiful chapel space operates on a strict no-talking rule, so it's an ideal place to get down to business. The Reading Room seats 192, but you can also reserve one of 14 group study rooms.
The Reading Room can be found at 1190 Guy Street and group study rooms are open from 9 a.m. to 9 p.m. Monday through Thursday, and until 5 p.m. on Fridays. It's open on weekends as well from 10 a.m. to 5 p.m.
Multi-faith and Spirituality Centre
If you're looking for a relaxed space, why not try the Multi-faith and Spirituality Centre? Heat your lunch in the kitchen, get a free cup of coffee or tea, meet people from diverse backgrounds in the lounge and yes, study! The Meditation Room is a quieter space to nap, pray, meditate and also study.

The Multi-faith and Spirituality Centre location on Sir George Williams Campus is located in Annex Z (2090 Mackay Street) and is open weekdays from 9 a.m. to 5 p.m. The meditation room is sometimes booked by groups.
PRO TIP: Ask your department if there's a study group to join, or make your own, and start enjoying these productive spaces!