A day in the life of a CEO
You have until November 6 to apply for the program that pairs the country's best business students with its top executives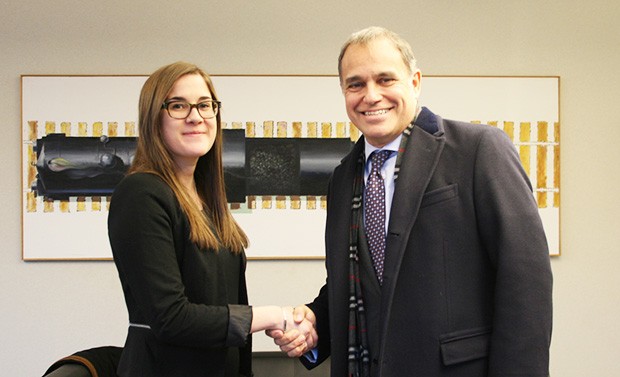 "Even those who weren't selected to spend a day with a CEO felt they had gained a new understanding of themselves and their leadership potential," says Jacqueline Foley, chief marketing officer at Odgers Berndtson. (Pictured here: Jesse Carmichael with Yves Desjardins-Siciliano.)
When Jesse Carmichael walked into the head office of Via Rail Canada last February she was caught off guard by the casual friendliness of Yves Desjardins-Siciliano, president and chief executive office (CEO) of the huge crown corporation.
Carmichael, who studies marketing at the John Molson School of Business, was among three students from Concordia selected as finalists for executive search firm Odgers Berndtson's CEO for a Day program.
Now in its third year, the competitive program pairs 20 third- and fourth-year university students from across Canada with some of the country's top CEOs for a full day at the office. Students have until November 6, 2015 to apply. Concordia has had four finalists in the program over the last two years.
"What's amazing is the fact that Desjardins-Siciliano shared his experiences and thoughts with me, and spoke about why he liked this program, but it wasn't like a CEO speaking to a student, he really talked to me on his level," says Carmichael.
Beyond the one-on-one time, Carmichael spent her day shadowing Desjardins-Siciliano throughout his regular activities, sitting in on high-level strategic meetings and safety-committee reviews before taking a tour of Via Rail's underground train station. She says the visit deepened her understanding of what it takes to lead people.
"It's an incredible program and I think having it on my CV was a definite differentiator," says Carmichael, who believes the experience helped her secure a position with the Boston Consulting Group upon graduation.
Even those who don't make it to the end stand to benefit from applying. Two-thirds of applicants are asked to fill out an online leadership assessment and receive personalized feedback from Hogan on skills such as relationship building, goal setting and strategic thinking.
All semi-finalists will be considered for an interview with McKinsey & Company for a summer internship or full-time placement.
"Students have told us that going through the CEO for a Day application process was unlike anything they had ever experienced," says Jacqueline Foley, chief marketing officer at Odgers Berndtson. "Even those who weren't selected to spend a day with a CEO felt they had gained a new understanding of themselves and their leadership potential, and for many it helped them gain confidence in their ability to be successful in their chosen career path."
Carmichael says those who want to apply should take the time to carefully reflect on their motive for participating in the program and prepare anecdotes that illustrate a passion for business. "The biggest thing is to have the confidence that you deserve the opportunity and work hard to make sure you get it."
Here's a breakdown of the application process:
Enrolment: You must submit an online application, including your résumé and a written essay on leadership.
Online leadership assessment: Select students will be asked to create an online profile of their competencies and leadership potential.
Phone interviews: Chosen students will participate in a short telephone interview.
In-person interviews/evaluation: Semi-finalists will be invited to a half-day event at a local Odgers Berndtson office (Toronto, Montreal, Vancouver or Calgary), where they will participate in individual and group exercises, including speed interviewing and presentations, and have an opportunity to meet and network with some of Odgers Berndtson's consultants and partners.
Students will receive feedback on their online leadership assessments, and finalists will be chosen and paired with a CEO.

Apply today for the CEO for a Day program.
---