CEO x 1 Day returns to Concordia
Nationwide program is open to all third and fourth year Concordia undergraduates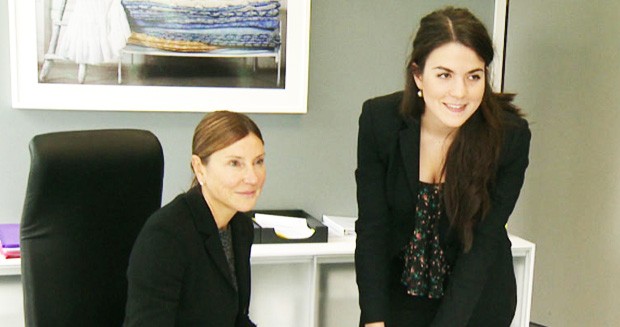 CEO x 1 Day finalist Katerina Fragos (right), BComm 14, spent a day shadowing Videotron CEO Manon Brouillette.
What do CEOs do all day? Katerina Fragos knows.
Last year, the John Molson School of Business (JMSB) student was one of four Quebecers and seven Ontarians selected as a finalist in a program that matched selected students with the CEO of a leading Canadian company. Fragos got some insight into what the life of a senior executive is really like when she spent a day shadowing Manon Brouillette, the president and CEO of Videotron.
"I have a new-found appreciation for the effort a good manager puts into empowering and motivating his or her employees," says Fragos.
Now in its second year, the "CEO x 1 Day" program once again gives third and fourth year university students an opportunity to spend a day in the shoes of a senior executive. Applicants go through a rigorous selection process and students exhibiting outstanding leadership potential are identified and paired with a CEO.
Concordia will again be participating in the program which is an initiative of the global executive search firm, Odgers Berndtson. Odgers will select up to 20 finalists who will spend a day with a chief executive officer in Calgary, Montreal, Toronto or Vancouver.
The program provides the finalists with a rare opportunity to learn first-hand about the background, career path and managerial style of some of the country's most successful senior executives, says Fragos.

"This program is such a genius concept," she says. "After meeting Manon, I felt like maybe one day, if I put in enough effort, if I work hard enough, if I surround myself with the right people, if I overcome my weaknesses, I can do big things, too."
There are also benefits for students who are not selected as finalists.
Simply participating in the recruitment process will provide them with valuable skills and experience for future job searches. Two out of three applicants will have the opportunity to complete an online leadership assessment and receive a personalized report from Hogan Assessments, a global leader in the field. The report will provide feedback on aspects of their leadership skills like relationship building, goal-setting and strategic thinking which will help them in choosing a career path.

Semi-finalists will spend half a day participating in group exercises and one-on-one interviews which will strengthen their presentation and interviewing skills. They will also have an opportunity to review their personalized leadership assessment report with a consultant from Odgers Berndtson.
"A lot of students at Concordia take on roles to develop skills, experience and knowledge that will ultimately allow us to become better leaders," Fragos says. "Being selected to shadow a CEO for a day gave me the hope that I might have what it takes."
The program is open to applicants from all four of Concordia's academic faculties.

Apply online before November 7, 2014.
---