What it's really like to be CEO for a day
This month, a Concordia undergrad got a taste of life at the top of the corporate ladder
Every business student entertains fantasies of being a CEO. But what does it take to get there? And what's life like at the top? Katerina Fragos, a student at the John Molson School of Business (JMSB), found out on February 13 when she spent the day with Manon Brouillette, president and COO of Videotron.
Fragos was one of 11 winners of the executive search firm Odgers Berndtson's CEO x 1 Day competition, which identified third- and fourth-year students with serious leadership potential and matched them with some of Canada's most senior executives.
The successful students then shadowed the CEO.
Fragos's credentials were clear. She has taken part in JMSB's Co-operative Education Program, and completed three internships, including a stint with the real-estate department at PSP Investments.
She served as vice-president of Academic Affairs of the John Molson Competition Committee, and competed in cases in the JMSB Case Competition Program.
For the CEO x 1 Day competition, Fragos completed an online leadership assessment, which measured her relationship-building, goal-setting and strategic-thinking abilities. She also participated in a series of group and individual interviews.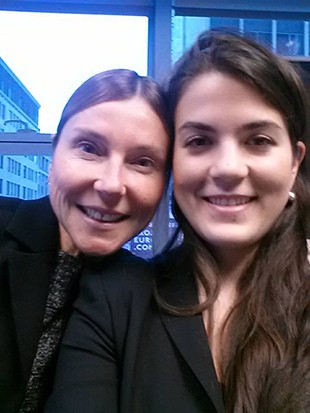 JMSB student Katerina Fragos found that Videotron COO Manon Brouillette "leaves an impact everywhere she goes."
At Videotron on February 13, Fragos followed Manon Brouillette through the daily business of managing a major corporation.
Here's what she had to say about the experience.


Concordia student Katerina Fragos on being "CEO for a day"
After spending the day with Manon, I have a new-found appreciation for the effort a good manager puts into empowering and motivating his or her employees. Regardless of whether or not he or she is tired or has had a long day, in any meeting with employees, a manager must be 'on' and alert. You need to give your employees your undivided attention to provide them with relevant and constructive feedback, as well as authentic encouragement.
Watching Manon in action was so exciting — the way she notices small details that often go unnoticed, the way she communicates her thoughts in an effective and concise manner, the way she excites the people around her, the way she asserts herself and, most importantly, how humble and human she is.
Manon leaves an impact everywhere she goes. In every meeting, at every presentation, she creates positive change. She is driven by this impact. At the end of the day, I was tired — I was ready to take a long nap. Manon, on the other hand, was on her way to the gym, almost unphased by the long day.
This program is such a genius concept. After meeting Manon, I felt like maybe one day, if I put in enough effort, if I work hard enough, if I surround myself with the right people, if I overcome my weaknesses, I can do big things, too.

When she graduates from Concordia this spring, Katerina Fragos will start work as an account manager in Procter & Gamble's consumer business development program.

Watch Katerina Fragos talk about what it was it was like to be "CEO for a day" on Global News.

---