What's a day at the office like for a CEO?
JMSB students get a view from the top of the corporate world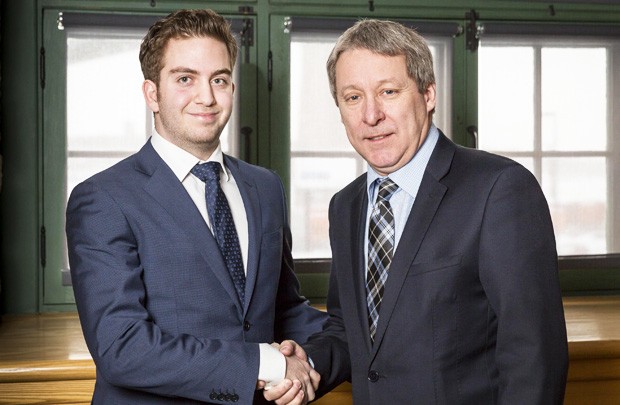 Anthony Esposito learns about leadership from CEO Alain Brunet, of the SAQ.
Three bachelor of commerce students from the John Molson School of Business (JMSB) were selected to shadow the CEOs of Via Rail Canada, Quebec's Liquor Board — the SAQ and gaming giant Ubisoft Montreal.
Jesse Carmichael, Anthony Esposito and Michael Richardson were among the six Quebec winners of executive search firm Odgers Berndtson's annual CEO for a Day competition, which pairs third and fourth year undergraduate finalists from across the country with local CEOs. Here are their recollections of the experience.
Anthony Esposito
On February 12, 2015, I had the honour of shadowing Mr. Alain Brunet, President and CEO of the Société des alcools du Québec (SAQ). Throughout our day together, I was fortunate to learn an enormous amount from both his leadership style and from the SAQ's business practices.
The day starts out at 8:30 a.m., when I'm greeted by Mr. Brunet in his office.
As he does every Thursday, Mr. Brunet has a breakfast meeting with the vice-president of Human Resources and about a dozen store managers from all across Quebec. It's an informal and welcoming environment, where store managers can bring up any questions, comments or concerns they have. Mr. Brunet answers every one of their questions in a friendly, reassuring manner, as the Vice-President of Human Resources takes notes.
After the meeting, we have some quality one-on-one time where I'm able to ask Mr. Brunet both professional and personal questions. What I'm most impressed with is that he literally started from the bottom as a part-time employee, and worked his way to the top over the course of 35 years. I truly believe that the experience of having worked in so many different departments with so many different people has allowed Mr. Brunet to be the effective, approachable and inspiring leader he is today.
Later we're chauffeured to Saint James's Club — where Mr. Brunet is the guest of honour at Cercle Omer DeSerres, an association for leaders from the retail commerce industry to meet and share best practices. Mr. Brunet is delivering the keynote speech and as a result, I sit with him at the table of honour, alongside other C-level executives of large Quebec corporations. He delivers an impactful presentation on the SAQ's vision of the future that literally leaves me with goose-bumps.
We then go to the distribution centre in Montreal, where I sit in on meetings with both the Vice-President and Director of Supply Chain. Afterwards, they give me a tour of the 750,000 square foot facilities, including the offices, warehouses and laboratories.
We end the day back where we started — at the head office. Except this time, instead of being two strangers, it feels as if we've known each other for years. We reminisce about the day that just passed, talk about the SAQ moving forward, and promise to stay in touch.
As an ambitious, hard-working and success-driven student who is extremely interested in retail commerce, I could not have asked for a better day or a better CEO.
No amount of words can do justice to how much I learned in one day about both business and leadership.
I am truly grateful for everything and want to thank the John Molson School of Business, Odgers Berndtson and the SAQ for giving me this opportunity.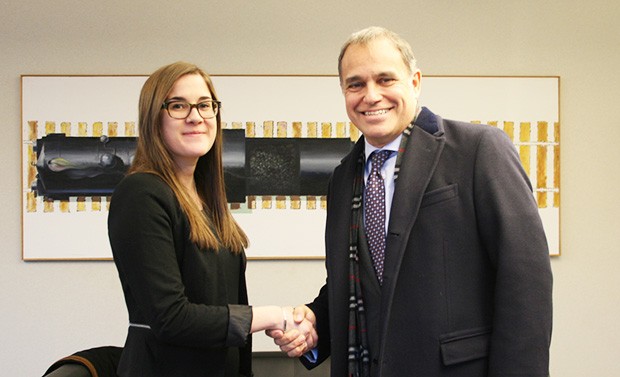 Jesse Carmichael spends the day with Via Rail CEO, Yves Desjardins-Siciliano.
Jesse Carmichael
Shadowing Mr. Yves Desjardins-Siciliano, President and CEO of Via Rail Canada, on February 25, was an unbelievable learning experience. The day taught me a great deal about leadership and effective management, and motivated me to work harder and strive for more.
When I walk into the Via Rail head office, I certainly don't expect to be greeted so kindly, or to learn so much in such a short period of time.
The day begins with a one-on-one sit down with Mr. Desjardins-Siciliano. He recounts his journey to becoming CEO of Via Rail and what qualities he feels led to his success. Although he is a powerful business executive, he is extremely friendly, warm and welcoming.
As I sit in on their morning Management Committee meeting, I have the opportunity to see him in action. The meeting is attended by all of the company chiefs and directors, who all take the time to speak to me and tell me about their backgrounds. Mr. Desjardins-Siciliano commands the room — it's impressive to see how he empowers and motivates his employees.
During a working lunch, I learn about Via Rail's compensation review policies and then sit in on a monthly safety call, which gives me a chance to learn more about some of the challenges of running a large Crown Corporation.
Finally, the senior manager of Customer Experience gives me a tour of Central Station. I get to see how maintenance is conducted on the trains and enjoy a tour of a newly designed train.
Overall, my CEO for a Day experience is inspiring and eye-opening. The most important thing I learn from Mr. Desjardins-Siciliano is that with hard work — anything is possible.
I am grateful to Via Rail Canada for providing such an open view of the company, and to Odgers Berndtson for running this outstanding program.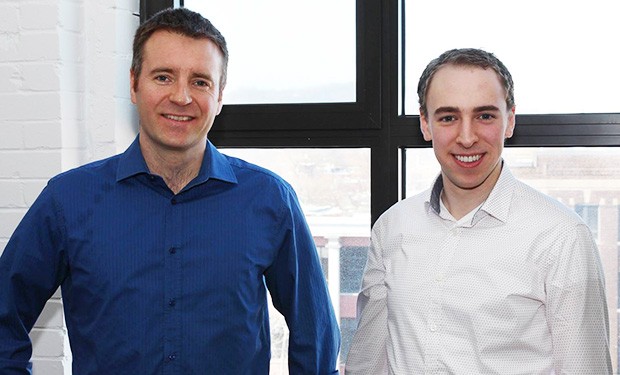 JMSB student Michael Richardson with his CEO for a Day, Ubisoft Montreal's Yannis Mallat.
Michael Richardson
I have been given the opportunity to shadow Yannis Mallat, CEO of Ubisoft Montreal, as part of the CEO for a Day Program. I have no idea what to expect as I walk through Ubisoft's front doors on March 19, but within the first hour I know the experience is going to be incredibly eye opening.
Before the day officially begins, I have a chance to speak with Mr. Mallat one-on-one. He gives me a bird's eye view of the gaming industry, Ubisoft's goals for the year, and the company's recent achievements. He tells me what it's like to manage a team of employees with different backgrounds — from creative directors, to video game editorialists and finance professionals. It's inspiring to see a CEO that's so easy-going and approachable, all while running a very tight and successful ship.
Our first meeting is with Mr. Mallat's executive team — a great first hour! I immediately see how dynamic the Ubisoft culture is, and feel welcomed right away. One thing I admire about Mr. Mallat's approach is that he encourages his team to lead the discussion, providing his own input only after everyone has shared their ideas.
Following the meeting, Mr. Mallat and I attend a presentation for a new Ubisoft game! We then join Creative Director Dean Evans for lunch, who gives me his perspective on how the gaming industry has evolved over the years, and what we can expect from its future. Afterwards, I join Mr. Mallat for a number of meetings with his team, and a 5 à 7 held in recognition of contributors to a recent Ubisoft project.
At the end of the day, I have the chance to ask Mr. Mallat, what he would have wanted to know at my age — he says, "The importance of listening."
Listening — to his team, to his advisors and to his instincts — is something I saw Mr. Mallat do first-hand, and it's something I'll remember as I begin my own career.
I would like to thank Mr. Mallat and the entire Ubisoft team for welcoming me to their offices, and to Odgers Berndtson for this amazing opportunity. This experience was certainly a highlight of my undergraduate career at JMSB.
Last year, JMSB finance student and valedictorian, Katerina Fragos spent a day with Videotron's CEO Manon Brouillette.
---