Concordia's ConUHacks is back in person and mightier than ever
JAN. 21-22: Organizers of the seventh edition of Quebec's largest hackathon expect a turnout of 700+ for their first live event since the pandemic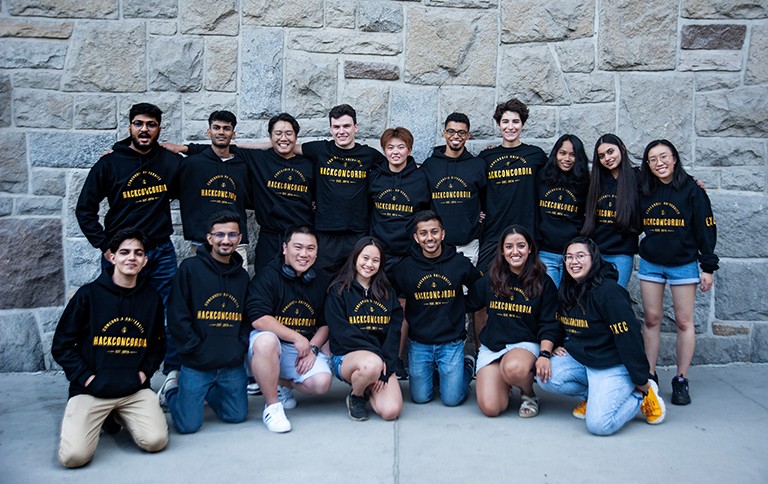 Charlene Gail Baay: "Seeing everyone working together will be extremely fulfilling."
After hosting the event online last year, Concordia's hackathon is finally returning to its beloved in-person format. And the student organizers at HackConcordia are expecting an impressive turnout for ConUHacks VII.
The 24-hour hacking marathon has grown significantly over the last nine years. With more than 1,500 applications from 75 high schools, colleges and universities across Canada and the United States, 700 to 800 attendees are expected to attend.
"I was a volunteer for ConUHacks IV, which was one of the last in-person competitions we had before the onset of the pandemic," says Charlene Gail Baay, HackConcordia co-president. "It feels great to host an event of that scale once again. Seeing everyone working together will be extremely fulfilling."
Organizers call ConUHacks the largest hackathon in Quebec. This year's edition, Concordia's seventh, will begin Saturday, January 21, and continue into the late afternoon of Sunday, January 22, at Concordia's John Molson Building.
Limitless possibilities
The event brings student teams together to build a software or hardware project, like applications, websites, video games and robotic tools, all guided by themes and challenges. The competition lets students get creative and innovative, with almost no limitations on what they can submit.
The first-place team from last year's competition developed a platform called RevYou that allows users to view and post short video reviews of a business, location or landmark by scanning its unique QR code — an impressive project to create in only 24 hours.
Sponsorships helping students and companies alike
This year, event organizers have amassed 17 sponsors, who will be onsite to interact with students, provide workshops and mentorship, and showcase their companies.
For students, it is a chance to impress potential employers and forge connections. The sponsorships have become a winning formula for the event and key to attracting student participation.
"I think this year's event will be particularly interesting for networking with our sponsors," notes Vatsa Shah, co-president of HackConcordia. "The opportunity for students to meet with companies face-to-face can make such a difference in finding the right career path."

Learn more about ConUHacks VII and HackConcordia.
Learn more about Concordia's Gina Cody School of Engineering and Computer Science.
---