A team of Concordia entrepreneurs seeks to revolutionize how online content creators are paid
The startup Vodra allows users across different platforms to pursue their passions while being fairly compensated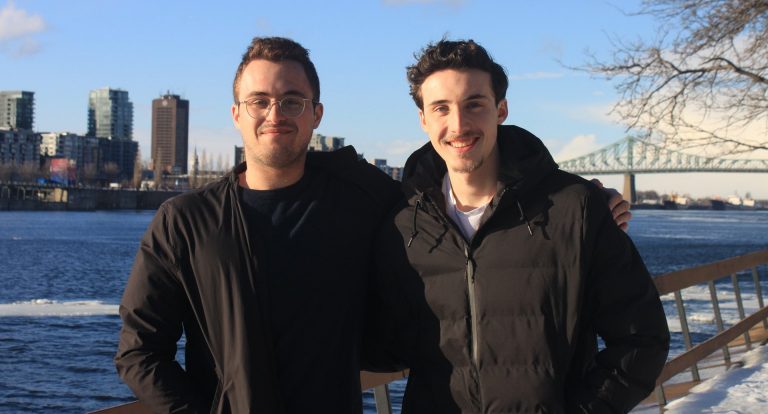 Software engineering student Zachary Bys and recent John Molson School of Business grad Conner Romanov (BComm 20) recently launched a crowdfunding platform — with a twist. Vodra uses a utility token that aims at compensating content creators based on the size of their social media audiences.
The startup co-founders explain that the challenges posed by advertisers and algorithm changes across different online platforms often force content creators to compromise their work and restrain them from making a living wage.
"Because these algorithms change rapidly, so does the revenue for creators," Bys says. "One month they can make a decent amount of money, while barely making anything the next."
Essentially, Vodra allows creators to redeem their audience size using Vodra tokens. These tokens are paid by supporters through different features including donations, votes, project funds, pledges and more.
Content creators who join Vodra bring their audiences with them, which increases the value of the token, along with the audience's engagement.
A quarantine startup takes off
The idea came to Bys and Romanov during the early stages of the COVID-19 pandemic, when they noticed an increase in online entertainment and social-media consumption.
"A lot of people are trying to make a name for themselves online by creating content," Romanov notes. "At the same time, cryptocurrency has gained more mainstream attention."
He says they wanted to find a marriage between the two ideas. "We figured out how to use this new technology to better compensate creators."
Amid the lockdown, Bys and Romanov worked on creating a decentralized donation platform that would allow content creators to be compensated directly from their audiences through different features, rather than being constrained by their respective platforms, which can collect up to 45 per cent of donations.
With that, Vodra was born — a now rapidly growing platform that within weeks of its launch, gathered a combined audience of more than 100 million followers.
"A lot of the skills I've applied on this project are based on the different events I worked on during my time at Concordia, including ConUHacks and others," Bys says.
With their collective knowledge, Romanov adds, the co-founders launched themselves into this venture, hoping to find a way to shift the focus back to creating the content that creators want to make and audiences want to watch.
An important step toward connecting with audiences
Since its launch, Vodra has signed on a diverse range of creators from talent agencies that run Twitch streamers to musicians, tech bloggers, athletes, artists, entertainers and others.
"We're attracting a wide range of content creators who all noticed the same problem we are trying to solve," Romanov says.
"At the end of the day, all these different features allow creators to turn their passions into actual jobs and be able to work on their craft while making an equitable revenue," Bys adds.
This way, audiences will be able to consume free content that is designed for their enjoyment, without a huge chunk of their donations going directly to third parties.
Recruiting within the Concordia community
The Vodra team is currently composed of five Concordians, including political science graduate Alexander Romanov (BA 19), mechanical engineering graduate Amin Bouabdellah (BEng 20) and software engineering graduate Jeremiah-David Wreh (BEng 20), who each bring different skillsets.
"That's one of the best things about Concordia — there's a wide range of people from different backgrounds and that allows for the creation of a project like this," Bys says.
Given the rapid growth of the platform, Romanov and Bys are seeking new recruits with backgrounds ranging from art to marketing to engineering.
"Any interested Concordia students looking to take part in a growing project are welcome to share how they're interested in joining the team," Romanov says.

For more information about the new Concordia-led content creation startup, visit Vodra, follow them on Instagram or email contact@Vodra.io.
Learn more about Concordia's John Molson School of Business.
---