Concordia business students develop a platform to help emerging artists sell their work
Bidgala will launch with almost 600 vendors and more than 1,500 pieces for sale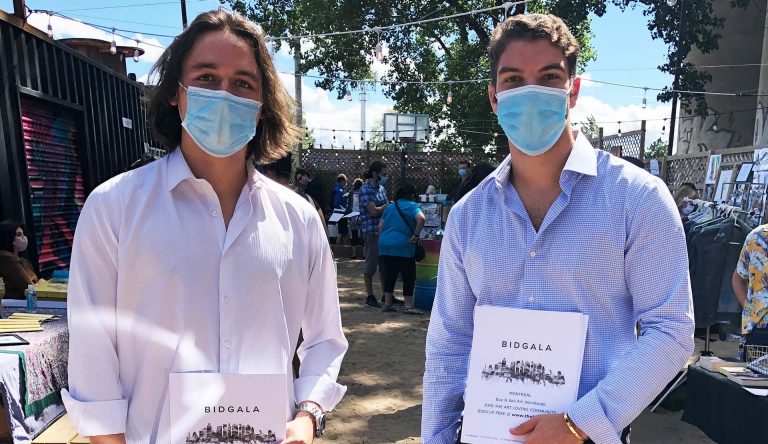 Two undergraduates at Concordia's John Molson School of Business are launching a virtual marketplace to help young artists sell their work.
Finance student William Lande and international business student Sam Tenenbaum explain that the online visual arts platform Bidgala will act as an "ecosystem" for emerging and student artists. It will offer them a place to sell their work to galleries and independent buyers, connect with fellow artists and access educational resources.
The idea came to the co-founders in the first wave of the COVID-19 pandemic, when they saw multiple artist friends struggling.
"Most student artists have no way to sell their art, no support, no business education and minimal opportunities within the industry," Lande says. "There's no better time to bring a large group of people together, bridge these gaps and create a powerful force in the art market to spark change."
Bidgala's community focus reflects one of John Molson's strategic imperatives, to cultivate strong and sustainable partnerships nationally and globally. The initiative, Lande adds, is meant to address the ongoing commercialization of the art world, which he believes has left artists with fewer opportunities and less control over their careers.
"Small and big galleries all control the market, they control the prices, people's visions and careers — everything has to appeal to the customer and the artist no longer matters," he says.
An important 'stepping stone' for budding artists
Lande and Tenenbaum held focus groups and conversations with friends before developing the idea for Bidgala. Originally targeted at Concordia art students, when the platform launches in December it will have already signed up nearly 600 emerging artists from around the world and will list more than 1,500 artworks, Tenenbaum says.
Artists can join the site and engage with other artists for free, will retain the rights to their work and can set their own prices and negotiate with buyers, he explains. Bidgala takes a 30 per cent cut of any sale.
Lande says the goal is to act as a "stepping stone" for artists on their way to being represented by a gallery.
"Entrepreneurship education is so important to us at the John Molson School of Business," says Dean Anne-Marie Croteau. "To see two dedicated students identify a need in the art community and endeavour to offer a solution by starting a business is something we are very proud of."
The co-founders have a team of 10 student web developers who've worked on the platform and a student writer who will post weekly content on valuable business topics for artists, such as how to price artwork, the art of negotiation and how to safely ship their work. "The platform is by students, for students," Lande adds.
Bidgala also has two advisors with deep business and art experience — one is a co-founder of Evo Group and the other is a well-regarded curator and art magazine writer. Lande says they reached out to 800 business and art professionals and spoke to nearly 100 experts in the process of developing the platform.
Tenenbaum and Lande are now members of Concordia's District 3 Innovation Hub and are working to validate the social impact of their business model. Both say their education at John Molson was crucial to their work on the platform. "Concordia has given me a solid base of knowledge to build on through my entrepreneurial endeavours," Lande notes.
Studying international business helped Tenenbaum think of Bidgala from a global perspective, he says.
"Our artists come from around the world, so we made it a priority to cater our website to a diverse audience. Minoring in entrepreneurship has allowed me to use the course material and apply it directly to building Bidgala."

Find out more about Concordia's John Molson School of Business and the District 3 Innovation Hub.
---