Meet the Concordia student who raised $5M in seed funding for a successful tech startup
The Gina Cody School's Charlotte Savage lands on the 2021 Forbes 30 under 30 list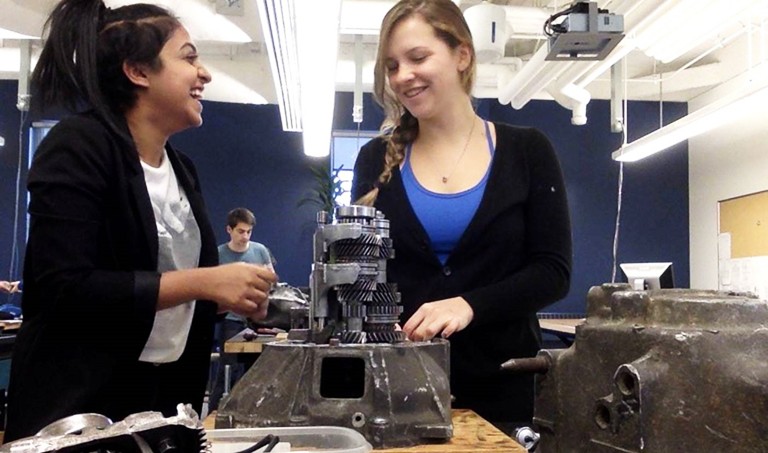 Charlotte Savage (right): "In your first year at Concordia you take apart an engine and put it back together."
How do you go from being a student in Concordia's Gina Cody School of Engineering and Computer Science to raising $5 million in seed funding for a technology company? Ask Charlotte Savage, the chief innovation officer at HaiLa Technologies who is a year away from completing her Bachelor of Engineering degree.
Savage's role in developing HaiLa's novel radio technology recently landed her on the 2021 Forbes 30 under 30 list.
Finding her path
The daughter of two Montreal entrepreneurs, Savage is no stranger to discipline, hard work and determination. She won competitive world dance competitions at 12 and went on to shine in water polo, landing her a full academic and athletic scholarship in California. It's a move she hoped would pave her way to the Olympics.
"Shortly after I moved to the West Coast, I had a terrible allergic reaction and ended up in a coma," she says. "After a rocky recovery and a few other injuries, I hit rock bottom and my Olympic dreams were crushed."
A friend back home reached out and offered her a job at a local restaurant as a hostess and bartender. "Looking back, I see how beautifully resilient my younger self was."
Savage says the service industry helped her discover the art of reading people and navigating social situations, and hone her communication skills.
"My mantra in life is a continuous cycle of learn, practice, master, teach. This way I can constantly progress, absorb new information, yet be humbled all over again."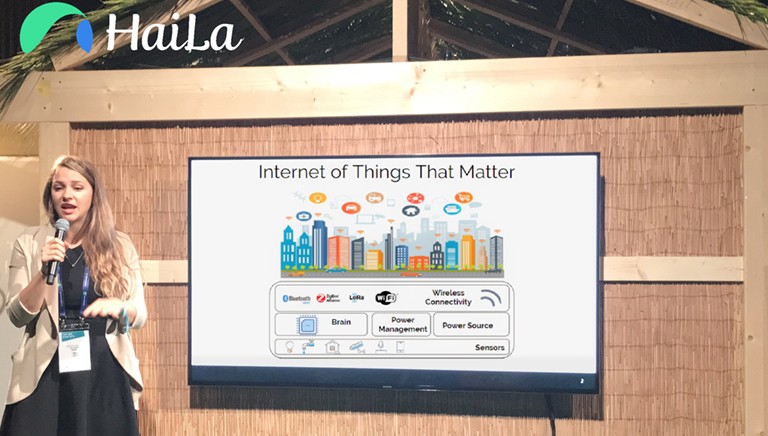 The big decision
When it came time to resume her studies, Concordia was one of two schools Savage considered. Three undeniable benefits made Concordia the clear choice: diversity, experiential learning and flexibility.
"When you go into Concordia, you quickly find a nice balance of diversity. You are exposed to different perspectives and people who are passionate about technology," she says. "No one cares about your social status or where you come from. It's all about how smart you are, and I enjoyed that intellectual challenge."
While Savage acknowledges that theory is essential in engineering education, she valued the hands-on element most.
"In your first year at Concordia, you take apart a car engine and put it back together again. I wanted to practice engineering not just study it," she says. "The experiential learning at Concordia far outweighed other curricula I looked at, because I know that's how I learn best."
Savage didn't enter a specific program right away. "I started out as an independent student," she relates. "The ability to choose mechanical engineering one year into my studies was a perfect way to dip my toes into different topics before committing."
Woman in engineering
It is no secret that women in engineering are significantly underrepresented in industry and education.
"I was one of few girls in Michael Rembacz's class," she recalls, referring to the manufacturing and machining instructor in the department. "And he made sure that everyone participated equally. He taught me how to build a gyroscope out of chunks of metal and he really helped build confidence in his students."
Rembacz feels inclusion is an important element of teaching. "It creates a safe environment that nurtures learning experiences," he says.
"My job is to provide all students access to the tools and the knowledge and let them explore. Regardless of gender, ethnicity or any other factors, their personal 'aha' moments and achievements are markers of success. It's how I know that I'm doing things the right way."
One of Savage's skills stood out for Rembacz. "Charlotte was a great communicator," he says. "If she had a problem or struggled with a concept, she was proactive in identifying and tackling the challenge."
Inspiration and transformation
Lyes Kadem, professor of mechanical, industrial and aerospace engineering, also sparked Savage's curiosity. "Professor Kadem set the foundation for me to understand biomedical engineering at a high level, which allowed me to independently dig deeper for a better understanding of my research," she says.
This knowledge came in handy when Savage met the founder of NXTSENS Microsystems, a micro technology manufacturer that hired Savage as a product developer during her studies. In 2016, she helped NXTSENS win the McGill Dobson Cup Award at the startup competition.
The future investors of HaiLa then approached Savage, who became one of the company's founders.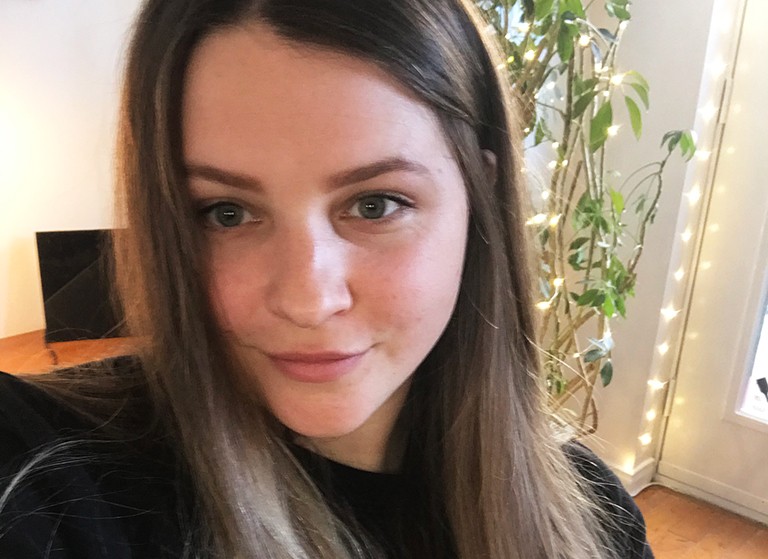 Charlotte Savage: "I plan to one day create an inclusive community for minorities to explore sustainable technology."
Her big idea
Wireless devices use significant battery power when attempting to connect to WiFi or Bluetooth. Savage identified the need for a low-power communication platform that would reduce the size of wireless devices for medical applications such as implantables or heart monitoring wearables.
The idea is based on technology licensed from Stanford University in California. HaiLa's Radioless technology allows sensor data to ride existing signals in the air, eliminating the need for a power-hungry radio — radios typically use energy to emit signals from the sensor itself to transmit data. This drastically reduces the carbon footprint of sensor devices at a global level.
"Had I not been exposed to the biomedical engineering world with Dr. Kadem, I am not sure I would have found that on my own," she says. "For me, that's the whole point of university — to explore your curiosities."
Looking forward
"What happened in California was a silver lining that brought everything into focus. It shifted my perspective and changed what brought me feelings of fulfillment," Savage says.
"I plan to one day create an inclusive community for minorities to explore sustainable technology without having to worry about inequality in the workplace."
She also offers some words of wisdom for other students who have big ideas and want to see them through.
"Go to the university incubators. Surround yourself with like-minded people who have a wealth of experience and knowledge. Being part of a community that nurtures you and your ideas is paramount to achieving success."

Learn more about Concordia's Gina Cody School of Engineering and Computer Science.
Explore the Department of Mechanical, Industrial and Aerospace Engineering (MIAE).
---