Concordia's District 3 is closing the gender gap in STEM startups
A new wave of women scientists ventures into entrepreneurship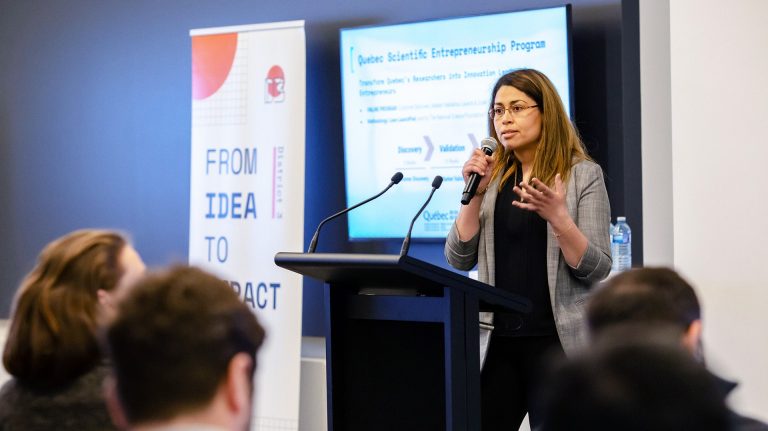 Tackling some of the greatest challenges of today's world — from improving health care to combatting climate change — means harnessing the best minds available.
Yet despite major growth in the past two decades, women still represent a considerably lower number of science, technology, engineering and math (STEM) researchers than men do in Canada. In 2016, they made up just 23 per cent of science and technology workers among Canadians between 25 to 64 years old.
This gender gap is one that Concordia's District 3 Center for Innovation takes seriously.
"Diversity in scientific research expands the pool of talented researchers, bringing in fresh perspectives, talent and creativity," says Edna Chosack, one of D3's senior coaches in life sciences and health care. Chosack co-founded Simbionix Inc., an international surgical-simulation leader, acquired by 3D Systems.
"Women and girls play a critical role in science and technology communities and their participation should be fostered."
That commitment is evident in the programs D3 offers as well as in the makeup of the startups it houses. Close to half have one or more female co-founders, and the majority of D3's staff are women.
Laila Benameur, co-founder of Impactful Health R&D.
Role models are key
Laila Benameur is co-founder of Impactful Health R&D, a D3 startup that develops compostable active packaging to prolong the shelf life of fresh fish.
"Having role models of other women scientists venturing into entrepreneurship was a key decision factor for me to have the courage to build a startup," says Benameur, who is now coordinating the Quebec Scientific Entrepreneurship (QcSE) program, a D3 partnership with the Fonds de recherche du Québec.
"I think we need to showcase all the amazing women scientists and entrepreneurs in Canada to inspire the younger generations."
The QcSE program is one of several ways D3 is supporting scientific entrepreneurs in Quebec, a growing number of whom are women. So far, 160 graduate students from universities across the province have signed up.
Bringing STEM research to market is a major priority for the innovation centre overall. D3 has supported more than 530 startups over the past six years from all sectors and emerging technologies, including artificial intelligence, genomics, synthetic biology and digital health.
Entrepreneurs get access to many services, including coaching, seed funding, workshops, experts and a community of like-minded peers.
Zahra Zangenehmadar (PhD 16) studied civil engineering at Concordia. She is the co-founder of D3 startup VitalTracer, which provides a personalized medical service to reduce the risk of cardiovascular disease through continuous monitoring of all vital signs.
The women-led company was a recent recipient of the D3 Seed Fund Initiative, which allowed them to access support in the crucial areas of marketing, legal and sales. Zangenehmadar acknowledges that the funding will be pivotal in helping VitalTracer to achieve its goals.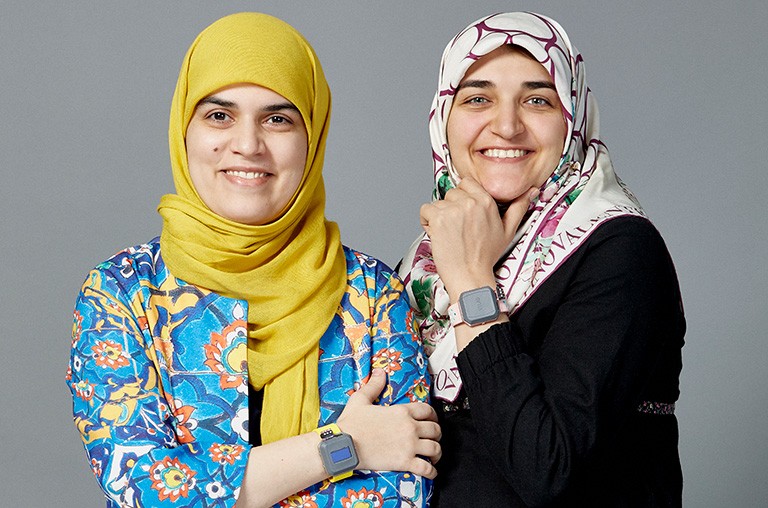 Azadeh Dastmalchi and Zahra Zangenehmadar, co-founders of Vital Tracer. | Image courtesy of District 3
The next generation of women innovators
Despite the persistent gender gap, the number of women graduating from university STEM programs in Canada is on the rise. To motivate even more girls to pursue these fields, D3 has also partnered with a couple of community-based initiatives.
One project is the Entrepreneurial Platform at Miss Edgar's and Miss Cramp's School in Westmount, Quebec. Girls prepare for the future of work by engaging in hands-on, intergenerational, student-led challenges. They are mentored and guided by teachers and industry partners who help instill an entrepreneurial mindset.
The goal is to help the students develop critical thinking, creativity, collaboration and resilience that complement their academic credentials.
Gina (Parvaneh Baktash) Cody (MEng 81, PhD 89) is currently the honorary entrepreneur-in-residence at the school.
D3 has also worked with Technovation Montréal to inspire girls in creating businesses and developing mobile applications that address problems relevant to their communities.
"We realized that in order to have more women in science and entrepreneurship, we need to plant the seed with young girls in Montreal to inspire them and give them the tools to explore emerging technologies," says Jane Somerville, D3 program director.

Interested in exploring entrepreneurship? Apply to the Quebec Scientific Entrepreneurship Program.
Already have an idea and a team? Apply to the District 3 Innovation Center to build your startup.
---