Thought for food
From soup to nuts, Concordia's experts serve uncommon insight on food's pervasive role in culture, business, nutrition and defining who we are
Concordia professors Rhona Richman Kenneally, Norma Joseph, Jordan LeBel, and Jessica Mudry are members of the university's Food Studies Research Group, part of the Centre for Interdisciplinary Studies in Society and Culture. Here, they offer distinctive takes on food-related subjects.
Rhona Richman Kenneally, associate professor of design and computation arts in the Faculty of Fine Arts, believes the environment around us significantly affects the ways we interact with food.
Earning degrees in English literature, Canadian history and architecture may be a circuitous route to acquiring expertise in food studies, yet that is how Rhona Richman Kenneally did it.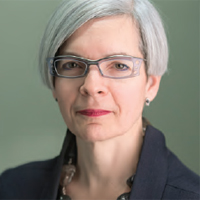 Richman Kenneally is an associate professor of design and computation arts. Her research begins from the premise that the way we think about food — from the role it plays for individuals to the implications food practices have had on our world — must take into account the wider "built environment." It must be understood as dynamic interactions between things and living things, spaces and structures, even energies such as electricity.
"When we analyze our relationships to what we eat, we have to recognize that while we manipulate food for our own purposes, it also manipulates us," Richman Kenneally explains. This results in complex exchanges with wide-reaching implications, she adds.
Her work focuses on understanding connections between what she calls mindful food behaviour and our homes as cooking and eating environments. Mindful eating prioritizes an appreciation of the sensorial and gustatory qualities of foods, of their having been grown and consumed in sustainable ways, and of the shared eating experiences they can stimulate. She cites the "work triangle," whose points are the sink, refrigerator and stove, long advocated for kitchens. She also notes a preoccupation with stainless steel or granite surfaces, evident in new kitchen design.
Yet Richman Kenneally doubts whether such simplified parameters of efficiency should be a Holy Grail. "Mindful eating can be facilitated by not installing a sink or stove on a kitchen island, where unrestrained splashed water or grease might make cooking seem onerous," she says, adding that the humble kitchen table, where household members gather for meals, is a key element.
Richman Kenneally says the relationship between food, the kitchen and the cook as creator is an "integrative experience" that involves transformations and negotiations on the part of each. It is an aspect of her current research, which focuses on 1950s to 1970s Ireland, when the republic's rural areas were transformed by expanded water and electricity networks. These "agents of modernity" had profound effects on how meals were cooked, where they were cooked and which foods gained or lost cachet. "Certainly life became easier for women if electricity meant they didn't have to load a stove with wood or peat or anthracite. But the centrality of their role was challenged," Richman Kenneally says. "They had to relearn cooking skills and compete with novelty foods that became available."
Her research, which is funded by the Social Sciences and Humanities Research Council of Canada, has whetted Richman Kenneally's appetite to look even deeper into food and the built environment's profound implications. "Food is one of the markers of cultural values of ecological engagement and environmental, economic and political prioritization. It makes sense to understand it as a bellwether that allows us to investigate all sorts of other priorities — things that give us pleasure or cause trepidation in our world."
Food for thought.
Norma Joseph, associate professor of religion in the Faculty of Arts and Science, believes food has the power to reveal social and economic systems and cultural mores.
It is a biological fact that people must eat, Norma Joseph says. No dispute there. "But the interesting thing is how diverse our foods are — they are as diverse as we are."
Joseph's concern is not nutrition. The associate professor of religion is fascinated by food's power and its capacity to preserve traditions and tell us who we are.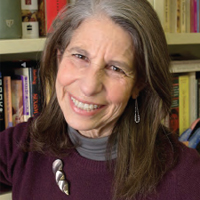 Food, Joseph contends, defines cultures. In religion, it is the ritual core of ceremony. "Describe to me any religious ritual that does not have food as a central element and I'll tell you there's no way that food isn't relevant to ritual." She adds: "Foodways are cultural highways. They reveal social and economic systems while communicating historical, local and global narratives." Her research pedigree is diverse and extensive, but her interest in food grew incongruously out of her first love: gender issues and Jewish law. "I wanted to do research on a living community, not just on legal text," she recalls. Joseph groomed friendships with local Iraqi-Jewish women — her research subjects — tracing their difficult transitions from Baghdad to Montreal. When she asked questions about their religious rituals, "We got nowhere," she reveals. "But if we talked about what kinds of food they prepared to keep the family together during Friday night Shabbat or get-togethers, oh my goodness, there was richness and detail."
Culturally, Joseph says, food marks us. It is a passage to our past. "It provides a mechanism for the preservation of tradition. Eating enables simultaneous participation in the past and in the present." Joseph's current research has her setting pen to paper on the use of food in the adaptation process among Iraqi Jews. She notes that t'beet, a customary stew prepared by Iraqi Jews, has morphed from a traditional Saturday meal to fare that is emblematic of immigrants. "It has less to do with Sabbath," Joseph says. "It has become their iconic food, the symbolic food of Iraqi Jews. To them it means, 'We have survived.' "
Food as identity is compelling. Yet Joseph's research goes deeper than memories of who we are vis-à-vis meals prepared by loving grandmothers. "We are biologically mandated to eat, but we are ethnologically defined by the ways in which we eat, what we eat, how we eat, who prepares the food and what the food signifies to the people who eat it, because those are all culturally coded. No culture eats the same way. It is all significantly diverse and that is what I am excited by."
In other words, cultures are what they eat.
Jordan LeBel, associate professor of marketing at the John Molson School of Business, says food marketing has never been hotter.
Food for thought" is a common turn of phrase. Thought for food? Well, that sums up Jordan LeBel. LeBel, a John Molson School of Business (JMSB) associate professor of marketing, discloses that as a teen he wanted to be a pastry chef. His dad was against it, so he studied management instead. Yet his fascination for culinary delights, especially chocolate, never diminished. Except now, LeBel's musings come with a heavy dollop of marketing.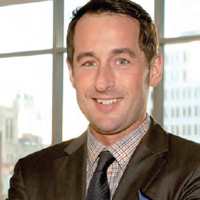 His goal is to understand why consumers choose the food they do, especially what he calls "pleasure" foods. Why, then, do dubious doughnuts and savoury snacks sing to us? LeBel cites two reasons: "bottom-up" factors, such as how long it has been since our last meal; and "top-down" factors that can include one's mood and mental images and associations. "Comfort foods are imbued with a special sort of magical power," says LeBel, who is also director of the Luc Beauregard Centre of Excellence in Communications Research at JMSB. "They help you get over whatever ails you at the time."
His latest project involves Québec en Forme (QeF), a non-governmental organization looking "to qualify and quantify the food supply in three of 140 communities the organization is involved in across Quebec." QeF hopes to determine "how easy it is to eat healthy in those communities."
Who better than supermarket leaders to answer that question, right? Not necessarily. "Most people think supermarkets are in the food business," says LeBel. "They're not. They're in the real estate business. They sell square footage and make money off that." So who is responsible for access to good food: consumers or industry? As a member of the World Platform for Health and Economic Convergence, which aligns business with public health interests, LeBel — and his students — often asks the same question.
Why? "Because food is trendy," he says. "Look at food media. They need content and food shows are really hot. We call it gastro-porn." Little wonder that LeBel's Food Marketing course is wildly popular. "Students are interested, but they need the tools to succeed." So do modern supermarket clients. "Consumers have more access to information but are not necessarily better informed," he says. "There's a lot of confusion and so the industry has moved to decision aids [helpful graphics] on front-of-pack logos."
Fair-trade, environmental and other "green" logos only add to the existing information deluge, LeBel points out. "If you don't do your homework and just buy on the basis of a logo, then you think you know more but you don't necessarily. There are 420 different certification logos for green marketing and eco-friendly products."
Beyond the white noise of consumer information, LeBel predicts food safety and industry transparency will remain a vibrant issue. Sustainable business practices will grow more sophisticated too. "We've seen a lot of 'green-washing' and lip service paid to certain things, but as consumers educate themselves and go beyond this initial step of confusion, certain things are here to stay."
One hopes that includes hot dogs.
Jessica Mudry, assistant professor of general studies in the Faculty of Engineering and Computer Science, wonders if policymakers, and others, should rethink the "language of food."
Jessica Mudry is interested in the "quantitative language" behind food. Her fascination lies in the "way we talk about food using a nutrition lens" which, she adds, "encourages us to make moral and qualitative judgments about food based on its quantities."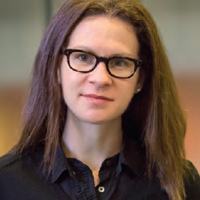 Calories, carbohydrates and proteins may be quantifiable scientific realities, yet do they create "qualities of food?" Mudry, an assistant professor of general studies in the Faculty of Engineering and Computer Science, cites an advertisement touting the benefits of vitamin E in almonds. The assumption is that there is scientific proof about their "goodness." "If we are talking about the goodness of almonds, we're not actually talking about taste or pleasure. We're talking about something that's measurable in a lab." That, says Mudry, is because messages about food quality are often just "discourses of numbers." When policy is at play, the "goodness" or "badness" of a food has little to do with its taste.
This is where governments fall short. Canada's Food Guide and Nutrition Facts panels ignore a fundamental aspect of foods: the pleasure we derive from it. Yet policies focused on what Mudry calls "the scientization of food" look inexorable. Equally relentless are attempts to "find a nutritional magic bullet in all foods," she says. "Foods are either villainized or championed based on their nutritional profile. That turns us into eating machines and strips away any sort of humanity or experiential element to food."
That is problematic, Mudry reasons, because if a person's health can be defined by numbers then so can sickness. "You don't want somebody walking around saying, 'I had a good day because I ate 43 grams of fibre.' "
Then there is the calorie, a unit of energy that has become an obsession among dieters and, improbably, a cornerstone of nutrition. "We measure the health of a nation on the calorie. How did we get there? When I was a chemist we used calories to measure units of heat."
So is our scientific framework around nutrition flawed? That is neither here nor there, she says. "It's not that it's an imperfect system; it's not comprehensive." Indeed, the framework adds credence to the notion of good food and bad food, supplanting personal tastes to define a populace by calorific groups.
The pleasure food releases in us is relevant and should be talked about, says Mudry. "Every experience of food is legitimate and good and has the potential to be good."
As for the ubiquitous calorie, she hopes her new research will explode myths by asking a key question: "When did the calorie become bad? That is like saying an inch is bad."
Now there's an idea worth chewing on.
Related links
---