New board chair looks forward, not back
Norman Hébert, Jr., BComm 77, brings expertise and love of his alma mater to his role as Concordia's new chair of the Board of Governors.
This feature about Norman Hébert, Jr. was originally published in the winter 2012-13 issue of the Concordia University Magazine. A link to the full issue is found below.
To rise to the top, a successful golfer must put his or her head down, focus on the basics and remain consistent. Recognizing that requires maturity, execution and experience.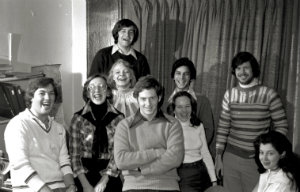 It is precisely these qualities Concordia sought and found in Norman Hébert, Jr., BComm 77, who stepped into the position of chair of the university's Board of Governors for a three-year term on July 1. He joined the board in 2008. Hébert, long-time president and chief executive officer of Montreal-area car dealership Groupe Park Avenue Inc., arrives with extensive business and board management experience.

While at Concordia in the 1970s, his father, Norman Hébert, Sr., headed the successful Park Avenue Chevrolet, a dealership he started in 1959. Yet it wasn't until Hébert, Jr. ran the 1976 Loyola Winter Carnival that the business bug bit him. "I had to build and motivate a team," he recalls from his Brossard office. "Everybody had their own responsibilities, but I was the cheerleader and orchestra conductor. That really gave me a great sense of satisfaction, and I saw I had some skills there."

After completing his business studies at Concordia and earning a law degree from the University of Ottawa, Hébert joined the family business in 1981, skilfully expanding it tenfold over the next three decades. For his hard work and integrity, Groupe Park Avenue was voted one of the 50 Best Managed Canadian Companies in 1999 and Hébert received Ernst & Young's Entrepreneur of the Year Award in 2003.

Concordia tried to recruit him to its board early in the new millennium. However, with his plate overfull, Hébert had to decline. "I knew full well that at some point I'd come back and serve," he reveals.

Even then, Hébert knew he wanted to give back to his alma mater. Therefore he created his own opportunity to do so by merging two of his passions. An avid golfer — his handicap is a decent 13 and his wife, Diane Dunlop-Hébert, BComm 82, is president of Golf Canada — he naturally turned to the links. Hébert helped start the annual Concordia Golf Classic. Since its inception in 2004, the tournament has raised $3.2 million and helped create more than 1,000 bursaries to ease the financial pressure on students as they pursue their academic goals. "Accessibility is so critical," he says. Four years ago, Liliane Chamas, BSc 09, a Belarusian immigrant whose Golf Classic bursary allowed her to attend Concordia and then go on to become a Rhodes Scholar at Oxford University, came to the event to thank participants. "There wasn't a dry eye in the place," Hébert recalls.

Board experience
Hébert's business acumen and steady hand have been sought for governance by crown corporations. A former member of Hydro-Québec's board, Hébert currently is in his second mandate as chair of the Société des alcools du Québec's board of directors. With many fewer constituencies represented, those boards are a different beast than Concordia's, he explains. Still, the role of chair remains similar, he adds, "to align everybody in the same direction," ensuring all members understand they are there to support the president and can best do so by contributing their varied viewpoints.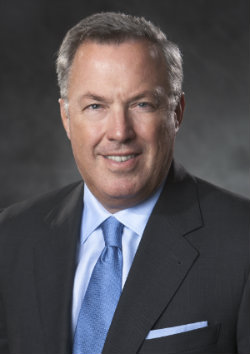 So far, Hébert's approach is working. "Our first board meeting (September 28) was very positive," he reports. The smaller size — 25 voting members rather than 40 members — helps. "Most importantly, we have a new president, who is a leader and also somebody who inspires — that came across clearly," Hébert says of Alan Shepard. "He seems to have boundless energy, and that's
contagious, not only on the board but on campus, too."

Calling Shepard "CEO and spokesperson for the university," Hébert says they meet most weeks and speak every few days. From experience, he knows the other board members can recognize if the chair and the president are in sync. "That goes a long way toward creating a more productive board," he says. Hébert is further encouraging engagement by extending his conscious relationship-building efforts across the board. He plans to meet each member individually before the year's end. "That's a crucial step toward making board meetings both constructive and transparent," he says. "There will always be issues, but I know we can deal with them in a mature and open way, getting everybody's feedback."

That's just the kind of steady approach that will lead Concordia consistently down fairways and onto greens, getting it in position to ace most of its opportunities.
New faces on Concordia's Board of Governors
The Board of Governors is Concordia's senior governing body and is responsible for establishing its legal and administrative framework. Beginning in 2012-13, the board reduced its voting members from 40 to 25, based on the recommendation of the External Governance Review Committee report released in 2011.

The 2012-13 board added three first-time members: Jeff Bicher, BA 02, Antoinette Bozac, BA 78, and Mélanie La Couture.

Jeff Bicher, BA 02
Since 2008, Jeff Bicher has served as CEO and executive director for Hillel Montreal, a campus-based organization serving more than 7,000 Jewish students at four universities and five colleges in Montreal. Bicher brings to Concordia's board his extensive experience as a volunteer administrator. Most notably, he chaired the Community Organizations Planning and Allocations Committee and Executive Directors' Council at Federation CJA, and the Agency Staff Division of the Combined Jewish Appeal. He is now treasurer of the Concordia University Alumni Association. Bicher received a Certified Fund Raising Executive designation in 2007.

Antoinette Bozac , BA 78
Antoinette Bozac has had an impressive legal career over the past 25 years, rising through a series of Canadian and international companies including Domtar, Imperial Oil, Aventis Pasteur and Unisource Canada. Her most recent position was at Canada Lands Company, a self-financing crown corporation, where she was chief legal officer, vice president of Corporate Affairs, head of Public Affairs and official spokesperson. Bozac has sat on a number of boards and committees for not-for-profit associations, including York Central Hospital, Toronto Philharmonia, YMCA Montreal and the Montreal Board of Trade.

Mélanie La Couture
After earning a BEng from Montreal's École Polytechnique and an MBA from the University of Western Ontario's Richard Ivey School of Business, Mélanie La Couture spent four years in consulting at Deloitte and PricewaterhouseCoopers. For the past decade, she has been with the Orchestre symphonique de Montréal (OSM), starting as manager of its endowment fund and, since 2007, serving as its chief operating officer. She also helped the OSM implement a new governance model. La Couture brings to Concordia a spirit of collaboration derived from her 15 years of experience working in general management and organizational effectiveness.

Related links:
• Concordia University Magazine, winter 2013 issue
• "Norman Hébert, Jr. named chair of Concordia's Board of Governors" — NOW, April 19, 2012
• "Norman Hébert, Jr. wins prestigious honour" — NOW, January 15, 2013

---