Refectory becomes modern conference centre
Concordia's Loyola Jesuit Hall and Conference Centre open for business
Loyola College alumni bade farewell to their beloved Refectory on December 1, simultaneously drawing to a close a $4-million fundraising campaign to refurbish the Loyola Campus building and reopen it as the Loyola Jesuit Hall and Conference Centre.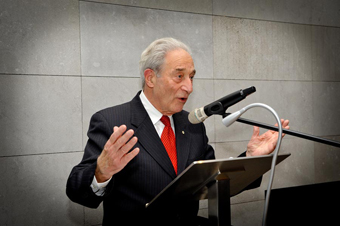 Opened in 1916 when Loyola was still a Catholic school for boys, the Refectory has long captured the imaginations of its energetic volunteer fundraisers, many of whom are members of the Loyola Alumni Association (LAA) and fiercely proud of their Jesuit education.
Former Concordia Chancellor David O'Brien, BA 62 (Loyola), and Loyola alumnus James Stanford, BSc 58 (Loyola), LLD 00, were among three key figures who received certificates of recognition for their exceptional fundraising efforts during the six-year campaign.
Rod Rousseau, BComm 53 (Loyola), who succumbed to cancer in 2010, was also honoured in what proved to be a poignant moment when his widow Monique and daughter Joanne delivered an emotional tribute to him.
"My father would be very proud to be here tonight," said Joanne Rousseau. "This project was dear to his heart."
The inauguration, which drew close to 200 guests, was the third of its kind in four weeks at the vibrant Loyola Campus. On November 4, with the help of a $29-million grant from the federal-provincial Knowledge Infrastructure Program, Concordia launched its Centre for Structural and Functional Genomics.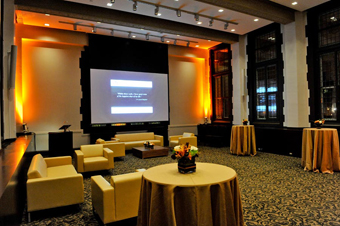 The same day saw the opening of Concordia's $35-million PERFORM Centre, replete with high-tech equipment and labs for scientists and medical experts to improve the prevention of injuries and non-communicable illnesses.

At the conference centre's launch, Concordia President and Vice-Chancellor Frederick Lowy thanked the fundraisers and Jesuits, calling their efforts "a magnificent rejuvenation of a beloved 95-year-old building."
LAA President Donal Ryan, BComm 67 (Loyola), spoke nostalgically about the Refectory, admitting he had not set foot in the building for 50 years.

"Isn't it nice to see the result of all our efforts?" he asked. "It certainly looks different than when I was last here."

Campaign co-chair John Collyer, BComm 66 (Loyola), said the Refectory upgrades amounted to a "magnificent rebirth" whose impetus derived largely from longstanding donor Richard Renaud, BComm 69 (Loyola).

"All of you should be proud to come back to the Loyola Campus to see what you have helped us to create," Collyer said.

Other than a recent warehouse fire that claimed the building's newly purchased interior doors, the brick edifice has led a charmed, indeed blessed, existence.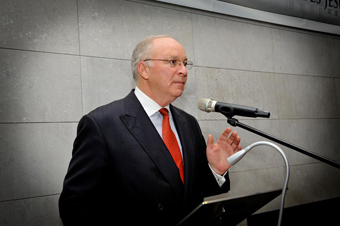 Fr. Jim Webb, the Jesuits' provincial superior in English Canada, delivered a soothing prayer to close the evening, allaying any lingering concerns about improbable infernos.
He then heaped praise on LAA members. "You have done Loyola proud," he said. "You have done Jesuits proud."
Acting Vice-President, Advancement and Alumni Relations, Dominique McCaughey called the campaign's volunteer fundraisers "the embodiment" of the Jesuit philosophy of "men for others."
"Many of us have learned that 21st-century Jesuits are as engaging and dynamic as their forefathers who founded Loyola College," she said.
Campaign co-chair John Lemieux, BA 66 (Loyola), emphasized the Refectory's bright future. "It's extremely gratifying to know that it will serve the university for another 100 years," he said.
In addition to regular academic use, the Loyola Jesuit Hall and Conference Centre will target corporate entities seeking venues for business seminars, staff training and other functions. For a site visit or for more information, please visit their website.

Related links:
• Loyola Jesuit Hall and Conference Centre site
• Loyola Alumni Association
• "Refectory Revival" – NOW, November 21, 2011
• Refectory, Major Projects
• Refectory, Records and Management Archives
---