Notable Concordian
Antoine Labranche
BA 09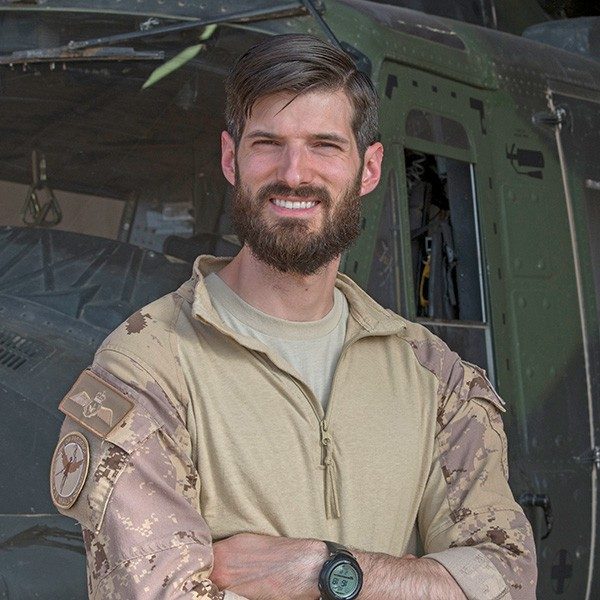 Awards & Distinctions
Young Alumnus/Alumna of the Year
Antoine Labranche, who graduated from Concordia with a Bachelor of Arts in 2009, is a former co-captain of the Stingers Cross-Country team, a mountaineer (his expedition to the highest point on earth — the summit of Mount Chimborazo in Ecuador — was dedicated to a colleague who was undergoing neurological cancer treatment), a military pilot, a mentor, a motivational speaker and a social activist.
He enlisted in the Reserve Force of the Canadian Army in 2006, while studying at Concordia, and pursued a full-time career with the Royal Canadian Air Force, where he earned his wings and graduated first of his class from the pilot program. Subsequently, he obtained an MA in November of 2018 from the Royal Military College of Canada.
An active participant and donor to various charities, including the Montreal Neurological Institute and the Foundation du MAC, Labranche also volunteered with the Concordia Mentor Program, guiding prospective pilots in achieving their dream.
Labranche volunteered twice to deploy to Ellesmere Island, flying both military personnel and scientists to improve Canada's archipelago sovereignty and increase knowledge of environmental issues. He also volunteered to deploy overseas, in an effort to improve the regional security in the Middle East. He is currently serving in Mali with the United Nations, as part of an international effort to help bring stability to the country.
Antoine is driven to use his achievements as a means to inspire others to pursue their own goals.
More recipients