An external exam is an examination that is written at a location outside the instution where you are a student.
In certain cases, students may write their Concordia exams at another location. Concordia can also proctor exams in Montreal for students from other accredited institutions.

We expect all students to be available to write final exams and should avoid making travel plans until after the final examination schedule is available. However, you may request to write your exam at an external institution if you are faced with unforeseeable events beyond your control that make it impossible for you to be in Montreal for your exam.
| Final examination period | Deadline |
| --- | --- |
| December | November 15 |
| April-May | April 1 |
| June | June 1 |
| August | August 1 |
You must provide all the following information on the request form:
All the reasons and evidence why you must write the exam outside of Concordia

The name of the institution where you would like to write the exam

The name of a Registrar's Office contact at that institution

The mailing address

The telephone number

The fax number

The e-mail of the contact person
If you are permitted to write an exam at an external location it means we must send the exam to that institution. Before we can send out the exam, we must evaluate your request and consider the following:
We review your reason for being outside Montreal.

We need to confirm that the institution you have selected is accredited.
We need to confirm that the contact name provided is an employee of the chosen institution.
We must obtain the exam from your instructor.

Occasionally instructors do not agree to provide us with an exam in advance to send to an external location. If you must write your exam outside of Montreal, we strongly encourage you to speak with your instructor while still in Montreal.

We confirm that the institution will administer the exam at the same date and time as it is scheduled at Concordia, taking into account relevant time differences.

If the external institution cannot administer your exam at the exact same time and date as Concordia, you must obtain written authorization from your instructor granting permission for the exam to be proctored at a different time and/or date.
If the external institution charges a fee for invigilation, you would be responsible for paying this cost.

To write your eConcordia examination externally, you must apply through the eConcordia platform. Log in to your account and follow the procedure on the External Exams tab in your dashboard.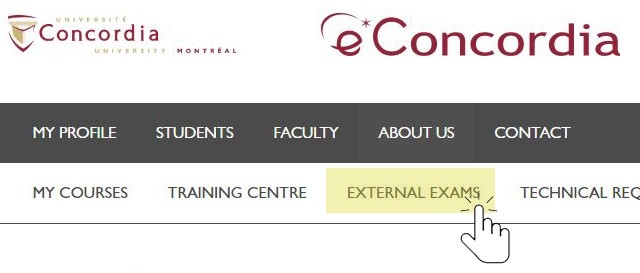 If you are enrolled at another university or college but need to write an examination in Montreal, we can help you.
Our fee for proctoring another institution's exam is $100 per exam.


How to write your exam at Concordia
Before making any arrangements please contact the Exams Office at external.exams@concordia.ca to inquire about the possibility of scheduling your exam.
Download and print the Request to write an External Examination at Concordia form. You can also find this form at the Birks Student Service Centre (LB-185).
Fill it out and submit the form and the $100.00 fee to the Birks Student Service Centre.

We review your information provided and will notify you when we have:

A date and time

Reserved a classroom

Hired an invigilator to proctor the exam for you.

Contact your home university and make arrangements for them to send us your exam by the appropriate date. This is your responsibility.

Monday to Friday
9 am –12 pm

2 pm – 5 pm

7 pm – 10 pm

If the date of your exam falls during any time of the academic year outside Concordia's examination period, you will write your exam in one of the following time blocks:
Monday to Friday*
9:30 am –12 pm

1:30 pm – 4:30 pm
*Mornings only on Fridays during the summer.
Ask your university to send your exam to the following address:
Concordia University
1455 De Maisonneuve Blvd. W.
Examinations Office – FB 830
Montreal, Quebec, Canada
H3G 1M8
Please e-mail us at external.exams@concordia.ca for any questions.