Actuarial Mathematics turns 30
Top actuaries return to Concordia to celebrate milestone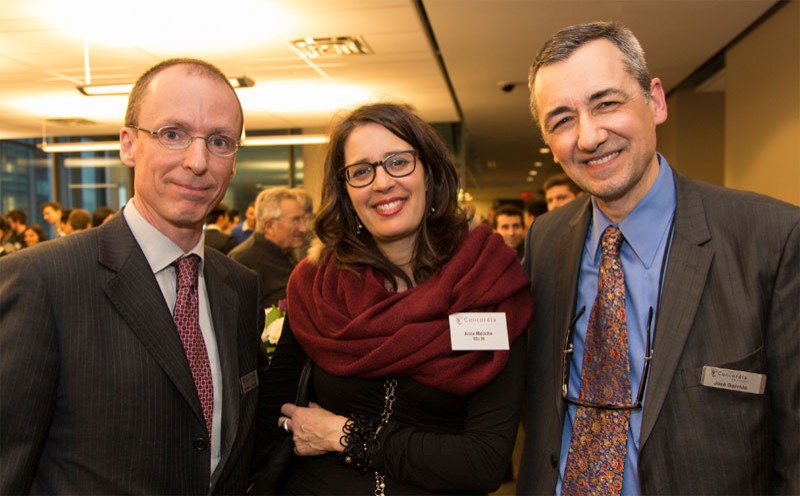 From left: Keynote speaker Jacques Goulet, BSc 88, Anne Meloche, BSc 90, José Garrido, graduate program director, Department of Mathematics and Statistics | Photos: Leslie Schachter
As Concordia University's Actuarial Mathematics program celebrates 30 years, some of the top actuaries working in the field came back to their alma mater to raise their glasses in celebration.
"You don't become an actuary simply by graduating from the program. You need passion," explained keynote speaker Jacques Goulet, BSc 88. "If you're not passionate, determined and committed, it's a hard journey."
As president of Mercer's global Retirement business, Goulet knows the actuarial business all too well. He was proud to share the news that his company is the leading employer of Concordia's actuarial mathematics graduates.
"You don't succeed at Mercer unless your work is of a high quality. It's a true testament of the program and of Concordia," he said.
The university Goulet knew in the 1980s has changed drastically. Yet he insists one thing has remained the same: the intense dedication to professionalism and the constant drive for excellence.
"There's a level of energy, passion and desire to displace the competition. It's that spirit that's exciting," said Goulet. "The biggest lesson I learnt at Concordia was to step out of my comfort zone. I learnt that if I do that, I can succeed."
The March 28 event was organized by Advancement and Alumni Relations and the Department of Mathematics and Statistics.
Veteran actuaries shook hands with undergraduates eager to launch their careers. The atmosphere was warm and conversations were filled with laughter as old friends reminisced.
"The program prepares you for the future," said student Neelay Patel. "It's a specialized field so you know what you're doing after graduation."
Alumni and students enjoy a humorous moment during the keynote address by Jacques Goulet at the 30th anniversary reunion cocktail for the Actuarial Mathematics program.
"You get great experience doing internships," said Jia Yin Xu, BSc 13. The recent graduate proudly works at Morneau Shepell, a major employer of actuarial math students and one of the first companies to establish scholarships for Concordia's undergraduate actuarial math students.
Other leading supporters of Concordia's actuarial programs include Towers Watson and Economical Insurance.
"If we choose Concordia, that's because we are looking for the best candidates," said Lucia Papa, AVP at Economical Insurance. "We value education, community and a multicultural, diverse group of people who can bring different ideas to the table."
"About 50 per cent of the students in our office are from Concordia," said Economical Insurance's Véronique Ouellet, BSc 07. In 2013, the firm established the highest-value awards dedicated to Concordia students pursuing a bachelor's degree in actuarial mathematics.
Since the program launched in 1982, it has become a first choice for students and has added master's and PhD programs.
"At Concordia, we believe the future of the profession lies in its research and innovation, so we take an active part in training research actuaries," said José Garrido, graduate program director, Department of Mathematics and Statistics. He added that Concordia ranks 22nd in the world in actuarial research productivity.
"Math is a beautiful science," said Graham Carr, vice-president of Graduate Studies and Research. "It is a hugely competitive program to get into, but the success of graduates is magnificent."
---