Brian McKenna (1945 – 2023): Esteemed documentary filmmaker and broadcast journalist
'His contributions will never be forgotten'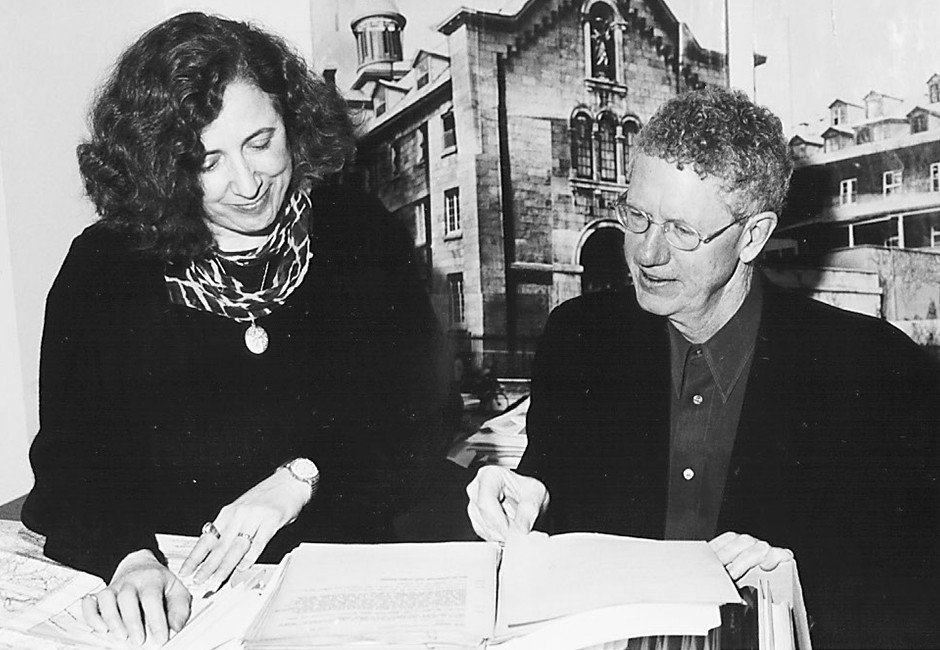 Concordia archivist emerita, Nancy Marrelli, BA 84, and Brian McKenna
Brian McKenna, BA 67 (English), a renowned documentary filmmaker and broadcast journalist, passed away on May 5 after a brief illness. He was 77.
The graduate of Loyola College, a precursor to Concordia, was best known as a producer on the The Fifth Estate, which he worked on from the CBC program's debut in 1975 until 1988, and for his provocative and multi-awarded films on Canada's history.
These included Pierre Trudeau: The Memoirs, Secret Tests — about a covert CIA-funded program at a Montreal psychiatric hospital — and, perhaps most notably, The Valour and the Horror, which investigated three momentous battles from the Second World War.
Concordia's journalist-in-residence, Francine Pelletier, who herself co-hosted The Fifth Estate before a second career as a documentary filmmaker and screenwriter, says that McKenna was a trailblazer.
"When I left The Fifth Estate for the world of documentary films, Brian gave me some sound advice," Pelletier recalls. "He told me that the secret was to find a guardian angel, a producer like Arnie Gelbart, his long-time collaborator.
"Brian's legacy, I think, will be The Valour and the Horror. That's where his heart lay. The fact that he left an institution like The Fifth Estate to successfully pursue his dream of more extensive, independent work encouraged many who followed in his footsteps."
McKenna got his start as a journalist at his alma mater, where he was editor-in-chief of the student-run Loyola News. He served as a parliamentary correspondent for the Montreal Star after he graduated and was later hired at the CBC.
The Montreal native also co-authored a biography of former mayor Jean Drapeau and wrote for the likes of Maclean's, Saturday Night and the Toronto Star.
After the Association of Canadian Radio and Television Artists honoured him for his documentary work in 1975, McKenna told the Loyola Alumnus that as an undergraduate student he had wanted to become an English teacher. His ambition changed after he enrolled in a course entitled "Aristotle's Rhetoric," which required involvement in either the Loyola News or the college's debate society.
"I got involved in both," recalled McKenna, in a nod to what set him on his eventual career path.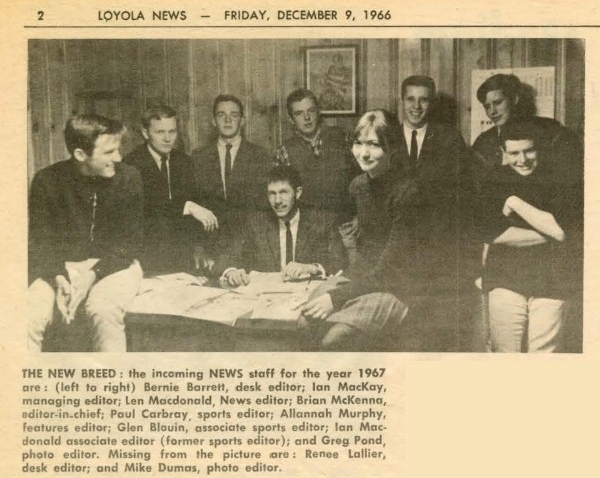 McKenna served as editor-in-chief of
Loyola News
.
McKenna's investigative work earned him the Gordon Sinclair Award for Broadcast Journalism in 2003. The Hooded Men, his film on torture, was used as part of a campaign by Amnesty International. Other works of note included A Journey Back — a documentary for The Fifth Estate about the Holocaust — as well as Korea: The Unfinished War and Big Sugar.
A staunch advocate for freedom of the press and the protection of journalists, McKenna co-founded a group that later became the Canadian Journalists for Free Expression (CJFE).
"Brian's fearless approach was an inspiration to many," says Stephen Yeager, chair of the Department of English. "He was a brilliant storyteller who had an incredible gift for uncovering and exposing the truth. His contributions to Canadian journalism will never be forgotten."
McKenna is survived by partner Renée Baert, five children and three grandchildren.
---