Take part in Concordia's first-ever Sustainability Plan, and win a BIXI pass!
Students, faculty and staff can have their say online and in-person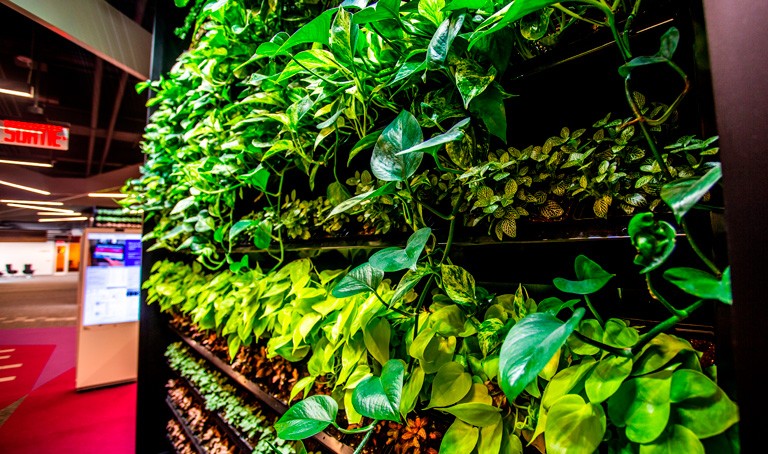 The green walls in the Webster Library. | Photo by Concordia University
Concordia is developing its first-ever Sustainability Plan, and in mid-March the university will launch a consultation process to gather reactions to the goals and directions outlined so far. All community members are invited to participate through public consultation sessions and an online feedback form.
"We definitely encourage students, faculty and staff to participate in one or both of these options," says Cassandra Lamontagne, sustainability coordinator for the Environmental Health and Safety Office.
Concordia is offering an extra incentive to participate: those who register for a public consultation session or fill out the online form have a chance to win a free one-year BIXI membership.
Sustainability plan timeline
When Concordia released it Sustainability Policy in 2016, it included a provision for the development of sustainability plans that align with community priorities.
In 2017, Concordia consulted the community, looking to identify five priority streams for the first five-year plan.
In 2018, five multi-stakeholder stream committees were set up to look at:
Food
Waste
Climate
Research
Curriculum
The committees worked on developing five-year objectives, strategies and measurement plans to enhance sustainability within each stream. They also outlined longer-term goals to guide the university in its shift to a fully sustainable campus.
"Our community has been a wonderful driver for these processes all along," Lamontagne says.
"We hope that we get a lot of feedback about the directions we've outlined for each of the five topics. We'd also like to know how our community wants to be involved in the implementation process."
After the consultations, the committees will each prepare a draft plan for their stream and submit them for adoption as part of the overall 2019-2024 Concordia Sustainability Plan.
How to participate
Two in-person consultation sessions will provide an opportunity for community members to learn more about and comment on each of the streams, identify key priorities and offer ideas for community involvement:
Loyola Campus
Tuesday, March 19
12:15 to 2:15 p.m.
Loyola Jesuit Hall and Conference Centre, RF-120 (7141 Sherbrooke St. W.)
Sir George Williams Campus
Friday, March 22
11 a.m. to 1 p.m.
Grey Nun's Building Event Hall, GN-E104 (1190 Guy St.)
Community members can register to attend these sessions or to fill out the online feedback form.
Sustainability conference
The Loyola consultation session is offered in partnership with the Loyola College for Diversity and Sustainability and the Loyola Sustainability Research Centre. Check out Sustainability in the City and Beyond, a cross-disciplinary conference taking place from March 19 to 21.

Register for the Concordia Sustainability Plan Consultations via the Sustainability Hub webpage.
---