Green buildings
As a leader in sustainable education, Concordia has endeavoured to formalise its commitment to environmentally responsible development by seeking green building certifications for its most recently constructed buildings.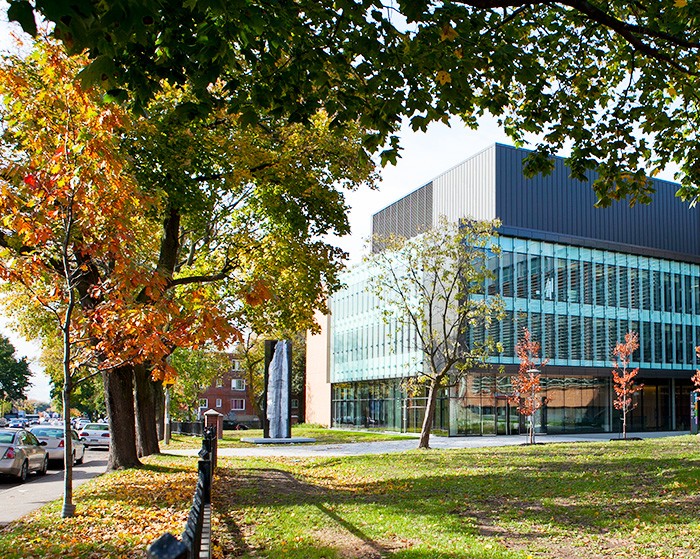 What is LEED?
To obtain LEED (or Leadership in Energy and Environmental Design) certification, Concordia must incorporate a considerable number of features and processes that improve the building's overall sustainability and environmental impact. Examples of these features include:
Bike and electric vehicle parking

Energy efficiency that exceeds building code standards by wide margins

Use of on-site renewable energy sources

Advanced commissioning and start-up of all building systems

Responsible disposal of construction waste

Fixtures and equipment that limit water use

Use of renewable and socially responsible building materials and construction practices
LEED buildings at Concordia
Click on each LEED-certified building below to learn more about its unique sustainable features.
In 2009, Concordia opened the doors to its first LEED certified building. The MB building incorporates solar technologies and advanced controls for HVAC and lighting, earning LEED Silver certification. It also incorporates responsibly sourced, renewable building materials, low-flow plumbing fixtures and a green roof space. The John Molson Building houses classrooms, study spaces, a conference center, music and dance studios as well as offices and restaurants.
Incorporating natural lighting and advanced energy recuperation systems, the PERFORM Centre was the Loyola Campus' first LEED certified building, obtaining a Gold rating in 2011.
Built around the same time as the PERFORM Center, Concordia's GE building features demand-controlled lab ventilation and energy recuperating features that make it almost twice as efficient as comparable laboratory buildings. It, too, boasts a LEED Gold rating.
The Applied Science Hub was designed to physically connect researchers and encourage interdisciplinary collaboration. It houses laboratories and research spaces supporting fields such as agriculture, health and sustainable development. Launched in November 2020, the HU building incorporates demand-controlled ventilation, lighting controls and energy recuperation technologies.