Gold for Genomics
Research centre becomes Concordia's third LEED-certified building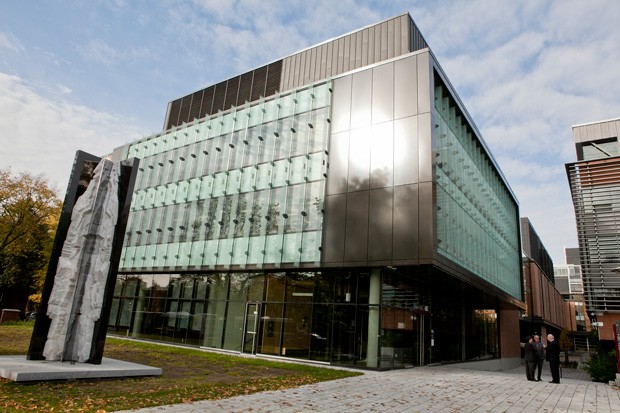 The centre's building on the Loyola Campus consumes 57 per cent less energy than the National Energy Code of Canada for Buildings. Photo by Concordia University
Concordia's Research Centre for Structural and Functional Genomics (GE) has been awarded Leadership in Energy and Environmental Design (LEED) Gold certification status by the Canada Green Building Council.
The centre is now the third facility to be recognized as a high-performance green building based on longstanding sustainable practices that include design, construction and operation. Last fall, the PERFORM Centre was granted Gold status and the John Molson School of Business was honoured with Silver status.
"This is an important achievement for Concordia, reflecting our ongoing commitment to best practices in sustainability, especially when it comes to new building construction on campus," says Alan Shepard, president of Concordia University. "As a university gaining momentum nationally and internationally for its research, it is important that we provide our faculty and students with facilities that will support innovative research."
The GE Building, which consumes 57 per cent less energy than the National Energy Code of Canada for Buildings, boasts these other green features:
Ecological site location, including proximity to public transport and bicycle access
Efficient plumbing fixtures to conserve water
High air quality, measured and adjusted by an automated indoor air quality system
65 per cent of wood-based materials from forests following the recognized principles of the Forest Stewardship Council
11 per cent of construction materials and furniture from recycled materials
High volume facilities for recycling and composting of waste
Building cleaned with green-certified products only
Minimal soil erosion and management of storm water during construction
Completed in the summer of 2011 at the Loyola Campus, the $30 million building was funded by a Knowledge Infrastructure Program grant from the Government of Canada and the Government of Quebec. It represents a 5,400 square metre expansion of the existing 32,000 square metre Richard J. Renaud Science Complex (SP).
About the centre:
The Research Centre for Structural and Functional Genomics is home to a dynamic, multi-disciplinary team of people, including biologists, biochemists and bioinformaticians. This state-of-the-art facility features computational resources necessary to sequence, process and store genetic information of various organisms.
About LEED:
Leadership in Energy and Environmental Design (LEED) is a third-party certification program and an internationally accepted benchmark for the design, construction and operation of high performance green buildings. By certifying hundreds of projects over the past decade, LEED Canada has transformed the way built environments are designed, constructed, and operated.
---