Governance
The Governance Framework provides strategic direction in integrating sustainability within Concordia's decision-making process.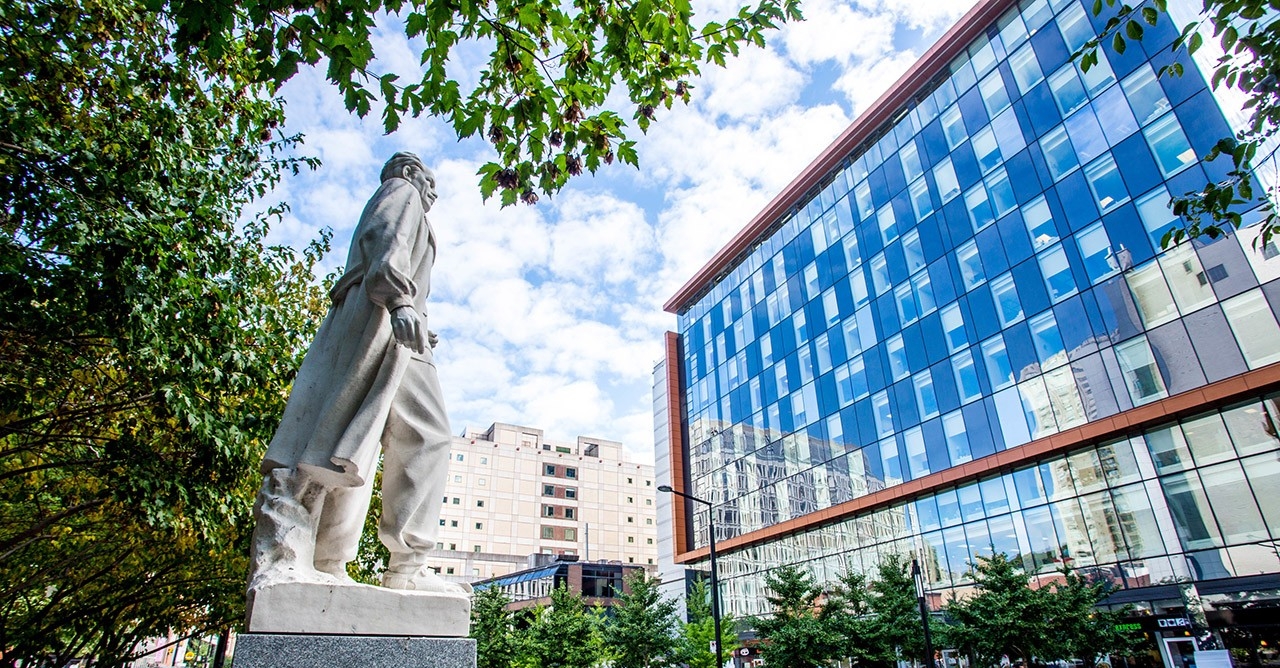 Framework structure
In 2013, members of the President's Executive Group of Concordia drafted a Sustainability Governance Framework (SGF) to provide strategic direction in institutionalizing sustainability within the university's decision-making process. The Sustainability Governance Framework was composed of the Sustainability Steering Committee and three sub-committees.
In 2022, a process began to revise the Sustainability Governance Framework and an interim structure was put in place. The interim SGF is made up of the Sustainability Action Plan Committee which reports to the Sustainability Advisory Committee.
Sustainability Advisory Committee
Key functions
Conducts strategic planning and develops recommendations with respect to policy and plans, including resource allocations and reporting.
Chair
Michael Di Grappa, Vice-President, Services and Sustainability
Secretary
Rosa Gullo, Assistant to the Director, Environmental Health & Safety / Office of Sustainability
Members
Maria Chitoroaga, Sustainability Coordinator, Concordia Student Union

Anne Whitelaw, Provost & Vice-President, Academic Affairs

Liz Miller, Professor, Communication Studies

Dominique Bérubé, Vice-President, Research & Graduate Studies

Paul Chesser, Vice-President, Advancement & External Relations

Philippe Beauregard, Chief Communications Officer

Pietro Gasparrini, Director, Environmental Health and Safety / Office of Sustainability
Sustainability Action Plan Committee
Key functions
Establishes consistent oversight and collaboration on the Sustainability Action Plan and its related programs and projects.

Chair
Pietro Gasparrini, Director, Environmental Health & Safety / Office of Sustainability
Secretary
Christian Favreau, Sustainability Engagement Assistant, Office of Sustainability
Members
Amr Addas, Adjunct Professor, Department of Finance

Brett Cox, Sustainability in Research Coordinator, Office of Research
Stream representative, Sustainability in Research Plan
Candace Jacobs, Interim Director, University Communications Services

Caroline Bogner, Senior Director, Procurement Services


Cassandra Lamontagne, Sustainability Manager, Office of Sustainability

Claudette Torbey, Administrator, Food Services Sustainability and Quality, Hospitality Concordia
Stream representative, Sustainable Food Systems Plan
Damon Matthews, Professor, Department of Geography, Planning and Environment
Concordia Research Chair in Climate Science and Sustainability
Stream representative, Climate Action Plan

Dominique Dumont, Director, Facilities Management Strategic Planning & Development

Elsa Younes, VP Internal Affairs, Engineering and Computer Science Association (ECA)

Faisal Shennib, Environmental Specialist, Facilities Management Property Management
Stream representative, Zero Waste Plan
Florence Gruter, Curriculum Developer for Sustainability, Centre for Teaching and Learning
Stream representative, Sustainability in Curriculum Plan

Fuzhan Nasiri, Associate Professor, Department of Building, Civil and Environmental Engineering

Grace-Amanda Jones, Student, Arts and Science Federation of Associations (ASFA)


Iqbal Hussain, Funding and Finance Coordinator, Sustainability Action Fund

Jason Ens, Exec. Director, Academic Policy and Planning, Office of the Provost and Vice-President Academic

Joshua Chalifour, Digital Scholarship Librarian, Library

Leisha LeCouvie, Senior Director, Alumni Relations, Office of the VP, University Advancement

Maddison Schmitt, Student, Fine Arts Student Association (FASA)

Maha Fakih, Advisor, Sustainability and Investment

Maria Chitoroaga, Sustainability Coordinator, Concordia Student Union

Mohammed Arbaaz Parvez, Student, Graduate Student Association (GSA)

Noah Thompson, Student, Commerce and Administration Students' Association (CASA)


Paige Keleher, External Coordinator, Sustainable Concordia

Pascale Biron, Professor, Department of Geography, Planning and Environment

pk Langshaw, Professor and Chair, Department of Design and Computational Arts

Shawn Moss, Senior Advisor, Sustainability and Climate Change, Facilities Management Strategic Planning & Development

Rachel Berger, Associate Dean, Academic Programs and Development, Graduate Studies

Rebecca Tittler, Coordinator, Loyola Sustainability Research Centre / Loyola College for Diversity and Sustainability
Professor, Loyola College for Diversity and Sustainability / Department of Biology / Department of Geography, Planning & Environment

Sarah Caille, Director, Hospitality Concordia