WWF Living Planet @ Campus
The World Wildlife Fund Living Planet @ Campus program is designed to deliver inclusive, skill-building and impactful sustainability engagement opportunities.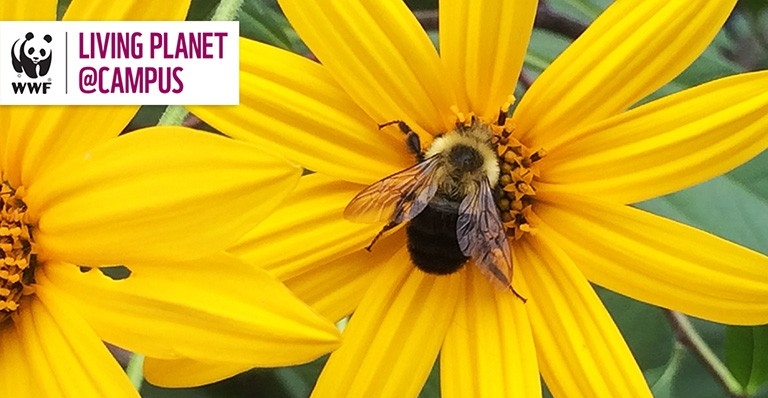 Copyright Peter Ewins / WWF-Canada
Gaining skills to protect the natural world
In an effort to conserve and protect the natural world both on and off campus, the WWF-Canada "Living Planet @ Campus" program encourages students, faculty and staff in the practice of sustainability and the protection of nature on campus and beyond.

Gain knowledge, aptitudes and experience in sustainability leadership!
How to become a Living Planet Leader!
The "Living Planet Leader" certification is a self-guided designation that requires a student to participate in the following sustainability activities during your time at Concordia:
participate in volunteering

take on new personal and lifestyle sustainability challenges

integrate sustainability into your coursework and projects

implement leadership and teamwork skills.

On fulfilling these criteria, you will be awarded a certificate and will be able to include the designation on your CV.
Getting started
Register as a Living Planet Leader with WWF Living Planet @ Campus.
Download the worksheet to learn how you can tackle the criteria at Concordia.

Track your progress and record your efforts on your Living Planet Leader profile; don't forget to also submit your activities to the co-curricular record.

Submit your completed application within 3 months after your final academic term of your program (or earlier) and achieve recognition as a Living Planet Leader!
© Great Canadian Shoreline Cleanup
Living Planet leaders at Concordia
Those progressing through their submission to the Living Planet Leader program can get credit on their co-curricular record. If a student's activities under Living Planet Leader are not already included as valid activities through the co-curricular record, the student can use the "Living Planet Leader" position to gain co-curricular credit.
Our Living Planet Leaders
Lou Collin (Specialization in Human Environment; Minor in Sociology)
Josiah Becker (Master of Environment)
Rivver Griffith (Specialization in Anthropology)
One-hundred-and-eighty-five new trees were planted
at the Loyola Campus in November 2019?
Read about these trees
The Concordia Pollinators Initiative is a student-run group focused on ensuring the health and abundance of urban pollinators?
Meet the group
WWF's 2020 Living Planet Report Canada shows that at-risk species in Canada have declined by 59 percent in under 50 years
Read the full report
Urban biodiversity scavenger hunt
Running from April - May 2023

In this activity, we encourage our community to seek out the different species of plants, birds, and insects that can be found in Montreal at this time of year. Participate through social media and get a chance to win a prize!

Learn more
Container gardening workshop: Supporting our pollinators!
Event has passed

Join us to learn more about what pollinators are and why native plants are important, and then get your hands dirty with our interactive gardening workshop—no experience necessary!
View the recording and materials
Become a WWF Living Planet Leader at Concordia
Event has passed

Learn how you can get experience and recognition as a leader in sustainability while completing your post-secondary program! Learn about the program from WWF-Canada and then ask your sustainability coordinator how to gain your designation while at Concordia.

Learn more about Living Planet Leader