Concordia celebrates 185 new trees on the Loyola Campus
Faculty, staff and students come together for a massive urban planting session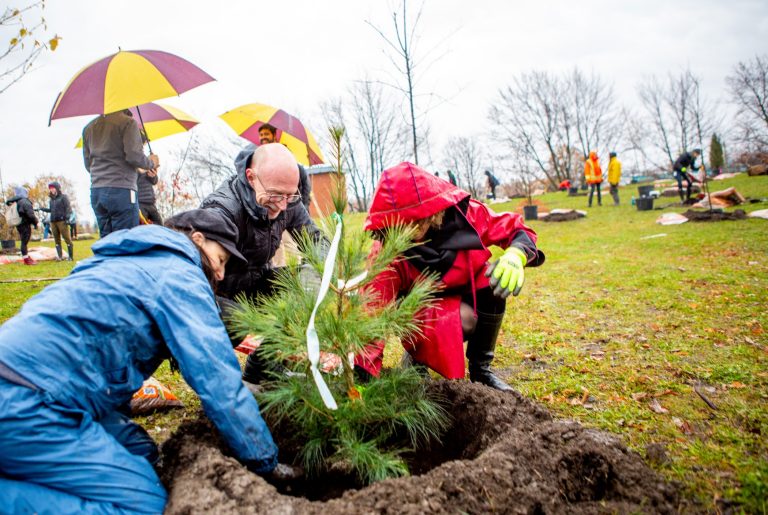 Concordia's Loyola Campus is getting a lot greener.
Thanks to the efforts of staff, students and faculty, some 185 new trees are being planted on the university grounds this week.
"The initiative got underway November 5 with the first planting of dozens of trees at the foot of the Loyola athletics field," says Graham Carr, Concordia's interim president.
"I am incredibly proud to be part what is literally a ground-breaking project. It's timely that the project comes on the heels of a series of news stories about the environmental importance of trees in urban contexts, featuring the work of Carly Ziter, from our Department of Biology," he added.
"What we are doing at Loyola demonstrates not only Concordia's ongoing commitment to sustainability and smart, resilient cities, but our desire to practice what we preach by applying the discoveries of our fundamental research in our own backyard.
"I also want to applaud our students and faculty for their initiative in making this project happen, and thank the TD Bank and Soverdi for their vital support and collaboration."
He was joined at the planting by more than 30 staff, student and faculty volunteers, members of the Stingers football team and female hockey team, and Sue Montgomery, mayor of Montreal borough Côte-des-Neiges–Notre-Dame-de-Grâce.
'These trees will be around for a long time'
The project was made possible through a collaboration between a student group called the Concordia Greening Project and numerous faculty members. They partnered with non-profit organization Soverdi to obtain and plant the trees.
"This is a great achievement, and it's the fruit of what we have been learning in class," says Théo Vergnet, a second-year sociology student and member of the Concordia Greening Project, who first reached out to Soverdi. "These trees will be around for a long time."
The Concordia Greening Project members were joined in their efforts by a number of faculty, including Department of Biology professor Emma Despland and assistant professor Carly Ziter, their colleague and Loyola College for Diversity and Sustainability coordinator Rebecca Tittler, and associate professor of sociology and anthropology Satoshi Ikeda.
Concordia's Office of Sustainability and the City Farm School also helped get the project off the ground.
"This honours Indigenous peoples by emphasizing trees that originally grew on this ground," says Tittler. "The trees will also provide benefits to health and personal well-being. Overall, the reaction of the community has been overwhelmingly positive."
Despland says she plans to use the spaces with her biology classes.
"These new greenspaces at Loyola will provide an irreplaceable teaching and research opportunity," she adds.
"This supports Concordia's vision of a next-generation education providing students with real-world skills, and allows for creative interdisciplinary research accessible to the broader community."
An urban mini-forest
All trees will be indigenous species to the area and encourage biodiversity in various ways, from attracting bees and butterflies to growing berries for birds and squirrels to eat.
In addition to the southern end of the athletics field, the trees will be planted at the northern edge of the campus, by Hingston Hall (HA Building), and in front of the Communication Studies and Journalism (CJ) Building.
The athletics section, where the greatest number of trees will be planted, will grow into an urban mini-forest.
Soverdi general director Malin Anagrius is pleased to be partnering on the initiative.
"We are proud to work with the Concordia Greening Project and the university team. One hundred and eighty-five trees planted in the heart of the city will bring benefits for many years!"
The project was made possible via funding from the City of Montreal, Soverdi's Urban Forest Action Plan, TD Bank's The Ready Commitment program and the Office of the VP, Services.

Learn more about sustainability initiatives under way at Concordia through the Sustainability Hub.
For more great tree-planting photos, check out the Flickr album for this event.

---