Conferences & lectures
Exploring spatial patterns in Montreal: Launch of a new interactive web-map of urban sprawl
---
DATE & TIME
Friday, October 1, 2021
4 p.m. – 5 p.m.
SPEAKER(S)
Mirya Reid, Sepideh Mosharafiandehkordiz, and Parnian Pourtaherian
COST
This event is free and open to the public
---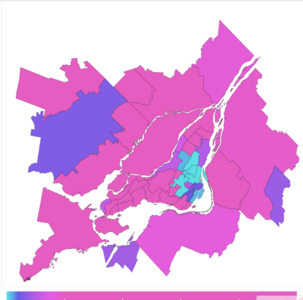 Urban sprawl in Montreal. Map put together by Mirya Reid, based on data from Nazarnia et al. 2016.
Urban sprawl has many negative environmental effects, including loss of agricultural land and natural open spaces. It also contributes to climate change and has harmful effects on public health. Nonetheless, it has increased 26-fold in Montreal over the past four decades. A stated-preference survey conducted last year revealed that as many as 30% of sampled Concordia students had never heard of urban sprawl. To address this knowledge gap, this event will launch and showcase a newly developed interactive web-map of urban sprawl in Montreal alongside engaging presentations by speakers Mirya Reid, Sepideh Mosharafiandehkordi, and Parnian Pourtaherian. Developed by undergraduate student Mirya Reid and funded by the Sustainability Action Fund, this free web-map is designed to broaden public understanding of urban development in Montreal and foster discussions of the sustainability implications of residential choices.
This event is part of Campus Sustainability Month at Concordia, a month-long series of events, activities, and giveaways.
---