Montreal 2050: Envisioning urban development
Considering future generations and intergenerational justice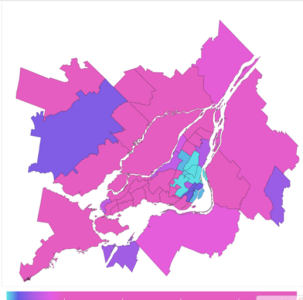 Photo credit: Craig Townsend
Researchers
Highlights
The issue of urban development transcends both disciplinary and generational boundaries and is increasingly urgent due to climate change and the links between urban development and skyrocketing greenhouse gas emissions from transportation.

Transportation emissions in Canada grew by 42% between 1990 and 2016, while emissions from many other activities declined[i].

This project addressed the issue of urban development in Montreal through a trans-disciplinary approach

The overall goal of this project is to propose workable, sustainable urban futures that will minimize the negative effects of urban growth on quality of life and the natural world for current and future generations.


As part of the project, the team will be collaborating with community members to develop a set of possible scenarios for the future development of the Montreal Metropolitan Area, involving multiple generations and people speaking on behalf of future generations

The project will explicitly address the issue of intergenerational justice while instigating and facilitating a public conversation on urban development and empowering youth to effect change in the world they are destined to inherit.
As part of this project, we are conducting an urban survey.
Survey results will be used to explore student attitudes towards future urban development.
To participate in the survey or find out more, please contact Catherine Poitras, the survey coordinator, at survey.coordinator@concordia.ca.