Notable Concordian
Murray Sinclair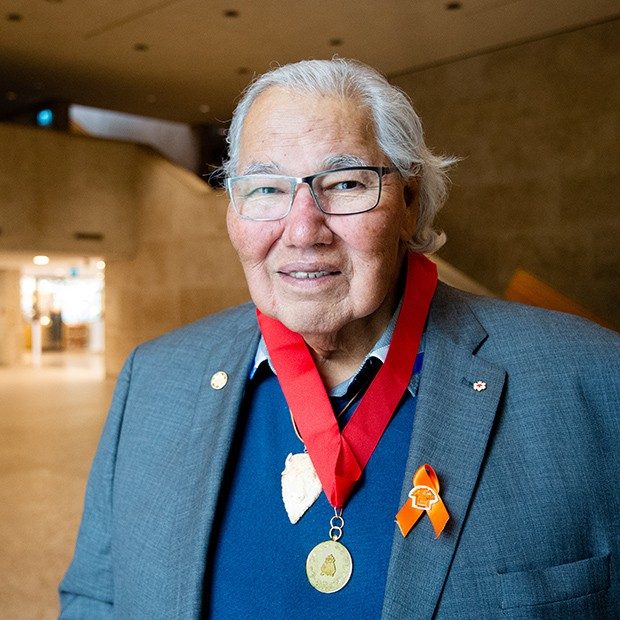 Awards & Distinctions
Loyola Medal
A champion of Indigenous rights
The Honourable Murray Sinclair, LLB MSC IPC, former senator, judge was the chairperson of the Truth and Reconciliation Commission of Canada (TRC) — the federal taskforce created to provide survivors of the country's residential school system the opportunity to tell their stories.
"By honouring me in this way, Concordia has recognized that it can contribute to the conversation and call upon all Canadians to listen to Indigenous views on reconciliation."
Sinclair has been a champion for Indigenous peoples in Canada and a tireless advocate not just for truth and justice but also for education and action.
"His leadership as chairperson of the Truth and Reconciliation Commission challenged all Canadians to learn, reflect upon and confront this country's long history of oppression, violence and discrimination against Indigenous peoples," says Concordia President Graham Carr.
Sinclair graduated from law school in 1979 and began practicing in 1980, focusing on civil and criminal litigation, Indigenous law and human rights. In 1988, he was appointed associate chief judge of the Manitoba Provincial Court, becoming the province's first, and Canada's second, Indigenous judge.
Soon after his judicial promotion, Sinclair was made co-commissioner of Manitoba's Aboriginal Justice Inquiry — an investigation into the presence of systemic racism in the province's criminal justice system.
As a prominent Indigenous judge then appointed to the Court of Queen's Bench — Manitoba's highest trial court — Sinclair was a natural pick to lead the TRC.
"Children raised in Canadian society from 1867 onward were indoctrinated into believing that Indigenous people were inferior. It was taught to non-Indigenous children for seven generations and continues to be taught today," he says.
"When Canada recognizes that, only then will we be able to say that we are on a significant part of the road to reconciliation."