Whenever you travel and are exposed to different settings and cultures, you may experience a phenomenon called "Culture Shock".
To help us understand better what Culture Shock is, International students at Concordia have come forth with their experiences.
Tips to face culture shock
Whenever in a new country, you need to find a support system; what better support system than great friends? Concordia offers various opportunities for new students to make friends.
An effective way to get over Culture Shock is to remain active. Pick up a fun hobby that you can indulge in regularly, meet people with similar interests to yours, and establish a strong structure in your lifestyle.

Concordia Students are free to sign up to any of the clubs enlisted by the CSU. The Concordia gym also offers plenty of interesting physical activities in which you can stay in shape and make new friends.
Getting past language barriers is a very big step in overcoming Culture Shock. Thankfully, Concordia offers services and courses that can help you become more proficient in French and/or in English.
Whenever traveling to a new country, your diet changes greatly. Food you'd think is common in stores is rare, the spices used in restaurants are different, and even the taste of certain products you thought you knew have changed.
After a while, you will crave a taste of home. Luckily, Montreal is bursting with flavors from all over the world, and finding the meal for your taste buds is definitely possible.
Sometimes, Culture Shock seems too hard to get over. There is no need to worry, as Concordia's counseling services are here to help you out. Don't be afraid to talk about it.
Montreal is a very dynamic city with many things to do. You should also take the opportunity to explore outside the city; it's a great way to open your mind to new experiences and remain active!
Be curious and keep the spirit of discovery alive by visiting many North American landmarks, and travel with friends in and around Canada!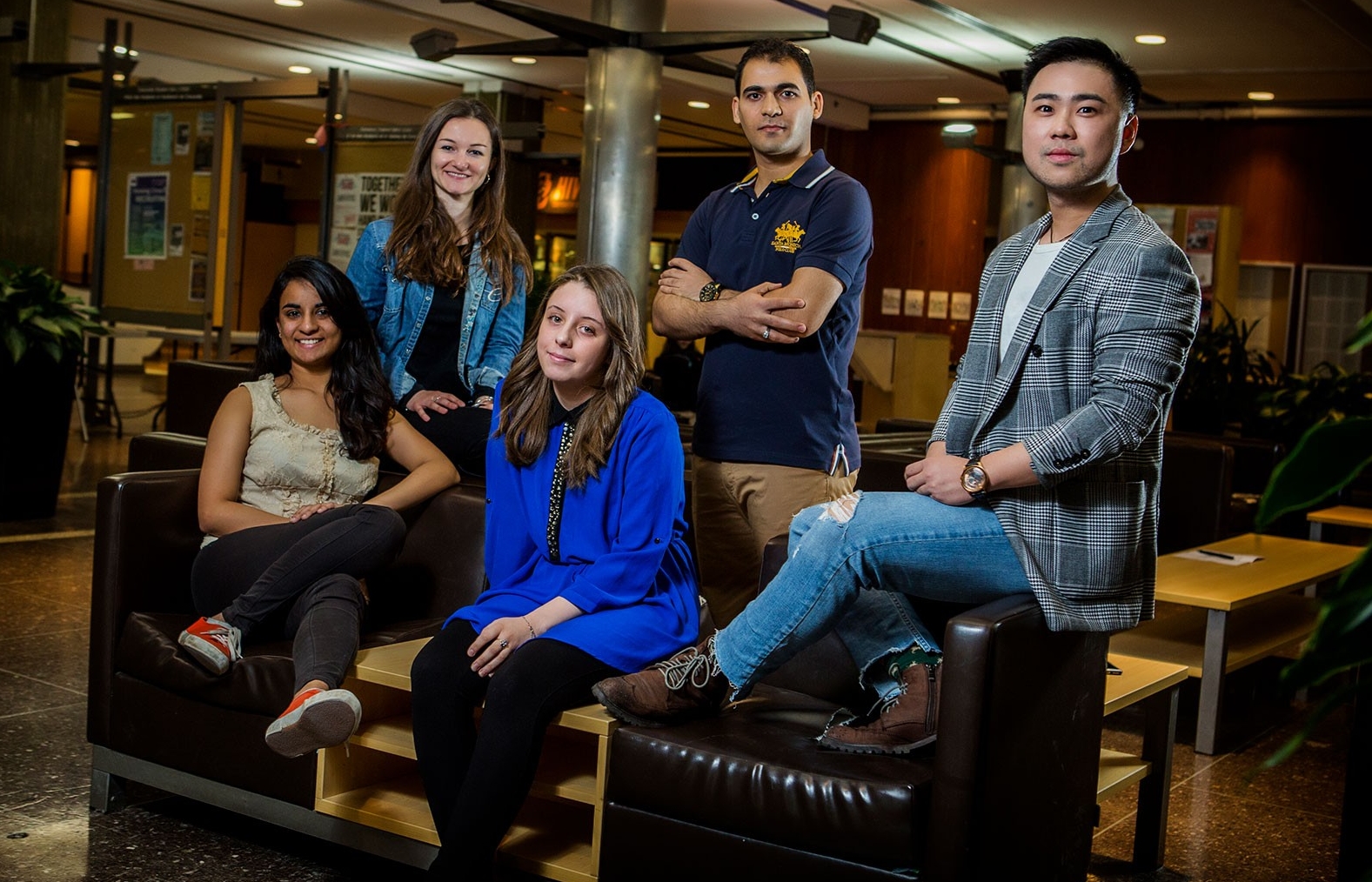 From left to right: Pooja Patil (India), Marie Marquis (France), Ilhem Chaima Bousbiat (Algeria), Zevar Sherwany (Iraq), Connor Wang (China).
You just arrived from your home country and you are very excited to start a new chapter in your life! You want to quickly experience new things and make new friends. You tend to view everything as positive, and romanticize the host culture.
Symptoms could include:
Excitement for things to come
Wonder at everything that's different
Idealizing the host culture
"Even taking the metro was an adventure when I first got here; looking around and experiencing the diversity was amazing. You're just very alert to the world around you."
Marie Marquis, France
"I was excited about people being open, helpful and friendly. To me, it was amazing that people could greet strangers on the street. The culture here is a lot about self-expression and not judging. It was weird to me at first but I was excited."
Edom Taye, Ethiopia
After a while, you start to realize that the host culture isn't as perfect as you thought it was. You consider things about the locals and the environment that are different from your home country as unpleasant or inferior, and it's making you feel depressed and/or irritated. You begin to idealize home and wonder if you made the right choice in studying abroad.
Symptoms could include:
Anger at small troubles
Homesickness
Sadness, feeling of not fitting in
"I ate a lot of Dollarama and Tim Hortons food because it was so cheap. I really didn't know what I was doing, and that's when I started feeling a bit depressed."
Sandra Guimaraes, Ecuador
"I'm staying in a building with a Bulgarian person who teaches me about Montreal a lot. They told me not to make quick decisions, and not to leave right away even if I wanted to. They were right! People don't take the time to adapt, so they don't accept the new culture and just go back."
Zevar Sherwany, Iraq
You begin to understand things about the culture you're exposed to. Things that you thought were unpleasant lose importance, and you keep a positive outlook on things. You take on culture differences with a sense of humor, learn from friends and get involved.
Symptoms could include:
Humoring things you once found frustrating
Strengthening of bonds with new friends
Understanding more of the culture's values
"My soft social skills are good, so I really didn't expect my first job interviewer here to call me rude! It's only after that I realized that I wasn't saying "sorry" or "thank you" as much as Canadians did. I needed to pick up on Canadian expression and social codes. Now, even if I bump into a lamppost, I say sorry."
Pooja Patil, India
"People usually adjust to environments but have a hard time getting involved. I just forced myself to put myself out there and made friends. You struggle with culture shock when you get lonely, so staying social is very important."
Connor Wang, China
You finally feel at ease in the host culture. You have understood many things that make this environment different from your home environment, but also have realized that you don't need to understand everything you're exposed to in order to feel comfortable. You now feel like you have a home away from home.
Symptoms could include:
Feeling accepted amongst a community
Relaxed attitude to the host environment
Acceptance that you don't need to understand everything
"Thanks to an advisor and the ISO volunteering, I managed to make friends. Half of them are from my department in Biology, the other from the ISO. Volunteering helped me integrate because I was with people who were the same as me!"
Ilhem Chaima Bousbiat, Algeria
"For people feeling sad, I would say join a club or an association! It's great to distance your mind from anxiety and stress like that. It's hard to do it, but the more you do it the better you feel."
Shahab Naeini, Iran
*On your way back to your home country, you may experience these stages again and will have to re-adapt yourself to your country's environment. This is called "Reverse Culture Shock".