Hexagram: when art, technology and culture collide
This term, Hexagram is hosting 5 mind-opening events in Montreal

Hexagram hosted its first LASER (Leonardo Art-Science Evening Rendezvous) in late 2014, and will host the next one in spring 2015. | Image courtesy of Hexagram
The future is right now, and it's at Concordia.
The Hexagram network is a bimodal explosion of art, culture and technology, centred around Concordia and the Université du Quebec à Montreal (UQAM).
Co-directed by Christopher Salter, Concordia University Research Chair in New Media, Technology and the Senses, and Gisèle Trudel, a professor of media and visual arts at UQAM, Hexagram is best described as a whirling carousel of research creation into technology, art, culture, business, design and philosophy. Essentially, whatever its current researchers want to study, that's what it is.
"Hexagram enables this interdisciplinary crossing over," Salter says.
Hexagram's ability to transcend borders is the secret to its longevity and success. It started in 2002 as a local program for fine arts, and has blossomed into a future-facing network that responds to the growing globalization of cross-pollination. There are currently about 100 researchers and a number of local, provincial and international partners contributing to the cause.
In the four years since he first began running Concordia's Hexagram antenna, Salter has been able to see the program grow internationally. Researchers who study vastly different subjects in Australia, China, Colombia, throughout Europe and elsewhere have begun meeting as part of the network.
"We're working basically across seven continents," Salter says. "It simply reflects that the researchers in the network have a global perspective and are working on the international scene."
Hexagram will host several activities during the winter 2015 term at Concordia and UQAM while gearing up to host the international Media Art History conference next November.
World Of Matter
World Of Matter: Resource Ecologies and Contested Territories is a two-day conference and exhibition organized by member Krista Lynes.
According to its website, it will focus on primary materials — fossil, mineral, agrarian and maritime — and the role they play in the larger ecosystems that surround them.
February 20-21 (opening February 20, from 6 to 8 p.m.) at the Leonard and Ellen Bina Gallery (McConnell Library Building, 1400 de Maisonneuve Boulevard).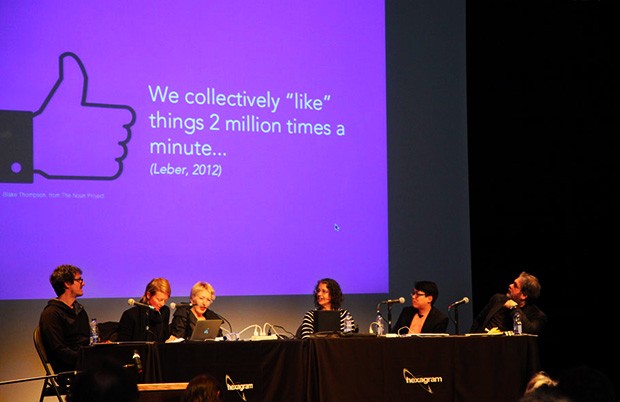 The DEMO or Die event, which took place on March 20, 2014, featured researchers and practitioners from different fields and several universities in Montreal. | Photo courtesy of Hexagram
Distinguished speaker series: Charles Spence
British anthropologist Charles Spence will speak on his work, which explores all facets of the multisensory experience of taste. A professor of experimental psychology at the University of Oxford and the director of the school's Crossmodal Research Laboratory, Spence has interviewed a wide gamut of people — chefs, neuroscientists, artists and others — in his search for answers. He will present what he's learned so far to a Montreal audience.
September 2015 (date and venue to be confirmed).
Ambiances en traduction
Member-researcher Mario Côté brings the international Ambiances conference — a regrouping of researchers studying urban and architectural ambiances by looking at lived-in spaces — to Montreal.
April 27-29. More details to come on the Ambiances Network website.
LASER
Hexagram hosted its first LASER (Leonardo Art-Science Evening Rendezvous) in late 2014, and will host the next one in spring 2015. Experts in engineering, computer science, interactive textiles and art and media technology come together for an animated round-table discussion about the impact of technology on research. Published by MIT Press, Leonardo is the oldest publication of art and science in the world, says Salter. Rendezvous are held by different universities all over the U.S. and, occasionally, in Europe.
Spring 2015. More details to come on Hexagram's website.

Get details on upcoming Concordia Hexagram events.

---