Rethinking the writing of Leonard Cohen
Associate professor explores Jewish themes in legendary Montrealer's novels and poems
In an upcoming public lecture, Associate Professor Norman Ravvin, Chair of Canadian Jewish Studies in Concordia's Department of Religion from 1999 until last spring, will examine Jewish themes and motivations in the writings of Leonard Cohen.
"The more renowned Leonard Cohen becomes for his music, the more difficult it can be to appreciate, even remember his contribution to Canadian Jewish literary life," he says.
There are few Montrealers, let alone Jewish writers from Montreal, who have attracted the same amount of adulation and interest as Cohen. Ravvin says that as a discussion topic, his writing is an obvious choice, as so many people have opinions about it.

However, the Jewish themes that appear intermittently in his writing are rarely discussed, and he hopes that doing so will allow even the most informed audience members to think about them in a different way.

"I think overall, there's a lot of myth associated with the Jewish writers from Montreal. They became iconic figures, a few of them," Ravvin says. "The minute that happens, the personality turns into some form of myth. That happened with Richler, and more recently with Leonard Cohen."

Some books, such as Cohen's collection of poems titled Flowers for Hitler, contain Jewish themes, or references to Nazism and the Holocaust, but Ravvin says Cohen is not a writer who is consistently motivated by his own experiences as a Jew in Montreal.

"It's more texture, and a question of noticing the unusual points where these things flare up," he says.
Another example Ravvin gives to illustrate this point is Cohen's famous novel, Beautiful Losers, which he says is more commonly known as a Beat-influenced novel.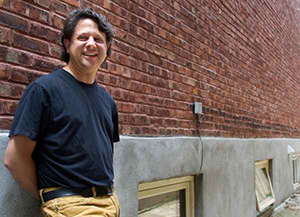 "In places like Poland, it was thought of as a kind of underground, oppositional text," he says. "The book had a lot of power. But there are things in Beautiful Losers that you don't get unless you think about Cohen's Jewish Montreal background."
Ravvin, a writer himself, says he grew up with Cohen's writing, and that much of it influenced his own work. He was also a fan of the songwriter's earlier music.

"I think that after I'm Your Man, the level of celebrity that kicked in had some sort of destabilizing effect, and I thought at that point he stopped being ahead of us," he says.

Ravvin says ardent fans of the popular and prolific songwriter will likely show up with some strong opinions of their own. Indeed, the professor is hoping for a lively discussion.

"My views may be somewhat idiosyncratic, and that's good, because it's good to slow myself down and hear these other kinds of impressions that people might have of the topic," he says.

Concordia's Judaic Studies Graduate Program Director Naftali Cohn says the department sponsors events like Ravvin's public lecture to help "create a rich social-intellectual environment for our students.

"Running an intellectually sophisticated talk on an aspect of the Jewish experience, which touches on the place of Jewish culture in the larger world, helps achieve this goal," he says.

What: Myths of Montreal Public Lecture: Leonard Cohen, Jewish Writing, and the Mainstream
When: November 8, 2012, at 1:15 p.m.
Where: Room FA-202, FA Annex (2060 Mackay St.)

Related Links:
• Department of Religion
• Judaic Studies at Concordia
• Concordia Institute for Canadian Jewish Studies













---