Notable Concordian
Norman D. Hébert
LLD 05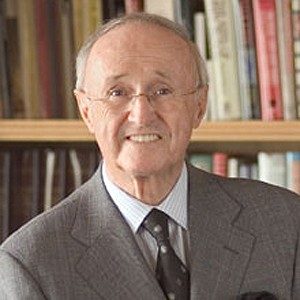 Awards & Distinctions
Great Concordian
Dealership king and Concordia benefactor
Inspired by Henry Ford's 20th-century goal — that any man with a good job should be able to afford an automobile — Norman D. Hébert, LLD 05, began selling automotive components in 1950.
In 1959, Hébert purchased Park Avenue Chevrolet, a car dealership on the verge of bankruptcy. Every inch the entrepreneur, Hébert relocated operations to a barren lot in Montreal North in the hope that sales would thrive. They did.
More than a half-century and 600 employees later, Hébert's tenacity — cultivated when he was a hotshot student politician at Loyola College — transformed the modest operation into a franchise titan. The outfit has earned diverse accolades, including Time magazine's first-ever Dealer of the Year award in 1972.
Adding to a Midas touch for sales, Hébert was a pioneer too. His burgeoning dealer network was the first in Canada to computerize its accounts and introduce leasing. In 1969, as its founding chairman, Hébert launched the Montreal International Auto Show.
Hébert's son, Norman Hébert Jr., BComm 77, joined the family business in 1981. Father and son innovated, introducing "auto malls" — tightly clustered, multi-brand dealerships — which quickly caught on with busy car buyers.
Today, Groupe Park Avenue controls 18 dealerships in Quebec. Including recent acquisitions in British Columbia, the company has the largest multi-brand inventory in Canada.
Business triumphs helped propel philanthropic initiatives, and Hébert has generously honoured his alma mater. Inspired by his wife Johanne, who studied at Sir George Williams Business College, and his son's Loyola College education, Hébert volunteered as a canvasser on Concordia's 1983-1988 Capital Campaign. From 1998 to 2003, Hébert served as a key member of Concordia's Annual Campaign committee.
Today, Hébert and his family have given more than $1 million to endow scholarships in engineering and business at Concordia. The Norman D. Hébert Scholarships, awarded annually based on academic merit, mark the family's enduring commitment to society-building.
The Hébert legacy will not only be remembered — it lives on.
In 2005, Concordia presented Hébert with an honourary degree for his support. The Norman D. Hébert Meeting Room in the Engineering, Computer Science and Visual Arts Integrated Complex reflects the family's tremendous magnanimity.
Following his father's example, Hébert Jr. has been an active alumnus and was named chair of Concordia's Board of Governors in 2012.
Aa a member of Montreal's business elite, Hébert has held key roles in charitable and industrial organizations. He is past president of the Fondation Hôpital Notre-Dame, the Quebec Arthritis Society and Centraide's Special Names Committee. Hébert is also former director of the Industrial Alliance Insurance Company and past president of the Montreal Automobile Dealers Association.
Norman D. Hébert, Sr., LLD 05, passed away peacefully at his home in Montreal on March 16, 2015, at the age of 89.
More Great Concordians