Notable Concordian
Carol McQueen
BA 95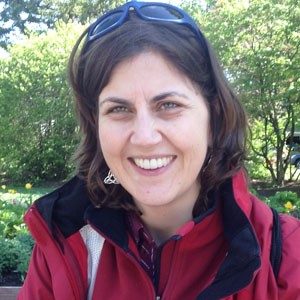 Awards & Distinctions
Great Concordian
From Rhodes Scholar to peacebuilding advocate
Carol McQueen, BA 95, began her post-Concordia life with an auspicious start: she was awarded a prestigious Rhodes Scholarship and headed off to the University of Oxford.
The Liberal Arts College graduate remained in the United Kingdom and earned her PhD from Oxford. Her dissertation dealt with safety zones in 1990s Bosnia, Iraq and Rwanda.
Her commitment to peacebuilding took off from there. In 2003, McQueen relocated to the Democratic Republic of Congo, where she served as political affairs officer with the UN Peacekeeping Mission.
"As the plane descended toward Kinshasa […], I realized I was fulfilling a longstanding dream to work for the United Nations, in the hope of helping bring peace, even in a small way, to a country that had endured almost five years of intense conflict between rebels and government forces," she told Concordia University Magazine at the time.
In the ensuing years McQueen held a number of posts at the Department of Foreign Affairs, Trade, and Development Canada, including deputy director of the now-defunct Democracy Unit and policy analyst with the Peacebuilding and Conflict Prevention Group.
Building on her experience and doctoral research, she wrote Humanitarian Intervention and Safety Zones: Iraq, Bosnia and Rwanda (Palgrave Macmillan, 2005). Shortly after the book's publication McQueen returned to her alma mater to deliver a talk, sponsored by the Liberal Arts College and the Montreal Institute for Genocide and Human Rights Studies, on peacekeeping and the advances made in the prevention of mass violence.
McQueen later returned to Central and East Africa and worked as a political counsellor at the Canadian High Commission in Dar es Salaam, Tanzania.
Following that, she returned to Canada and was director for Gulf States Relations at the Department of Foreign Affairs, Trade and Development Canada. Her portfolio included responsibility for the Iran and Iraq files.
In August 2015 she was appointed as Canada's ambassador to Tunisia.
She is married and has two children.
Avid cyclist Carol McQueen with her father, Concordia Professor Emeritus Hugh McQueen | Photo: Concordia University Records Management and Archives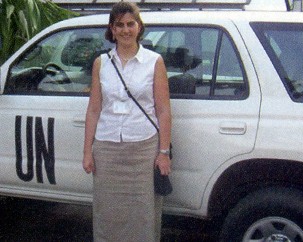 Carol McQueen reporting from the Democratic Republic of Congo in 2003. | Concordia University Records Management and Archives
More Great Concordians