Notable Concordian
Barry Julien
BA 94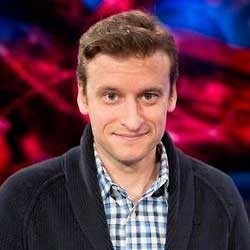 Awards & Distinctions
Great Concordian
Internationally renowned comedy writer
Barry Julien, BA 94, loves monkeying around — so much so that he set out to make it his life's work. The writer, comic, actor and native Montrealer and Department of Communication Studies grad got his start performing stand-up at age 17 and it's safe to say his dreams came true.
Julien is now co-executive producer and writer at The Colbert Report, a Comedy Central spinoff of The Daily Show with Jon Stewart and one of the most watched late-night television programs.
Julien began to write professionally for Canadian television in the '90s. His first big break at CBC's beloved political satire show This Hour Has 22 Minutes garnered him two Gemini Award nominations. He stocked another for his work on the YTV children's series Mystery Hunters.
He wrote regularly for satirical newspaper The Onion and, in 2006, took over as staff writer for Talkshow with Spike Feresten, Fox's longest-running, late-night television series.
Julien joined America's favourite mock right-wing pundit, Stephen Colbert, in 2007. One of 10 staff writers at The Colbert Report, Julien was promoted to co-executive producer in 2012. While he was head writer in 2009, the team gave an in-depth, group interview at the Paley Center for Media.
Enjoying remarkable critical acclaim, Julien received several Writer's Guild Awards and three Primetime Emmy Awards (2008, 2010 and 2013) for his writing. The show itself has taken numerous other awards.
Julien has even gone to war for his job. Four episodes of The Colbert Report were filmed in Baghdad for United Service Organization troops in 2009. Julien warmed up the crowd for Colbert and they each shaved their head to fit in.
Julien has stacked up several Hollywood acting credits. He appears in The Hunger with David Bowie, The Art of War with Wesley Snipes and The Last Kiss with Zach Braff, among others.
A proud Concordia alumnus, Julien returned to Concordia to present a workshop to Communication Studies students during the 2009 Distinguished Alumni Series.
With The Colbert Report in its last season, the world is waiting to see how Julien will get the next laugh.
More Great Concordians