Tips for taking quizzes and exams in Moodle
Last updated: July 24, 2020, 3:40 p.m.
***The content on this page will be continually updated.
Taking an exam online requires more preparation than taking it on campus. Apart from studying, you will also need to plan ahead to avoid any technical issues that might arise before or during your exam. Following the tips below will help minimize the chance of this happening and allow you to concentrate on answering questions.

Before the exam
Use the recommended browser
The recommended browser for taking a test in Moodle is a recent version of Chrome.
If for some reason you cannot use Chrome, Firefox is an alternative, but it is not the first choice. You will not have the same experience as Chrome. For example, you may need to zoom out to find the Next button or Submit button if you are using a smaller screen.
Do not use Safari or Internet Explorer.
Use a wired Internet Connection whenever possible
Use a wired internet connection if possible to maximize your network connection. If you must use a wireless connection, make sure you have a strong and reliable connection before taking the exam.
Use a laptop or a desktop computer
It is not recommended to use a mobile devices such as an ipad or smartphone to while using the Moodle Quiz activity. They are not as reliable as a laptop or desktop computer.
Maximize your computer's processing capacity
If you have used your computer has been running for several hours with multiple applications running immediately before your test/exam, your computer might slow down or even crash during your exam.
Re-start your computer and close all other programs you may have open on your computer. Make sure to do so a minimum of 30 minutes ahead of the exam start time in case your computer forces and update, which could cause delays in logging to the exam.
You may also want to consider clearing your browser cache to improve your computer's performance. Here's how for Chrome and Firefox.
During the exam

Do not open other windows or programs during the exam (unless the required for the test).

Do not use the back arrow in your browser to return to a previous page—you may lose your answers that way!

Use the QUIZ NAVIGATION to select a previous question (if your instructor has set up the quiz to allow you to go back to a previous question). Click on Next at the bottom of each page to go to the next page.
Once you have answered the last question in the Quiz, you will be taken to a Summary of attempt window. This will show you whether or not you have answered all of the questions in the test and any flags you may have set. You can go back to any of the questions simply by clicking on the question number.
Review your quiz to make sure you have answered all questions before clicking on the Submit all and finish button.

In Case of Error Messages
If you receive an error message, write down the message word-for-word and describe the steps taken preceding the error. Then, report the error message and surrounding circumstances to help@concordia.
Provide as many details as possible in your report. Make sure you include the following:
1. The date and time when this occurred.
2. Title or the URL (web address) of the course site (see screenshot below as an example):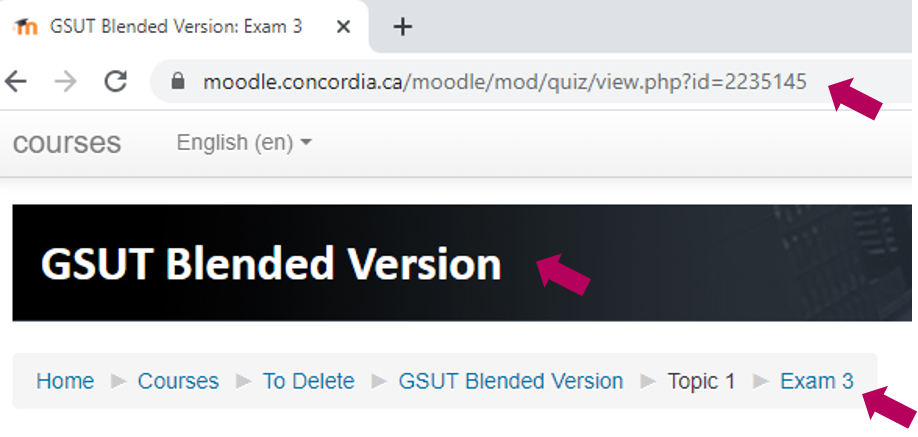 3. Name of the quiz you were working on (also see screenshot above).
4. Question number
5. Browser (i.e.Chrome, Firefox) and operating system (PC, Mac) you used to take the test.
At the same time, notify your instructor of the problem and request further instructions.