Notable Concordian
Maziar Bahari
BA 93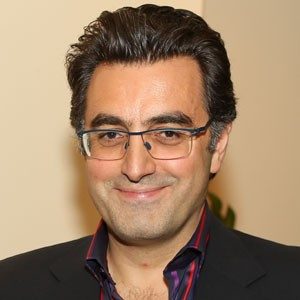 Awards & Distinctions
Great Concordian
Story of harrowing, 118-day capture adapted for big screen
Iranian-born Maziar Bahari, BA 93, moved to Canada in the late 1980s to undertake studies in communications and political science at Concordia University.
Soon after graduating, he embarked on a directing career. His filmography includes documentary works that offer all-too-rare glimpses into the lives and challenges of the Iraqi and Iranian peoples. They include Art of Demolition (1998), Football, Iranian Style (2001), And Along Came a Spider (2003), Mohammad and the Matchmaker (2004) and Targets: Reporters in Iraq (2007).
Bahari served as Newsweek's Iran correspondent between 1998 and 2011. He was in Tehran during the 2009 civil uprising, which followed the disputed victory of Mahmoud Ahmadinejad in the presidential election. On June 21, Bahari was arrested and incarcerated under charges of espionage.
For 118 days, Bahari was held in solitary confinement, tortured and submitted to constant interrogation. The Free Maziar Bahari international campaign helped secure his release on bail at the end of October.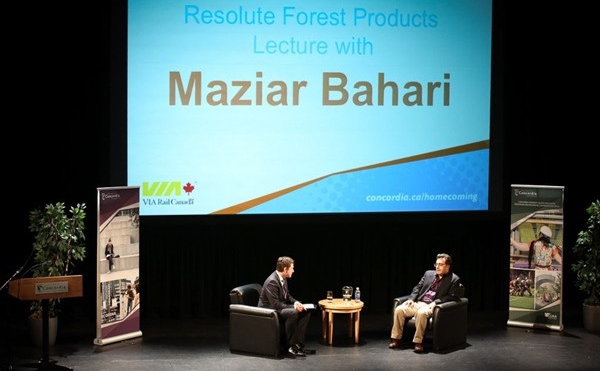 Paul Karwatsky, BA 04, anchor for CTV News Montreal, interviewed Maziar Bahari as part of the Resolute Forest Products Lecture held at Concordia University on October 4, 2013. | Photo: Joe Dresdner
Bahari swiftly fled the country and reunited with his pregnant wife in London. He was subsequently tried in absentia and sentenced to thirteen and a half years in prison plus seventy-four lashes for crimes he did not commit.
Bahari retold his story in a New York Times bestseller titled Then They Came for Me. The Guardian described it as "a unique achievement." The New Republic concurred: "An important and elegant book . . . a prison memoir enlarged into a family history."
Bahari often thought of his father and sister while incarcerated — both suffered imprisonment in Iran decades earlier. He also drew on the knowledge he acquired as an undergraduate student to analyze his place of confinement and derail the process of interrogation.
His memoir is the subject of Rosewater, a movie directed by political satirist and television host Jon Stewart. Mexican actor Gael García Bernal will play Bahari.
"Maziar is an incredible person," the actor told a group of students at Concordia during a 2013 visit to Montreal. He added: "It was the most incredible filming adventure I've ever put myself into."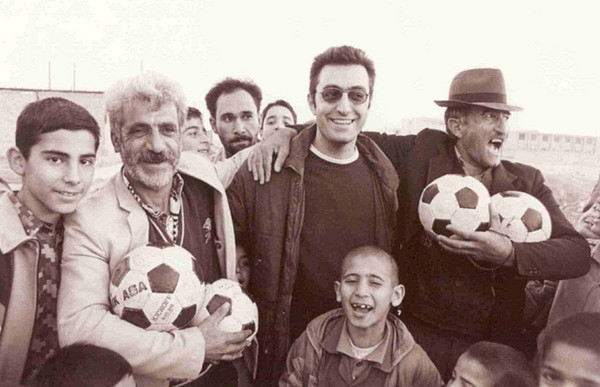 Maziar Bahari on the set of Football, Iranian Style with sports fans in south Tehran. Photo source: Maziar Bahari on Flickr
Maziar Bahari behind the camera | Photo courtesy Maziar Bahari
More Great Concordians