Notable Concordian
Frank Chalk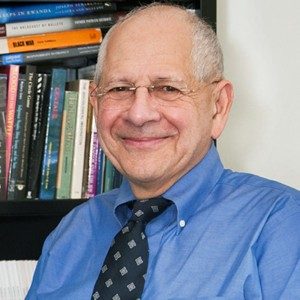 Awards & Distinctions
Great Concordian Outstanding Staff Award
Preventing genocide through research and advocacy
Genocide scholar at Concordia's Department of History, Frank Chalk celebrated half a century at Concordia in 2014. After he arrived at Sir George Williams University — one of Concordia's founding institutions — his speciality in American foreign policy and African history led him to examine the history of mass violence.
In 1980, he and sociology professor Kurt Jonassohn pioneered a full-year course on the history and sociology of genocide. Concordia then hosted the Montreal Inter-University Seminar on Mass Murder in History between 1982 and 1985.
The following year, Chalk and Jonassohn co-founded the Montreal Institute for Genocide and Human Rights Studies (MIGS), now a world-renowned research and advocacy organization. Its mission is to prevent mass atrocities through education, policy recommendations and the establishment of effective partnerships between key actors.
The pair published The History and Sociology of Genocide (Yale University Press, 1990), a field-defining work spanning Antiquity to the recent past.
Chalk is a widely published historian and a highly sought-after speaker who served as president for both the Canadian Association of African Studies and the International Association of Genocide Scholars.
A past Fellow of the Center for Advanced Holocaust Studies, he was also appointed a member of the Canadian Advisory Council of the International Holocaust Remembrance Alliance.
Chalk recently joined forces with now-retired Senator Roméo Dallaire, former U.N. force commander for the U.N. Assistance mission to Rwanda, to launch the MIGS-affiliated Will to Intervene project (W2I).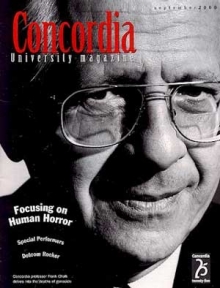 Frank Chalk feature on the cover of the September 2000 issue of
Concordia University Magazine
"W2I is research with a practical outcome, which is to teach advocates and opinion makers — NGOs, the media, faith communities, business, trade unions and legislatures — how to mobilize the top Canadian and U.S. political leaders to help prevent the next Rwanda," he explained to Concordia University Magazine.
Chalk co-authored Mobilizing the Will to Intervene (McGill-Queen's University Press, 2010) a comparative analysis of American and Canadian policies towards Rwanda and Kosovo.
"Concordia is about innovation, new horizons and dreams that can come true — not just for students, staff and faculty — but for the sake of humanity," Chalk said 10 years ago. Initiatives such as the MIGS and W2I are indications that the same holds true today.
Chalk is the recipient of a Queen Elizabeth II Diamond Jubilee Medal (2012) and an Outstanding Faculty Award (2011) presented by the Concordia University Alumni Association.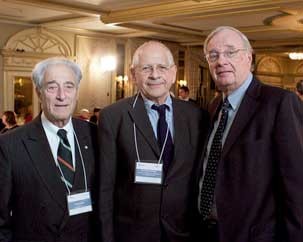 From left: Frederick Lowy, then interim president, Concordia University; Frank Chalk; and Paul Martin, former Prime Minister of Canada, autumn 2011. (Photo courtesy of Will to Intervene.)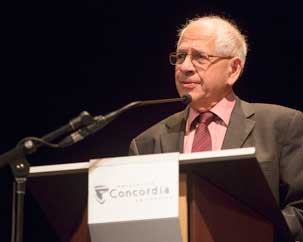 Frank Chalk speaking at the Plundered Cultures Stolen Heritages conference at Concordia in November 2013. (Photo courtesy of the Montreal Institute for Genocide and Human Rights Studies.)
More Great Concordians